This column is a monthly feature that looks ahead to WWE's next pay-per-view offering. I did this for the last three pay-per-views and the response has been great, so I'll keep it going in the future as well. The questions are from me. The answers are obviously from me.
This is different from the PPV preview that we do before the events because those are predictions of matches after seeing all of the television leading up to it. The questions in this column are about the build up to the event as we head Money in the Bank on July 14th.
Here's a look at the lineup. There are eight matches announced. One of them is on the pre-show. I doubt any new matches will be added. I'm not sure when the last time WWE announced a full eight match card nearly two weeks before a pay-per-view, but I'm glad they did. When I did this column about Payback last month, only three matches were announced by this point.
WWE Championship: John Cena vs. Mark Henry - Confirmed
Money in the Bank Match to win a Contract for a WWE Title shot: CM Punk, Daniel Bryan, Rob Van Dam, Randy Orton, Christian, Kane and Sheamus - Confirmed
World Championship: Alberto Del Rio vs. Dolph Ziggler - Confirmed
Chris Jericho vs. Ryback - Confirmed
Money in the Bank Match to win a Contract for a World Title shot: Wade Barrett, Cody Rhodes, Damien Sandow, Dean Ambrose, Fandango, Jack Swagger and Antonio Cesaro - Confirmed
Intercontinental Championship: Curtis Axel vs. The Miz - Confirmed
Divas Championship: AJ Lee vs. Kaitlyn - Confirmed
Tag Team Champions Roman Reigns & Seth Rollins vs. The Usos - Confirmed. This will take place on the Money in the Bank pre-show aka the Kickoff Show.
None of the questions are about The Wyatt Family. They debut on Monday's Raw, but who they go after is anyone's guess. I'm leaving them out of this. They could have a presence on the show. For now I'll talk about the matches we know about it.
Will any more matches be added? I really doubt it. It's a full card. Let's get to the questions and answers.
1. Will John Cena leave as the WWE Champion?
Yep. Sorry Cena haters. I don't see Mark Henry as a guy that's going to take the WWE Title off him. Now that's he's in his third month as WWE Champion it's possible that Cena could drop the gold, but I think that Henry (just like Ryback) is another guy for Cena to beat. Just like in past years when Cena had to beat other big opponents like Umaga, The Great Khali and Big Show, Henry is another "unbeatable monster" for the champ to overcome and drop with the Attitude Adjustment.
I'm sure the Cena haters are going to hate me for the answer, but I'm just being honest with you. Don't get mad at me. Personally, I'm fine with Cena retaining here. I'd rather see him drop the WWE Title to Daniel Bryan.
2. Is Mark Henry more of a threat to Cena than Ryback was?
Absolutely. I think Henry is going into the match as more of a threat than Ryback was because he's already been a World Champion before. That angle he did on Raw a few weeks ago where he faked his retirement got a lot of people talking and he could have some support from the Philly crowd at Money in the Bank. Right now there's no stipulation to the match, but I hope they add one because it would help.
I have to add that Henry's "that's what I do" shirt is pretty awesome. I'm not the kind of fan that buys wrestling shirts very often, but if I did I would add that one to the collection.
3. Who are the favorites heading into the "All-Stars" Money in the Bank match?
I think you can make a case for a lot of guys to be the favorites, but I'm going with Daniel Bryan, Rob Van Dam, Sheamus & Randy Orton as the ones that really stand out. I think Bryan needs it the most. He's been built up for this. I hope he's the one that wins. RVD winning would give him a lot of momentum upon his WWE return, but I question it because he'll be a part-timer in WWE most likely. Guys like Orton and Sheamus don't really need the briefcase, but with Orton it could help his long rumored heel turn. In the case of Sheamus, they push him hard all the time so putting that briefcase on him is another way to do that.
The reason I don't consider CM Punk a favorite is because he's likely facing Brock Lesnar at Summerslam and he doesn't really need to win the briefcase. He's already very much established. Even though Christian's a favorite of mine, I think his chances of winning are pretty slim. Kane's the oldest guy in the match and I really doubt he'll emerge victorious after this one.
4. Will Rob Van Dam receive the biggest ovation of anybody on the show?
It's very possible. This is his big WWE return after being away for over five years. The event is in Philadelphia, which was the unofficial home of ECW, which is the company that put RVD on the worldwide map. You couldn't write a better story for his return. I think if it was in another city it would still be a big deal, but Philadelphia will give this moment a special feel to it.
I wouldn't consider myself a huge RVD fan. I like him, but he's not an all-time avorite either. I think his last couple of years in TNA showed that he's slowed down quite a bit in his early 40s (he's 43 later this year). However, I have a feeling he'll be extra motivated in his WWE return. Plus, I think TNA has a way of dragging people down sometimes.
The days of performing in front of 500 fans at a TNA house show are over. He's on the big stage again. I think he's going to deliver some memorable moments and the Philly fans will be right there to cheer him on.
5. Is Daniel Bryan the right choice to win that Money in the Bank match?
I think so. Bryan has a lot of momentum these days with a big win over Randy Orton on Raw a couple of weeks ago and if you watch the shows you can hear that the fans are really behind him as much as anybody on the roster. Since he's competing in this match along with six former WWE/World Champions this is an opportunity for him to show he's a top guy while going up against the best.
If he doesn't win the match he can obviously bounce back from it, but I think fans put a lot of stock in the Money in the Bank winner. It's a big deal. We've seen every winner successfully cash in the briefcase except John Cena last year, so for him to earn the briefcase and potentially cash it in soon (Summerslam perhaps?) it would be a big deal.
6. Brock Lesnar. Will he show up?
Right now I'm leaning towards a no, but it's certainly possible. When it comes to Lesnar it's hard to know when he might appear because the details of his contract are kept private. In his first year back in WWE he worked only three matches. So far in the second year of his deal he's worked one match. While he obviously won't work a match at Money in the Bank, he could show up to provide a distraction to CM Punk.
I think this scenario could work pretty well. Punk would be all alone in the ring, he would climb up the ladder, look like he's about to win and then Brock Lesnar's music strikes up. They could do that even if Lesnar isn't there because the momentary distraction could allow somebody else to stop Punk from grabbing that red briefcase.
I'm very excited about CM Punk vs. Brock Lesnar at Summerslam. There hasn't been a match that I've anticipated more since last year's Cena vs. Lesnar match at Extreme Rules. As you can tell, I'm a big fan of Lesnar.
7. Is it a good idea to have one ladder match with all faces and one ladder match with all heels?
Good? I don't know. Different? Yes. There's nothing wrong with trying to be different. I think the crowd will be on fire for the babyface match because they have so many guys to root for. The problem with the all heel match is who will the Philadelphia fans get behind? If a guy like Cody Rhodes is climbing the ladder do they cheer him? What about Damien Sandow? I'm not sure who they are going to pick as their favorite because it's a balanced matchup with no clear cut favorite in terms of a winner or the most popular guy.
I am in favor of the idea of having one MITB match that has former champions and another that is full of guys who have never held one of the two major titles at this point in their career (except Swagger). I like the concept. Seeing how the fans react to seven heels in one match will be interesting to watch.
To answer the question, a lot of it depends on the crowd. It will be good if the crowd is into the match because they pick somebody to cheer for. The heel heavy concept will be a bad idea if the crowd doesn't get behind anybody and are dead during the match.
8. Is there a favorite in the Money in the Bank match that will earn somebody a World Title shot?
Not really. Look at the names of the participants: Wade Barrett, Cody Rhodes, Damien Sandow, Dean Ambrose, Fandango, Jack Swagger and Antonio Cesaro. I'm a fan of all the participants in the match. That's not a lie or me being nice. It's the truth. I like all of them. The WWE roster is loaded with talent right now and it's evident in this match. These seven guys all have the potential to hold many major titles if they are booked the right way.
I thought Barrett would be a WWE or World Champion by now. After the great 2010 he had, it seemed inevitable. It didn't happen in 2011, then a serious arm injury set him back in 2012 and now he's coming off an IC Title reign where he lost a ridiculous amount of non-title matches that hurt him more than helped him. He would have been a favorite, but right now? I don't think so.
A guy like Dean Ambrose could be a favorite considering how strongly The Shield's members have been booked since they debuted. However, he's coming into this match as just another guy.
Like I said at this point nobody is coming off as a favorite, so that makes for an intriguing matchup.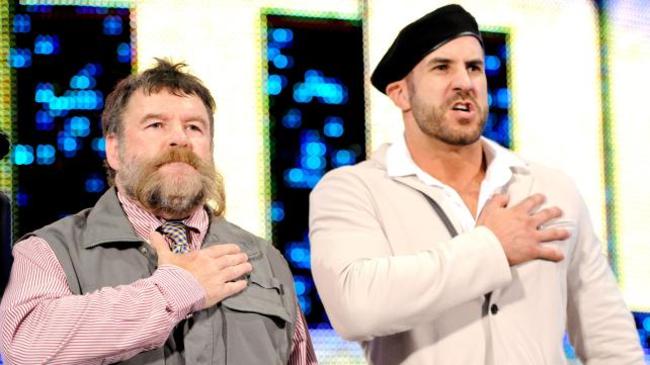 9. Who do you want to win the MITB match for the World Title contract?
Antonio Cesaro. He's my favorite guy in the match. Maybe it's because I just watched NXT from this week when he had a great match with Bo Dallas, which surprised me because Dallas is still an inexperienced worker. It showed how awesome Cesaro is. He's a guy that can really put on entertaining matches if he gets a lot
My second choice would be Damien Sandow. I love his act. His promos are very entertaining. In the ring he's an experienced worker who gets more comfortable every time I see him. His gimmick would be even better if he was carrying around a briefcase or a title that he can brag about.
It should be pointed out that just because I want Cesaro to win doesn't mean he's my pick. At this point I really don't have a pick although I'm leaning towards him. I have over a week to decide.
10. Is there a sleeper in the Money in the Bank match for the World Title contract?
There is and his name is Fandango. I threw this question in because when I looked at the names of the people in that match he's a guy that jumped out at me. Remember how much hype he had going into WrestleMania when he beat Chris Jericho and of course the next night when the New Jersey crowd was singing his song all night long? That momentum is gone now. He lost to Jericho at Extreme Rules, then he suffered a concussion and missed Payback, which was an event where he was likely going to win the Intercontinental Title.
Now we're at Money in the Bank, he's in a big match that could elevate him if he were to walk out with the blue briefcase in his possession. I'm not sure what WWE management thinks about him, but I'm guessing they wanted to put the IC Title on him last month. If they wanted to do that does that mean they want to book him to win this match? Not sure, but it is something to think about in terms of picking a winner of this match.
11. Will Chris Jericho lose to Ryback?
Yes. That's what Jericho does! Ryback is coming off a loss in the main event of a pay-per-view, so he'll need to get a win over an established guy. Jericho's likely going to miss Summerslam since his band Fozzy has a lot of shows coming up this summer. They'll use this loss to write him out of storylines most likely.
Ryback has been one of the most poorly booked performers I've seen in WWE in a long time. He had so much momentum in October of last year. Then he was booked to lose big match after big match including at WrestleMania even though he was scheduled to main event the next pay-per-view. The heel turn hasn't worked that well. I think he's better as a babyface. This match is about getting Ryback on the right path as somebody that can actually win big matches.
If it was up to me, I'd turn Ryback babyface in the near future because I think he's at his best in that role.
12. Do you have any interest in the Curtis Axel vs. The Miz match for the IC Title?
I have a mild interest. I think what we'll get is a ten minute match (maybe even less than that) where Axel finds a way to get the win. There's no reason to take the IC Title off Axel because he makes it seem like a big deal. The other good thing about it is they haven't had Axel lose non-title matches nearly every week the way that Barrett did when he was holding this title.
As for Miz, he's been floating around this IC Title picture for about four months now. When you consider that the babyface side of the roster is now loaded with Cena, Punk, Bryan, Ziggler, Sheamus, Orton and others I wonder if Miz will be able to move up the charts in a babyface role. Even though I wrote last year that he should have turned face, it hasn't worked out for whatever reason. Part of it is him. Part of it is the booking.
The match should be fine, but the story has little depth to it.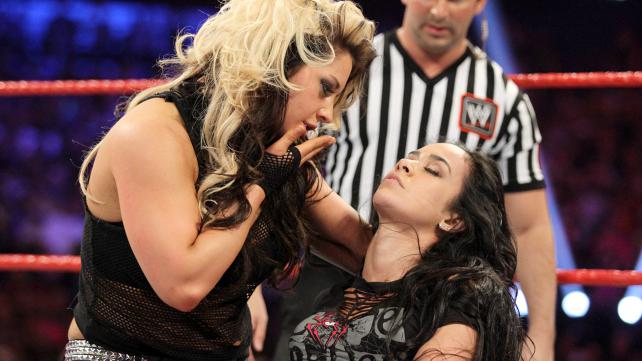 13. Has the build for the next AJ Lee vs. Kaitlyn match been good?
No. I think it's been pretty poor. I like both girls. However, the way they are building it with each of them dressing up like the other as a way to mock each other felt repetitive from things we've seen from the past with the Mickie/Trish feud and also Laycool's heel acts. Then there was the photo editing segment on Raw this past week that was awful. Editing Kaitlyn's face on a fat woman's body is supposed to piss her off? I don't know how. It was just bad.
The thing about their match is last month at Payback they got about ten minutes and had one of the better WWE divas matches in the last year. That's why I'm not that concerned about the build. As long as they get 7-10 minutes to have a good match I'm okay with it.
If AJ defeats Kaitlyn like I expect, who would she feud with next? I really hope it's Natalya. No woman in WWE deserves it more.
14. Should WWE consider a Divas Money in the Bank match?
Maybe in the future, but it wouldn't work this year. I had a reader mention this to me in a tweet the other day. I actually like the idea, but not with the current roster of women. I'm not sure they could pull it off. Maybe if the roster had talent like Trish Stratus, Lita, Beth Phoenix, Mickie James, Victoria, Molly Holly, Gail Kim and women of that caliber they could likely pull it off. With the current women on the roster there isn't enough experience to pull off a match like this. I think Natalya could do a great job with it. Maybe Layla and Alicia Fox could do well too. Most of the others would have difficulty with it.
I also think WWE would have to use smaller ladders and lower the briefcase more because women are obviously not as big as men, so it would be too difficult to have the briefcase hanging from the ceiling at the same level it's at when the guys are having a Money in the Bank match.
There's a ladder match on TNA Impact Wrestling next week between Gail Kim and Taryn Terrell. They already taped it and apparently it's really good. I'd love to see WWE's women in some gimmick matches. I remember things like Natalya & Beth Phoenix vs. Laycool at TLC 2010 in a Tables Match. It was really well done. The divas division can mean something again if management gives them the chance to shine.
15. The Usos have no chance of winning the tag titles, right?
Pretty much. The team of Seth Rollins & Roman Reigns needs some teams to beat in order to establish themselves as great tag team champions. Since the Team Hell No team has moved on, there aren't that many other teams for The Shield to feud with. It's unfortunate in the sense that The Shield have the potential to be a great team, yet if there aren't quality teams to go up against that hurts your chances of being that memorable.
It's a shame that there are a lack of babyface opponents for The Shield to go up against because the WWE roster has so many talented people on it, many of whom are sitting on the sidelines doing nothing right now. Hopefully when Tyson Kidd returns to action in a month or two he can go back to teaming with Justin Gabriel. They would have some awesome matches against The Shield. I also wouldn't rule out a return of Air Boom (Kofi Kingston & Evan Bourne) if Evan is able to return to action soon. Kingston should be back by August.
16. Is it better to have two Money in the Bank matches or should they go back to one?
I think two is best. The roster is so big that they can afford to do it that way because there are so many guys to pick from. Obviously the WWE Title is way more important than the World Title, but it's still a big deal when somebody wins the World Title. Remember when Ziggler won it the night after WrestleMania? Huge. It was also a big moment when Del Rio beat Big Show for the World Title earlier this year. That wasn't a MITB thing, but it was still an exciting moment surrounding the World Title.
I think WrestleMania misses the Money in the Bank match because it was always a highlight of the event. I doubt WWE cares too much about that because WrestleMania is such a huge money maker and Money in the Bank has proved to be a successful pay-per-view in terms of interest in the event. I'm just saying from an entertainment standpoint, WrestleMania could benefit from having a Money in the Bank match again. I doubt it happens, though.
17. What's the most intriguing storyline heading into Money in the Bank?
Simply put it's this: Can Daniel Bryan win the "All-Stars" Money in the Bank match? If the answer is yes then that means he will get one of the biggest victories of his career (other than winning the World Title) and it could propel him into that top level where guys like Cena and Punk currently are.
If Bryan loses that ladder match it will make me wonder what the plan is for him. I don't believe anything in wrestling is a "must-win" scenario because you can always find a way to tell a story, but his chase of the WWE Title is the most interesting story that WWE can tell this summer.
18. How many title changes do you think there will be?
One. I think Dolph Ziggler will win back the World Title. I mention that because I think it was a shame that he lost it so quickly even though it was part of the story. The other part of the story is Ziggler getting his revenge by winning back the World Title at Money in the Bank. The negative to that is it would be a very short title reign for Del Rio, but I don't mind it if the story makes Ziggler a bigger star in the long run.
As far as the other titles, I doubt any of them change hands. At Payback last month there were three title changes (Del Rio, Lee & Axel). This month will definitely have less. Ambrose's US Title isn't on the line. The tag titles are unlikely to be moved. The remaining championship belongs to Cena which likely won't be moved as I explained earlier.
19. What match will be the best?
I'm going with the "All-Stars" ladder match. There's too much talent in that match for it to not be great. When you have some of the best in-ring workers in there like Bryan, Punk & Christian and an experienced group in Orton, Kane, RVD & Sheamus the formula is there for an awesome matchup. There have been several Money in the Bank match that reached the four star level (out of five) and I think this one can definitely get there. Since MITB matches almost always get 15 minutes of in-ring time I have high expectations for it to be a very memorable matchup.

Don't overlook Ziggler vs. Del Rio either. Hopefully the crowd is really behind Ziggler and he can feed off them in order to put on a show like we know he can. Their match at Payback was more of a slow, methodical beatdown win for Del Rio. If they pick up the pace this time around I have a strong feeling they will have an excellent match as well.
20. How excited are you about Money in the Bank on a scale of 1-10 (with 1 being low, 10 being high)?
7 out of 10. I'm a huge fan of the Money in the Bank concept. The fact that we get two ladder matches getting about 15 minutes of in-ring time always excites me. I think the babyface ladder match will be better than the heel match, but I like both of them a lot. I'd enjoy a Money in the Bank match even if The Great Khali was in it. Okay, so maybe I went a bit too far with that one.
As mentioned earlier, Ziggler vs. Del Rio could be excellent too. It depends on the time they get and obviously how they book the finish.
I think Cena/Henry will be fun. I'm not sure about the quality of the match, but the crowd will certainly do their part to make it entertaining. Don't be shocked if Henry gets a lot of crowd support.
-----
Thanks for reading. Here's a GIF file of Damien Sandow doing a cartwheel while a fan in the crowd holds up a sign that says "The John Report" on it. I don't even remember when this was from and I only found it randomly on a message board. Of course I had to share it.
That was fun to write. I hope you enjoyed it. If you have any comments or questions, please feel free to contact me using any of the methods below. Thanks for reading.
Email mrjohncanton@gmail.com
Twitter @johnreport
Personal Facebook and TJRWrestling.com on Facebook
TJRWrestling.com and TJRSports.com