Power Rankings for June 2012. New #1, and three TNA wrestlers?! Welcome to Crazytown, population: YOU.
May is coming to a close, and we have quite a few changes in our TJR Power Rankings. A couple of big names are off the list, replaced by a couple of surprise names. Most shocking of all, though, is the fact that there are now THREE TNA wrestlers on the list. The promotion may not be of the highest quality, but these three wrestlers should be commended for their fantastic work, not just in May, but over the past year. We also have a new #1! Who could that possibly be? (Perhaps not much of a surprise)

Honorable Mentions

Dolph Ziggler: I want him so bad to be on this list, but the WWE doesn't seem interested in putting him in a worthwhile program at the moment. He's still having great matches consistently, but in a tag division that has yet to regain its luster. He needs a push now, his potential is astronomical.

Kurt Angle: At 43 years old, Kurt Angle is still one of the best performers on the planet. At TNA's Sacrifice, Angle put together a stellar match with AJ Styles. Now that he's turning face, hopefully we see Angle feud with TNA Champ Bobby Roode. Sure, it isn't exactly fresh, but the dynamic will be different.

Off the Rankings

Cody Rhodes: After losing the Intercontinental Championship at Over the Limit, Cody Rhodes has lost a bit. He's still a great performer, he just needs a change in scenery. Luckily a Raw/Smackdown draft should be in the near future, where he'll likely make the switch to WWE's "A" show.

Chris Jericho: If you would've told me Chris Jericho would lose so much after his much celebrated return, I would've called you crazy. But besides some Raw victories, Jericho hasn't had a major victory in the last several months. He's great at putting people over, but he's quickly fading into the background, in preparation for his upcoming Fozzy tour.

Brock Lesnar: Simple rule for TJR Power Rankings - you have to wrestle in order to be considered. Brock has been absent from WWE television this month, and that's ok. More appearances leading up to Summerslam and WrestleMania is a good thing. In the meantime, he's dropped off our radar.

10. Christian

Christian made his triumphant return at Over the Limit, earning a shot at the Intercontinental Championship by winning a pre-show battle royal. He proceeded to take out IC Champ Cody Rhodes. It was a nice moment for Christian, who has always been a very good worker. Yes, he's a two-time World Heavyweight Champion, so winning the IC Title may seem like a step back, but his reign should help add some legitimacy back to the title. He's the right guy to be holding the title, assuming Cody Rhodes moves on to the main event scene.
It remains to be seen whether Christian turning babyface will be good. He's a likable veteran, but he's also fantastic at getting fans to hate him. It'll be fun to see how he handles heel opponents.

9. Bully Ray

Whenever I talk about TNA, I find it impossible not to bring up how impressive Bully Ray's current run as a top heel is. Ray, who was loved by fans during his time in the Dudley Boys, is despicable playing a bully. And he's been perfectly placed in a program with Austin Aries (truly a good job by the TNA powers-to-be). His match with Austin Aries at Sacrifice was perhaps the best match seen in TNA in 2012. That may not sound like much, but don't forget the great work by Kurt Angle, Jeff Hardy, AJ Styles, and Bobby Roode.

Ray is in the best shape of his career, which hopefully means he's got plenty of fight left in him. He and Aries are elevating each other, and they're fun to watch. Ray has taken control of his legacy, and he's doing great work.

8. Big Show

Big Show has always been a better heel than babyface. The classic David vs Goliath story has always been a wrestling favorite, and Big Show plays a great Goliath. Sure, his heel-turn could be seen coming from a mile away, but it still logically works. Plus, having him feud with John Cena is a gigantic upgrade over John Laurinaitis.

Big Show isn't a great worker, but he knows how to tell a good story. And he'll be with the right partner in John Cena (someone who has been doing mostly fantastic work as of late). This is exactly the role Big Show should be in at this point in his career. He's someone who can put over young guys. Although I'd argue that "young guys" shouldn't include John Cena, this feud will at the very least help establish him as a top heel. Hopefully that status benefits others later.
7. Bobby Roode

Bobby Roode continues his domination at the top of TNA. Ok, maybe he's more of an "opportunist" champ than he is a "dominant" one, but he's still holding TNA's top title. It's obvious that TNA wants Roode to be their Ric Flair. The philosophy is that people will pay to see Roode get beat. Of course, TNA's not ready to see him lose the title. Would his title run mean more if he didn't win by cheating? Sure. But he's still picking up good heat, and that's exactly what he needs to be doing.

Roode understands his role, and that separates him from lesser heels. He consistently puts on good matches, his promos are above average, and his new look works better for his current character. Roode will headline live Impact this Thursday against Sting. He will go into the match as the longest reigning World Heavyweight Champ in TNA history. Not bad.

6. Austin Aries

How awesome is Austin Aries? TJR's resident TNA expert Marc. B has taken to calling him "Awesome Aries". I'm on board, when are we making t-shirts?

By the time next week's Impact airs, Aries will have held the X-Division Title for over 260 days. He's had not only the longest X-Division Title reign, but the longest reign of any Title in TNA. Of course, that's partially because Aries has been involved with larger opponents recently. He's outgrowing the X-Division in popularity. His feud with Bully Ray has been the best TNA has had to offer in a very long time. It makes you wonder, who has the most to gain by defeating heel Heavyweight Champion Bobby Roode? I think a case can be made for Aries. Whether it's in three months or a year, having Aries be the guy who finally brings Roode down would make a significant impact (see what I did there?). He's THE GUY the company should be pushing. Let's hope to see his involvement with heavyweights continues.

5. John Cena

John Cena drops significantly this month after his loss to John Laurinaitis. It's not the fact that he lost, we get that Big Show interfered, it's the fact that he was booked so poorly in the match. I've been praising Cena for the better part of a year due to his outstanding performances with a variety of opponents, yet even he couldn't save a match with John Laurinaitis. Instead of looking like a beaten down regular Joe finally getting revenge on his boss, Cena came across as a bully at Over the Limit. Just think about it, he could've finished Laurinaitis off in two minutes, but he instead prolonged the match, both torturing and humiliating John Laurinaitis. So why then would fans sympathize with him once his arrogance bites him in the ass?

Lucky for Cena, he gets a new opponent this month in the Big Show. It's not a fresh feud, but it should be good enough.

4. Randy Orton

The longer Randy Orton goes without the World Heavyweight Title, the more special it will be when he does win it back. Although Sheamus is currently seeing a huge push, Orton remains the face of Smackdown. And as always, he's turning in great work each and every week. Over the Limit's four-way match between Orton, Sheamus, Jericho, and Del Rio was another good showing for Orton. More importantly, his reaction to Sheamus retaining the title was priceless. These guys are headed straight towards a big feud, the fact that it'll probably be face vs. face doesn't mean a thing.

The fact that Alberto Del Rio became #1 contender on Smackdown this week could actually be viewed as a good thing for Orton. No Way out simply isn't as big as Summerslam, or even Money in the Bank. Expect Orton to be in the spotlight fairly soon.

3. Sheamus

What else can you say about Sheamus over the past few months besides he's been solid? He followed a 4+ star match at Extreme Rules with a big win at Over the Limit against three top opponents. His work has been impressive, and he seems to be embracing his push. I worried that feuding with Daniel Bryan would prevent him from getting over (because who doesn't love Bryan? Heel or not?), but he was able to come out of that feud even stronger. Now he has a great opponent in Alberto Del Rio.

Del Rio presents the perfect foil for Sheamus. He's excellent at getting heat, and fans will be ecstatic when Sheamus puts him in his place. Now, when Sheamus eventually feuds with Orton, things may get a little sketchy. Sheamus needs to take advantage of feuds like these, with opponents who are not loved, or loved by very few, and earn enough admiration that he could withstand a feud with somebody as over as Randy Orton. Expect Sheamus to shine in this current feud.

2. Daniel Bryan

How does Daniel Bryan follow his 4+ star match with Sheamus at Extreme Rules? With a 4+ star match with CM Punk at Over the Limit of course! Not only is Daniel Bryan perhaps THE BEST worker in the world, he's also incredibly over. Let's all take a second to appreciate how amazing that is. Bryan isn't someone who normally succeeds in the WWE, and he's been able to accomplish so much because of his great work. He had fans in Raleigh, North Carolina loud and on the edge of their seats, something they had not been the entire night. It's become impossible for fans not to respect him, and therefore the WWE has been forced to push him. You have to love a story like that.

Yes, Bryan has lost his two most recent matches, but he also had CM Punk tapping to the Yes! Lock at Over the Limit. It was of course one second after Punk scored a pinfall, but still, we all saw it - Punk's hand tapping multiple times. It should be overlooked how significant that tapping was. WWE has always protected their babyface champions by not having them tapout. Tapping out is giving up, and to give up is to be weak. When was the last time John Cena tapped out? Having Punk tapout to the Yes! Lock puts over both the hold and Bryan himself. And good for Bryan, he's earned all that he's receiving.

1. CM Punk

Although Punk hasn't gone on last in each of the last three Pay Per Views, he's been the most consistent performer in the WWE. Wrestlemania, Extreme Rules, and Over the Limit have all been showcases for Punk. Not only is he a great worker, but he's a great storyteller as well. His match with Daniel Bryan could've been a television match retread, but instead it was a match of the year contender. The guy just delivers every night. Perhaps most importantly, he creates "big match" atmospheres in nearly all of his Pay Per View matches.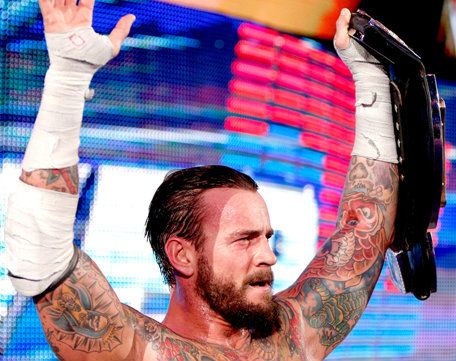 CM Punk is coming up on the 200th day of his WWE Title reign. He's made good on his promise to not be a "hot potato" champion. By holding the title for this length of time, and consistently giving 4+ star performances, Punk has added to the prestige of the WWE Title. Now if they'll finally allow his matches to go on last...

Expect Punk to be high next month as well. It's assumed that he'll face Daniel Bryan in a rematch at No Way Out. Bryan of course is the perfect opponent for Punk. The two have great chemistry in the ring. A cage match between the two should be spectacular.
—————————————————————————————————————————
Thoughts and opinions? Share them with me!
Email: thjbriggs@gmail.com
Twitter: @thjbriggs
Blog: thjbriggs.tumblr.com
Hope everyone enjoyed the list! My apologies for missing last week. The 20th was my birthday (you guys forgot, but whatever, I'll still accept gifts) and I had a nice weekend with friends and family. Next week should be fun, besides the typical silly Thursday Headlines stuff, I'll be writing another Real Life Feuds article.