TNA's "General Manager" Hulk Hogan recently answered several questions from fans about the TNA product.

Impact Going Live: "It would solve 75% of the issues, but they need money to do it. He has "been beating that drum for the last 2yrs."

Wrestling Needing A New Era: "Getting my head really wrapped around the fan business requests and how to transition Impact Wrestling beyond the Mania, Attitude era, nWo era. Not just grow in a black beard or just switch a title or just verbally say were changing, I'm talking about really changing [the] foundation to put wrestling in a whole new era. I know I came up with the idea, I'm gonna really flush it out before I drop the bomb on you Maniacs. (Rajah)
Fozzie: Hogan is an idiot. Going live will not solve their problems, it will enhance them. What will solve their problems are better booking, stronger characters, proper editing, and better writing. What they should do is tape once a week, so it will feel a bit fresher. And hire me for the creative team.
Aires: When TNA went live there for a few weeks, it seemed like a fantastic idea. But that was before Hogan and Bischoff came in and started to destroy what little momentum the company had. Taping once a week would be fantastic for them. It's pointless, in this day and age, to tape a month's worth of shows over a couple days. The internet gets a hold of that, and sees what is happening for the next 4 weeks. That's terrible for business. PLUS, trying to come up with all of those shows at once is extremely hard on a creative team, not to mention the fact that if something bombs, or isn't working (or the exact opposite and is blowing the roof off), they can't take the week to work with it...they have to go straight into the next show, unless they re-write and just wing it...which never works to begin with.

Having you on the creative team would be horrible. It would be a 2-hour show, with 90% of it taken up by BRAWLS FOR NO REASON.

Annnnd I stole your line. Whatcha gonna do?
Fozzie: At least I have a catchphrase that isn't "please read my On the Aire column because I'm a lonely person that lives off of feedback."
Moving on, what's next?
Aires: I learned it from your dad...I learned it from you.

Let's see...

John Cena celebrated his 35th birthday on Monday (ESPN even covered it). He's been main eventing now for about 7 years. I did not realize he was that old. Then again, it seems like yesterday that I was 21. How many years do you think Cena has left in him? Besides his pec tear, he has stayed relatively healthy. I'm sure that has nothing to do with the fact that he's the most protected wrestler in the past 20 years. Regardless, a 7-year run as a main eventer and being pretty healthy at 35 are still quite impressive. So go him. I feel the need to celebrate in John's honor by pissing on the Undertaker's grave.
Fozzie: Longevity is tough to have in this business. Good for him. I'm just glad he's never gotten stale. (fart noise and wanking motion)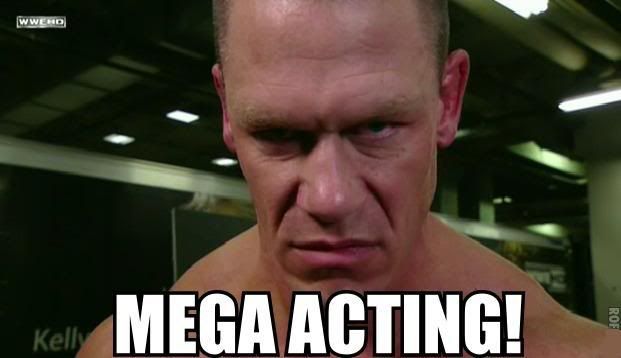 CM Punk is going to be singing "Take me out to the Ballgame" for the Cubs in May. What is the chance he does it sitting Indian Style on home plate, and then immediately follows it up with a promo on the Cubs century long failure?
WWE Champion CM Punk will be appearing at the Chicago Cubs baseball game on May 8th. Punk will be singing "Take Me Out to the Ballgame" during the 7th inning stretch. (Rajah)
Aires: Having Punk there, presumably as WWE Champion, should be a welcome change to the Cubs. Besides hosting my St. Louis Cardinals on a fairly regular basis, the Cubs and their parasitic fans are not used to seeing champions in their midst.
On another cool note, Drew McIntyre wrestled in front of his hometown Glascow, Scotland crowd as a babyface Saturday night, teaming with Booker T. He cut a promo after talking about his love for the fans there. Why again is he on the cusp of getting canned? I love me some Drew Mac.
Drew McIntyre wrestled in front of his hometown crowd Saturday's SmackDown live event from Glasgow, Scotland. He worked as a babyface and teamed with Booker T to defeat the team of Mark Henry and Christian. Before the match, McIntyre talked about his love of Scotland and gave a shout-out to his family sitting in the crowd. McIntyre and Booker T did spin-a-roonis together after the match.
Fozzie: Because, while he does have his fans, his overall character has become lost, uninteresting, and boring. He will need a serious reboot before he becomes another JTG.
So Paul Heyman is apparently helping Brock with his promos. This is a good idea because it saves us from Brock having to improvise on his own, and I don't think the world is ready to witness that train wreck.
Paul Heyman has been helping Brock Lesnar's recent WWE promos, according to Mark Madden on Chairshots Radio. Heyman is working with Lesnar independently and there are no plans for him to work directly with WWE. (Rajah)
Aires: I'm hearing conflicting reports on this, but I have no doubt that Lesnar has had talks with Heyman about what to say when coming back. Both men are extremely close. Heyman even helped write Lesnar's book.

That being said, Lesnar is not the train wreck that you predict. Dude's good enough on the mic to hold his own. But Paul E. is just that much better. All Lesnar really needs to do is come out, bob his pineapple head a few times, smirk, flex, and F5 someone. Lather. Rinse. Repeat.

I think we have time for one more this week. The Rock has gone back to his day job as a blockbuster action star recently, and has been doing media rounds for the new Joe movie, G.I. Joe: Retaliation. He told interviewers that the reason he signed on for this movie was because he read the script and was told the tone would be completely different than the first one. Last time I checked "utter shit" was not a tone.
The Rock recently told Entertainment Weekly that the upcoming GI JOE: RETALIATION movie will feature a drastic "creative shift" than the last film in the series:

"I can tell you this one is creatively much different [from the first]. It's rooted, it's grounded, it's real. The studio came to me and I loved the idea of starring in the movie because I grew up on G.I. Joe and it's a massive property."

"I spoke to the studio and they told me about the creative shift that they wanted to make with the movie, which made it easy for me to sign on."
Fozzie: Haha. I like that Rock is using his natural imposing figure to play badasses again. I know this upsets you because it probably means no Tooth Fairy sequel.
Aires: Shows how much you know. He was a hockey player in the Tooth Fairy. Jeez. Everyone knows that.
Fozzie: Yeah, you right.
Aires: Good talk. See you next week.
You can read more from Fozzie as he recaps each week of TNA Impact and follow him @FozzieMB.
Mike Aires has a reoccuring column on Friday's called On The Aire and can be followed @OSUmike03.