Scott Hall/Razor Ramon needs our help. Read on to find out what you can do!
Hey yo. The bad guy needs our help.
A little over a month ago, I shared the story about how wrestling legend Jake Roberts was finally on the right path thanks to the help of his friend Diamond Dallas Page and his yoga program. I was honored to hear from Jake and DDP about it with DDP saying it was his favorite article written on the subject.
I'm just a pro wrestling fan just as you are reading this. Professional wrestlers dedicate their lives to entertain us, so if they need our help I'm going to be one of the first people to spread the word. It's the least I can do.
If you'll recall, Jake needed a shoulder surgery, so they were looking for the support of fans to help pay for it. The goal was $9,200. The total amount raised was $29,602. The extra money raised will pay for dental work that Jake needs. It showed how the wrestling community is like a family in the way it takes care of one of their own.
Now there's another wrestling legend that needs our help: Scott Hall also known as Razor Ramon.
Fond Memories of Scott Hall
Before we get to the present day, let me share a few Scott Hall memories because I was a big fan of this guy. Rather than write thousands of words about him, I'll just pick out three things that stand out to me:
1. Have you ever seen the movie Scarface? It's not one of the best movies ever, but it's a cult classic in a lot of ways because of the brashness of the main character Tony Montana. Hall based his Razor Ramon character in the WWE on Montana.
I hadn't seen the movie when Hall first entered the WWE (I was a young teen then), but a few years later I did and you could tell that was Hall's inspiration. When you think about it that's a brilliant character for wrestling.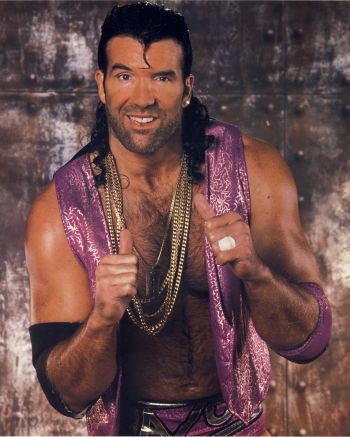 He was the cockiest guy in every arena he was in and the fans bought into it. The wrestling business is about creating larger than life characters. That's what Razor Ramon was. I loved the greasy hair, the gold chains around his neck, the swagger when he walked and the way he threw a toothpick in the face of his opponent. It worked.
2. The ladder matches with Shawn Michaels at WrestleMania 10 and Summerslam 1995 are two of the best professional wrestling matches there have ever been. I have absolutely no problem making that statement.
Their chemistry was perfect with Hall as the bigger guy who could dish out a beating while Michaels was known for making his opponents look great. The thing is Hall definitely held his own in there, they built up these matches so well and both men ended up being bigger stars because of those matches.
Michaels is my favorite wrestler ever, but I'll never forget how impressed I was with Hall after seeing those matches. He really proved how good he was. Those matches will live on forever.
3. You could make the claim that Scott Hall's first appearance on WCW television was one of the most important moments in the history of wrestling.
It was the May 27, 1996 edition of Nitro. I wasn't reading about wrestling in an "insider" way yet because I was only 15 years old and the internet wasn't even in everybody's home at that point.
I was watching Nitro that week just like I did every week. Scott Hall showed up and it blew my mind. Wasn't he a WWF guy? Of course he was. But what I didn't know is that after WrestleMania 12 he had left the company to join WCW along with Kevin Nash, who showed up on Nitro a few weeks later. In July, Hulk Hogan joined the pair to form the New World Order and one of the most famous groups in wrestling history was born. Hall was a major part of that.
As a performer, Hall was a promoter's dream in a lot of ways. He could put on good matches, he was an excellent talker and he really know how to get the fans involved in everything he did. Whether he was a heel or face he always knew how to get a reaction. When you talk to wrestling fans about some of the best performers to never win the WWE or WCW World Titles his name always comes up. And it should. He was that good.
What was the one thing that held Hall back from that upper echelon of greatness? Alcohol. While I'm sure that his bosses Vince McMahon and Eric Bischoff knew how talented he was, they could never really trust him as a top guy because it was tough to know how he was going to act in that situation. There were many incidents in WCW where he was drunk on television and they even mentioned it a few times too.
For the past 15 years or so, when wrestling fans talk about Scott they talk more about his alcohol addiction than his wrestling ability. It's a shame, but it was warranted.
That was then. This is now.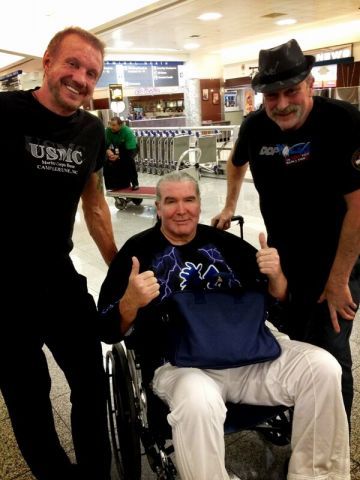 As we focus in on his present day situation, Scott has moved into DDP's "accountability crib" (along with Jake) to try to clean up his life due to years of alcohol and drug abuse. Hopefully the combination of DDP's Yoga program, eating right and being around his friends will make a significant difference in Scott's life.
Scott Hall is 54 years old. He's been to rehab a staggering 11 times. He needs help right now and he knows it. That's why he should be commended for taking up DDP's offer to lead him towards that cleaner, happier life that will allow him a chance to live the rest of his life the right way. He has the chance to live without the kind of mental and physical pain he's been going through during his adult life.
A few weeks ago there was a video on DDP's Youtube channel that showed when Dallas and Jake called Scott about coming to stay with them. Scott was drunk when they called. You can see that call here as well as a brief message from Scott, who said he didn't even remember the conversation.
That audio recording is an example of where Scott was before his friends Dallas and Jake reached out to help him.
That was then. Right now he's been sober for 40+ days. Seeing that warms my heart because it lets us know that he really wants to get better. You can't be forced into doing something to better your life. You have to do it yourself. Of course Dallas, Jake and others are going to help him. But if Scott isn't open to the help or willing to listen then it would be a pointless endeavor.
How You Can Help
There is an Indiegogo fundraising page set up for Scott with the goal of raising $80,000 for hip replacement surgery as well as physical therapy. You can watch this video that explains why the surgery is needed in order for him to get in better shape.
As you can see in the video, Scott needs that hip replacement surgery immediately. How much has been raised in just one day? As I post this on Saturday afternoon they've already raised $20,000, which is over 25% of the way there.
It's amazing. But we're not there yet. I live month to month from the money I make from two jobs. I'm going to contribute within a week or two. It may not be that much, but when somebody like Scott spends his life entertaining us the least we can do is help him as he tries to rebuild his life.
I hope Scott Hall is inducted in the WWE Hall of Fame one day. I think next year would be a great time for it as long as he's physically and mentally ready for it. It would be outstanding if Jake and Dallas were also inductees in the same year as Scott because I think their journey together is truly inspiring.
To Scott Hall, if you happen to read this please know that you're one of those guys that made wrestling cool. Thank you for that as well as so many other things you did in your extraordinary career. Now it's time to take care of yourself for you, your family, your friends and the millions of wresting fans around the world.
Hopefully in the near future you'll get to say "hey yo" and throw that toothpick in front of thousands of screaming fans just one more time.
To help in the rebuilding effort of Scott Hall, check out the Indiegogo fundraising page and be sure to share it with others as well!
--------
If you're on Twitter, please use the #WeCanRebuildHim hashtag and send a tweet to Scott at @ScottHallNWO showing your support. Also be sure to share because that's where others can read about this story as well as donate.
For more info on DDP Yoga visit DDPYoga.com today. Go like DDP Yoga on Facebook. Follow DDP on Twitter at @RealDDP and DDP Yoga on Twitter @DDPYoga. All of the videos used up above come from DDP on Youtube.
Follow Jake Roberts on Twitter @JakeRobertsDDT, like him on Facebook and check him out on Youtube as well.
Thank you for your time.
John Canton - mrjohncanton@gmail.com
TJRWrestling.com and TJRSports.com
Twitter @johnreport