Normally when I write the Headlines column I usually start out with one main story, write significantly more about it than everything else and then go through the smaller stuff. Today there really isn't one major story, so I'll just go through several different things quickly.
- Paul Heyman did an interview with Sam Roberts during SummerSlam weekend. Here's a video:
Heyman was asked about how his relationship with WWE Chairman Vince McMahon was and he responded with this:
"Much better now that I'm not on the creative team because we're not butting heads on anything anymore. I just don't thrive in a creative environment that is dominated by a monopolistic dictator whose entire life is surrounded by the fact that it's his universe and thou shalt worship him as thy God." (WrestlingInc)
Work? Shoot? A little of both. I think it's likely that their relationship is better because Heyman isn't sitting on the creative meetings anymore. However, the "monopolistic dictator" comment is obviously more work than shoot. At least I think so.
There was also a great rant by Heyman talking about American politician Anthony Weiner. Trust me you should watch it. It's hilarious.
- The new WWE Championship has a logo side plate on it to represent something personal to the WWE Champion. What did they pick for Randy Orton? See for yourself.
It's a viper with RKO on it. Clever, I guess. Poor Daniel Bryan didn't have a logo because his reign last about five minutes. Perhaps it would have been a goat. How touching.
Shoutout to TJR reader @AdRose83 on Twitter for this comment about the Orton logo: "Damn. I thought each emblem would be an X for each strike against him."
Well played. Orton is proof that you can get suspended multiple times and still reach the top of your profession. Just remember to sign that pre-nup before you get married. Keep dreaming, kids. Reach for those stars.
- Here's an interview with Rey Mysterio from SummerSlam weekend conducted by Arda Ocal. He said he hoped to be back before SummerSlam, but it might be another month until he's back in a WWE ring. He's been out with a knee injury.
The last few years he has really become injury prone after wrestling such a high-flying style for nearly 20 years now. People rip on him all the time to me, but he was so innovative in the late 1990s and influenced so many that it makes me realize how quickly wrestling fans forget greatness. Anyway, here's the video.
I thought he made a good point in talking about how awesome it is that WWE is more open to hiring luchador wrestlers since they've got Rey, Sin Cara and Samuray del Sol in developmental too. They need one more luchador to make things even better: El Dandy.
As Bret Hart once asked on WCW Nitro, who are you to doubt El Dandy?
- Remember when Sin Cara quit on Monday's match with a hand injury? I'm not sure if it was his call or up to WWE Dr. Sampson, but the match against Alberto Del Rio ended abruptly. It turns out the injury was a dislocated finger and nothing was broken. Here's a picture that Sin Cara posted on FourSquare (thanks to WrestlingInc for the tip):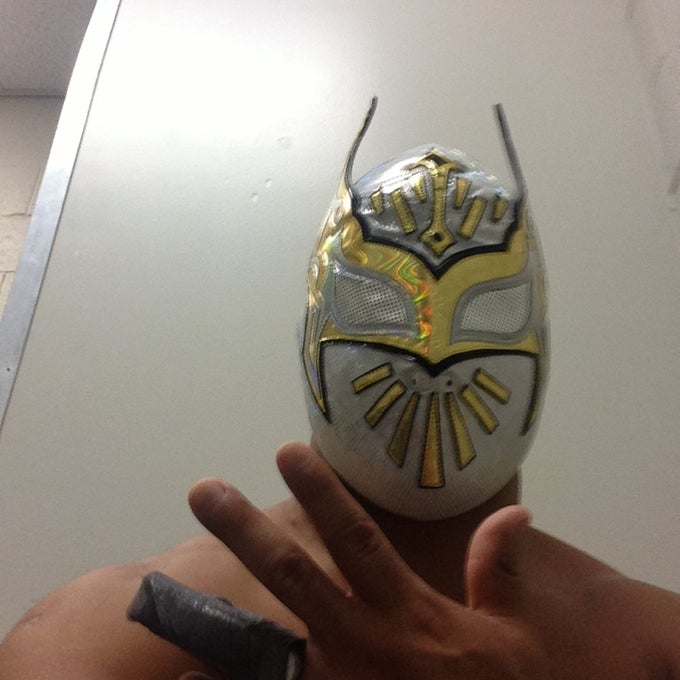 According to the Wrestling Observer, he might have heat for not finishing the match on Monday. (Rajah)
Maybe they can punish him by putting him in one of those awful backstage segments that Ryback has been a part of in the last few weeks.
"Does your hand hurt, Sin Cara? Too bad. Cut your nails…without a nail clipper!"
Oh the horror. I feel bad for giving WWE bad ideas. I really do.
Sin Cara felt so good that he was able to compete at the SmackDown tapings before the show. Apparently he wrestled in a whole match without breaking a nail, so congrats on that.
- Lastly, we had another fun edition TJRWrestling Radio last night for 90 minutes. Our guest was former WWE referee Jimmy Korderas, who is a current wrestling broadcaster for Sportsnet 360 here in Canada. You can listen to the show by clicking the play button below.
You could also go to our BlogTalk Radio channel to listen to it on that site or download the MP3 file to listen at your own convenience. You can get it on iTunes right here too.
What did Jimmy, The Ace and myself talk about?
- SummerSlam. Full review of the show. We spend a lot of time on Punk/Lesnar and Bryan/Cena of course.
- I asked Jimmy about refereeing Brock Lesnar matches in the past and he spoke about how intelligent Lesnar was.
- In our discussion about the Ring of Fire match, Jimmy spoke about refereeing an Inferno match in the past. Great insight, as always.
- We had theories about when Daniel Bryan might get the WWE Title.
- Plenty of thoughts on Randy Orton aligning himself with Triple H to win the WWE Title.
All that and more. We really had fun, so please give it a listen and let me know what you think!
Go listen to it now! Go!
----------
That's all I have for ya. Keep reading the website, listen to the podcasts and spread the word about TJRWrestling to everybody in your life. Thanks for all the support and making SummerSlam weekend such a success for us here at TJRWrestling.com.
I have started work on a major column that should be ready for next week. Maybe Monday. Maybe later next week. Honestly I want to take a couple of days to not write anything about wrestling just because it's been so busy the last five days. Thanks again for all of the support!
Email mrjohncanton@gmail.com
Twitter @johnreport