Today's Headlines will focus on some WWE stories. However, at the end there's a message about a wrestling fan that passed away in a house fire that I wanted to share.
The current WWE Champion John Cena is in a brief commercial promoting Fruity Pebbles cereal. WWE sent out a press release about it on Tuesday. Here's a comment from Cena:
"I am excited to continue to develop WWE's relationship with Post Fruity Pebbles. The ability to reach young WWE fans through the brand's commercials and new mobile app is a great opportunity."
Shouldn't he be thanking for The Rock for his promos two years ago about how Cena's many different shirts led to Rock saying that he looked like Fruity Pebbles? Come on, John. Give the man some love.
The best thing (or is it the worst?) about all of this is that there's a commercial.
My reaction?
I'm white and am unable to do a Spinarooni (sorry ladies), but my face was similar to that. THE CHOMP IS HERE? That is brutal.
I realize I'm about 25 years older than the target demographic, but holy shit that was painful. I want to punch him in the face. And I'm not a Cena hater. I'm just a hater of really bad commercials.
My immediate question is are the Post people aware that Cena's reference to a "five knuckle shuffle" is about masturbation? He said "five knuckle shuffle them in your face." Remember, it was a move he was doing when he had his white rapper gimmick and it was a way to humiliate an opponent. Now he's talking about jerking off in a commercial for children's cereal.
What's the moral of the story? Parents will buy whatever it takes to make their kids happy. They will even buy cereal with a spokesman that has a wrestling move named after masturbation.
IN OTHER NEWS
- The CM Punk/Brock Lesnar feud is likely happening at Summerslam. Some people thought it might be Money in the Bank since that's the next PPV, but Summerslam makes more sense. It's the bigger show. If Lesnar is on the same deal he was on in year one of his contract then that means he'll only appear on 3 PPVs in a 12 month period. He was already on Extreme Rules, so the next one would be Summerslam and the one after that would be WrestleMania 30.
I'm not sure what Punk will do at Money in the Bank. A match against Curtis Axel makes sense, but it looks like Axel is feuding with The Miz now. I'm very excited about a Punk/Lesnar match. With Paul Heyman cutting the promos for Lesnar it will be amazing.
What will Lesnar do during Money in the Bank? Likely count his money in a bank. He has a lot of it.
- Here's a Randy Orton interview with Sam Roberts of SiriusXM where they talked about Orton's career for about thirty minutes.
There were some interesting stories, but they mostly covered general things.
Regarding a heel/face turn Orton said he wouldn't say he's happy as a good guy, but he's doing the best he can. He made a point to say he would much rather be a bad guy.
It's a shame that Sam didn't ask him about Ken Kennedy/Anderson. Orton was not a fan of that guy. Kennedy got fired the day after dropping Orton the wrong way on his injured shoulder. Now he's in TNA. Poor Ken.
- Was Daniel Bryan really hurt on Raw? The word is that he received a stinger, but he ended up in a match at the Smackdown tapings last night where he lost to The Great Khali in a 60 minute Ironman match.
Note: I made up everything after the word "night" there. I hope you still love me. The good news is I don't think we have to worry about an injury to Daniel Bryan.
#RIPHayleigh
I'll end this edition of Headlines on a sad note. There was a lifelong WWE fan named Hayleigh who died in a house fire in England along with her mother on Tuesday. Five others got out of it alive. She was 23.
Throughout much of the day on Tuesday I learned quite a lot about Hayleigh. She made the trip to the last two WrestleManias including WM29 earlier this year in the New Jersey/New York area and had planned on going to WrestleMania 30 as well. It's a very expensive trip to head to WrestleMania even if you live in America, so for her to go all the way from England two years in a row shows how much she cared about the wrestling business.
I was also informed by my friend Victor, who was close to Hayleigh, that she was an avid reader of TJRWrestling. While I can see that she followed me on Twitter (her handle was @TrueLoveAlwaysx) I don't remember interacting with her on Twitter that much. Some are very active and others are not. That's fine. I wish I got to know her because she was the type of wrestling fan I enjoy interacting with because of how much she cared about the business.
As I learned more about her it was a story all too familiar of somebody that really loves the wrestling business who made a lot of friends online. I'm one of those people. So are a lot of you. I've met dozens of people simply because we share the same passion for the wrestling business. We may look up to a wrestler or a group of them. We may go to shows with people we met online. We may write about the wrestling business on the internet. The point is that through online activities like Twitter or Facebook we can meet people who are just like us.
Are we strangers in the sense that we don't see eachother in person? Yeah, but we're also a close knit community of fans that rallies together when somebody needs our support. I love being a part an online wrestling fan. It's great to know so many wonderful people who care about the wrestling business like I do. It's also painful to know that somebody that cared so much the way Hayleigh did is no longer with us.
Here's a photo of Hayleigh from WrestleMania 29 weekend.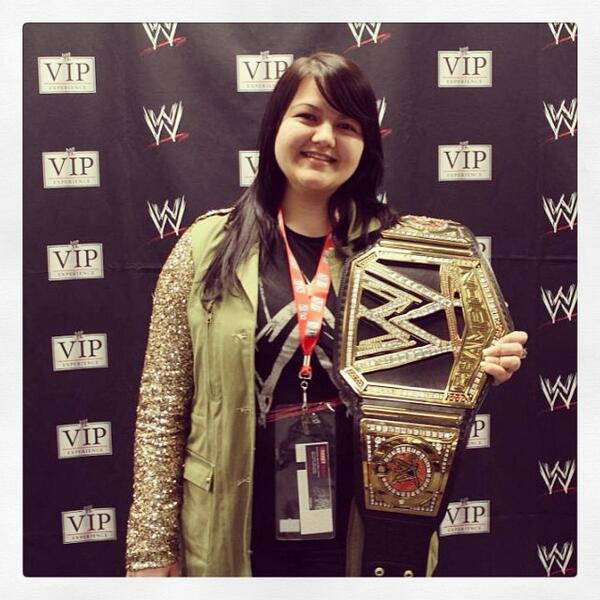 Here's a photo of her at ringside in her Dolph Ziggler gear supporting her favorite wrestler. Zigggler shared this photo on Twitter, by the way.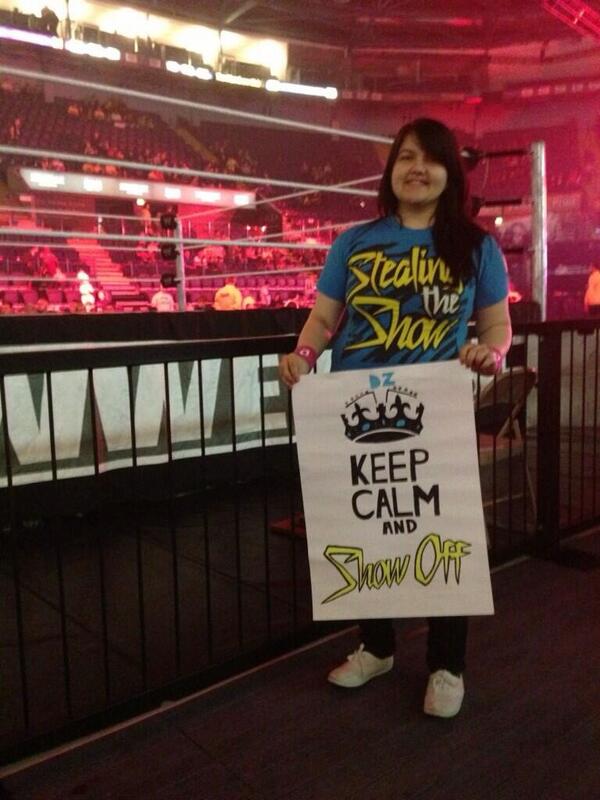 If you're a Twitter user you probably saw a lot of WWE performers sending out their condolences about Hayleigh. The #RIPHayleigh hashtag was trending worldwide as a show of unity by wrestling fans. I was especially touched by the messages of Layla and Wade Barrett (two British WWE performers) that did their part to share this info with the world. It is further proof that the wrestling world, despite all of its wackiness, is full of good hearted people who always look out for one another.
If you'd like to support the family of Hayleigh there's a GoFundMe page that was set up in her honor to help her family deal with the loss of their two family members. You can also contact Hayleigh's sister on Twitter @ShirlShocked as well.
The wrestling community lost a woman that was a fan just like you and me. It's a terrible tragedy that breaks my heart. On behalf of everybody with TJRWrestling I want to send my condolences to the family and friends of Hayleigh and her mother. May you rest in peace.
----
That's all I have. I'll do a TJR Q&A on the Facebook page likely on Friday and post it here on the site before Smackdown. Other than that, have a great rest of the week my friends. Ready for NBA Finals Game 7 on Thursday night. Game six was a classic even though there were a lot of questionable calls late. I picked the Heat to win the series, so I'm going with them.
Thanks for reading.
Email mrjohncanton@gmail.com
Twitter @johnreport