It's one of those days where there isn't one major news story. There are some things worth discussing of course, so let's just jump right into it.
- The picture used in this edition of Headlines comes from retired WWE Hall of Fame announcer Jim Ross. It's a shot of him and Shane McMahoin New York City. That doesn't mean he's doing business with Shane or that one of them is going back to WWE. They're just friends hanging out. Ross did reveal why he was in New York on business in this tweet.
Good day in NYC. Talking my one man show in 2014. Lots of suitors. Work in progress. Won't be your average EX wrestling guy BS.

— Jim Ross (@JRsBBQ) October 16, 2013
He's going to go on tour and have a one man show where he'll likely tell wrestling stories, have Q&A's and meet the fans. That's pretty cool. I've always said JR is one of the most sympathetic and likable figures in the history of wrestling for a number of reasons. I doubt there are many wrestling people in their 60s that would do that kind of thing, but for JR it seems like a good fit. He has so much knowledge about the business as well as the sports world.
I'd love to ask him some questions about a lot of different wrestling related things. Here's a question: "What was it like to try to put over that Katie Vick story as a serious thing?" Okay so maybe that wouldn't be the first question. I'd still ask it, though.
As for Shane McMahon, he's 43 years old. Grey hairs are there. It's a part of life. People grow old. I'd love to see him back in WWE in some capacity, but have no idea if that's something he wants to do.
- There's a report from Dave Meltzer of Wrestling Observer/F4W stating that Ric Flair was doing WWE sponsored rehab in Florida for a couple of weeks even though Ric said he was there visiting his daughter. In other words, Ric probably lied to people. Come on, Ric. Tell the truth. It's not like they are one of your wives. (Rajah)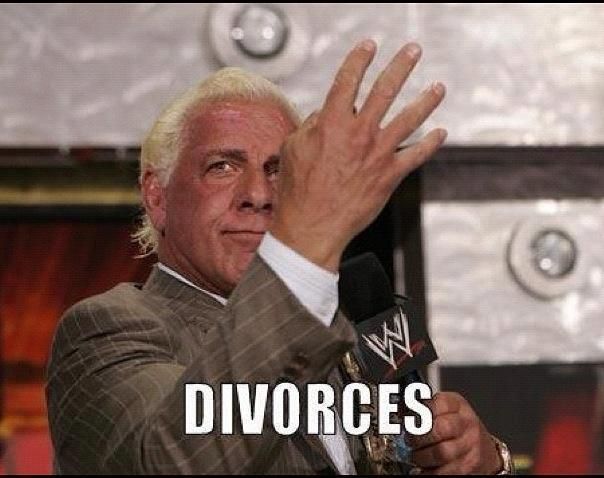 Yes I've used that meme many times before. So this is a pic from Ric Flair to me.
Perhaps he would call me "fat boy" too. I have big bones!
- A lot of TNA wrestlers are doing interviews this week because they have Bound for Glory this weekend, which could be the first BFG that I don't watch. I might watch it on Monday. Depends on the time I have.
Here's AJ Styles talking to Busted Open radio. (WrestlingInc) He basically admitted that the "lone wolf" gimmick they had him do earlier in the year was stupid and that's true. I really don't expect him in WWE. He has a comfort zone in TNA. He'll likely stay where he is. At one point in the interview he said "something has to change" in TNA. Yeah. The owner. Good luck with that.
Austin Aries spoke to DirectTV.com and told them that he grew up idolizing Bobby Heenan, which makes him pretty awesome in my opinion. I still think one of the worst personnel decisions that WWE failed to make in recent years was not putting Aries on the Tough Enough show. He tried out, but didn't make the cut. He should have had a regular contract years ago. He is one of the highlights in TNA.
There were probably other TNA people that did interviews, but I really didn't care to read them. At least I like Styles and Aries.
- It was announced by WWE that AJ Lee was cleared from her concussion that kept her out of action last week. (ProWrestling.net) She wrestled in a match at the Smackdown tapings, so all is well for her. I'm happy for her. To celebrate here's a pic of her ass from the WWE house show I was at last month.
You're welcome.
- There's a report by Variety.com stating that The Rock has landed the starring role in a new disaster film called San Andreas. The filming is expected to take place around April 2014, so possibly after WrestleMania 30 although we have no idea if Rock will even be at that show. If you're mad that The Rock isn't in wrestling full time just remember that he likely owns several mansions and counts his money when he's not tweeting about working out at 4am.
Whenever Rock does Q&A's on Twitter I usually tweet him asking if I can have $10,000 because what's $10k to him at this point in his life? It's a fair question on my part that has never been answered. Asshole.
- Chris Jericho did an interview with the Columbia Daily Herald in Tennessee to promote a Fozzy show in Nashville. He was asked about WWE.
Q: What's going on with WWE right now, anything new?
A: Uh, no. No plans to be on, because I'm on the road with Fozzy. My schedule is basically clear other than what Fozzy is doing. I don't have plans on going back to the WWE at this point not that I never would. I have so much other stuff going on right now, I just don't have time to think about it. I still love the WWE. I just don't have any plans to return right now.
Earlier in the interview he mentioned the current Fozzy tour is done October 18 and then in December they're going to Australia.
I think a return to WWE in the new year is possible because everybody wants to be a part of WrestleMania and Jericho proved in his last run that he's still one of the best in the world. I believe him when he says that he's not planning on it right now. Perhaps in January as we get closer to the Royal Rumble he could get that itch and change his mind. You never know.
Shut up. Just read it.
- WWE legend The Undertaker and his wife, former WWE Diva Michelle McCool, were spotted at Saturday's boxing fight between Timothy Bradley and Juan Manuel Marquez in Las Vegas. Here's a photo of them courtesy of WireImage.
They look content. I actually think Undertaker is making a fist in case Sim Snuka is around because he didn't catch Undertaker when he did his dive over the top at WrestleMania 25 vs. Shawn Michaels. Look out Sim Snuka (other names need not apply).
In Michelle's case she looks happy she married an older rich guy that allowed her to retire in her early 30s. God Bless America.
---
That's all I have for you. We didn't do TJRWrestling radio due to technical difficulties, but we will try it next Tuesday. I should be back on the weekend for the Q&A column about WWE Hell in a Cell. Thanks for reading.
Email mrjohncanton@gmail.com
Twitter @johnreport