I am asked a lot of questions all the time because of what I do here at TJRWrestling and that's cool. Some of the most common questions involve when John Cena is going to turn heel (no idea), will Undertaker ever lose at a WrestleMania (I doubt it) and arguably the most popular question is whether or not Steve Austin will wrestle again.
My answer to that last question has been no at least for the last five years or so. Why? Because it's been 10 years since Austin last had a match (WrestleMania 19 in 2003). There's no reason for him to risk his health or get in a ring when he's 48 years old.
Austin was recently on The MMA Hour with Ariel Helwani of MMAFighting.com and here are some quotes from it as seen on WrestlingInc and other sites on the internet.
"I tell you what, the longer and longer I wait, the more and more time goes down the road. On one hand, it may be fun to do, but on the other hand, what's on the other side of that? It took me three years to get the business out of my system. Withdrawal would be a good way to put it. I got through those three years, and hell, it's been eleven years since I've been in the ring.
I know a lot of fans want to see that. But what if it's not what it could have been or should have been? I don't want to go out there and do 90% of 'Stone Cold,' that's not who and what I am. It would take three or four months of a UFC-type came to pull it off... then what next? I was there, I did it at a high level, I had a great time. I took the business to a height that it's never been before. Hopefully someone will come on now that I'm done and take it to an even higher level. John Cena has done a wonderful job doing what he's done. Man, I'd say the chances are pretty damn slim, to be frank about it."
That should really be it. People should stop asking him about it. Of course it would be cool to see him wrestle CM Punk or some current guy, but it's not realistic. We never saw Austin wrestle much past his prime. He didn't wrestle a match in his 40s. That neck injury he suffered likely cut five years from his career. It sucks, but it's reality.
With all of that said, I fully expect people to think Austin will wrestle because he left while he was on top or at least near the top. He will probably get asked about it until he's in his 60s. That's part of his greatness. We never saw him grow old in front of us and we're so used to seeing that in wrestling, but with him it never really happened.
Would I love to see Austin involved in a WWE storyline again? Absolutely. That doesn't mean he will wrestle or should wrestle. I think his name brings a lot of value and that the WWE product could use an Austin appearance on Raw to light a fire under everybody on the show. It's been a couple of years since he's been on WWE TV. Too damn long, if you ask me.
If you're an Austin fan like me, re-watch his old matches and memorable segments. Also for current Austin related things, check out his podcast because it's awesome.
- Former WWE Diva and TNA Knockout Lisa Marie Varon (aka Victoria/Tara) was backstage at Raw on Monday in Chicago. She lives there, so she was just there visiting friends. Here's a pic of her with Layla playfully choking Paul Heyman from Layla's Twitter account.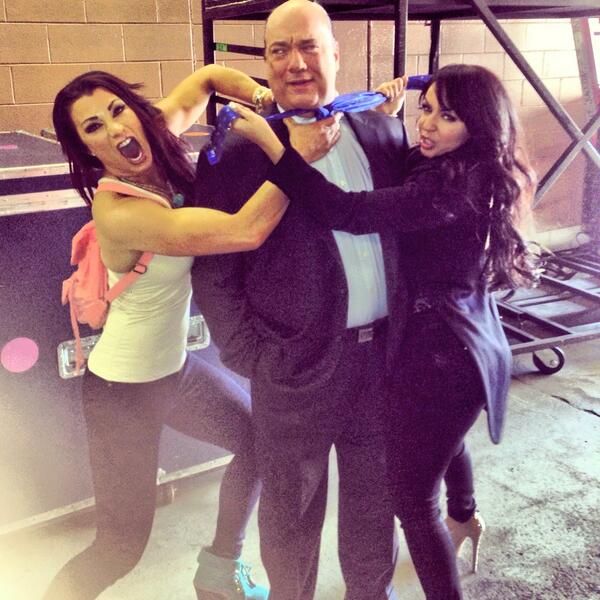 Great pic. It would be cool to see Lisa back in WWE in some capacity as a veteran that can help the younger girls on the roster. Lisa's over 40 now, though, so I think a full time return to WWE for her is unlikely at this point.
- Sheamus has been out with a torn labrum that will likely keep him out until January or so. There's a report from F4WOnline that he might return as a heel. (WrestlingInc)
I'd be fine with that. I liked Sheamus' matches as a face, but his promos were painfully bad at some points. They tried some comedy bits with him that really didn't work. That's not to say he lacks a sense of humor. It's just that it didn't work in terms of his promos. Sheamus is good as a physically imposing threat who delivers ass kickings to people that get in his way. He looks intimidating. Let him be that guy again. I think it makes sense to bring him back as a heel. He would get a big pop on his return and then turn him that night whether it's the Royal Rumble or some other day.
The best moment of heel Sheamus? I vote for Tea Time with Santino & Kozlov.
"Sheamus hates you because you beat him!" Kozlov comedy at its best. There was even a Kozlov chant for it.
- Finally, here's a commercial with Triple H and his wife Stephanie McMahon for ProteinFightClub.com while promoting milk. The idea is there's only a small amount of milk left, so they have to arm wrestle for it.
The concept of the idea may have been funnier than the execution of it. Just saying.
---
I'm in a bit of a rush, so that's all I have today. I'm back on TJRSports.com Thursday and Friday with NFL picks. Then on Saturday I'll be here with another edition of Canton's Corner too.
Check out the other great work here on TJRWrestling, comment on the articles (don't be shy) and have a great day.
Email mrjohncanton@gmail.com
Twitter @johnreport