It's one of those weeks where there really isn't a major story for me to talk about. Eric Bischoff? Nah. I don't feel like talking about that guy. Instead I'm going to talk about the ratings for Raw on Monday night and the difference that John Cena makes to the product.
From Wrestling Observer/F4WOnline.com
Raw on Monday night, going against both NFL football and the World Series, did 4.15 million viewers, the best number since football season started.
The World Series did 14.45 million viewers and NFL football did 10.76 million viewers.
The increase was expected due to the return of John Cena, and hourly patterns bear that out.
8 p.m. 4.32 million viewers
9 p.m. 4.19 million viewers
10 p.m. 3.97 million viewers
The rating ended up being a 2.98 or a 3.0 if we want to round up. One week earlier it was a 2.71 rating. The quarter hour breakdowns should come out in the next Wrestling Observer on Wednesday night or Thursday morning, so there will be more details soon.
However, it's important to point out that the 4.32 million viewers is a VERY strong opening hour. Often times the first hour is the worst of the three, yet it was the best this time. Obviously there were 25 million people watching baseball and football that affected the rating, but the 3.0 rating is about what WWE has averaged for years now.
The first 30 minutes of Raw featured plenty of John Cena. He walked out there to deliver a promo as the new World Heavyweight champion. Then Damien Sandow showed up to cash in the Money in the Bank briefcase. He attacked Cena's injured left arm and looked like he was going to win the World Title. Of course that didn't happen because Cena fought him off for about 15 minutes to retain the World Title.
Why was it compelling television? It's pretty simple to figure out. The Cena fans were tuned in because they wanted to see if their hero could overcome the Sandow attack to retain his championship. Meanwhile, the Cena haters were watching to see if a guy like Sandow could beat Cena to become the World Champ.
There's nothing wrong with putting on a World Championship match on early. That feels like a must watch thing. However, I know some fans are mad that Sandow lost the match. The expectation is that if somebody wins the Money in the Bank briefcase then they are going to win either the World Title or WWE because it's happened every time before except John Cena last year. I suggest fans be patient. Maybe they will build up Sandow for a major title win in the next year. It's better to win major gold after earning contender status instead of just trying to cash in the briefcase. That's my take on it. Time will tell.
I think WWE wants to keep the World Title on Cena because he's going to help ratings on Smackdown (he said he'd be on that show regularly), he'll help attendance wherever he is and when the time comes for him to drop the title it will be beneficial to the person that wins the gold from him. I know fans are frustrated with Cena as WWE's version of Superman, but the numbers don't lie. It's been like this for the eight years he's been a top guy. He's the biggest draw they have and it's really not that close.
John Cena's a difference maker. That's why they will always go back to him.
IN OTHER NEWS
- TNA World Champion AJ Styles has left the company (in the storyline) and is defending the gold in AAA in Mexico this Sunday November 3rd. His opponent will be Judas Mesias. (WrestlingINC)
When reached for comment Styles was quoted as saying: "You mean I can be on a show with more than 2,000 people? I'm in! Sign me up!"
I don't know what kind of crowd AAA will get, but that's how I imagine the conversation going. I'm sure TNA personnel will tweet about how it's a travesty or something like that. I have no idea how they're going to play. I took TNA off my DVR. Maybe I'll try in the new year once the stench of Bischoff wears off.
- Here's a Paul Bearer pumpkin. It has nothing to do with anything. I have no idea where it's from, but it was posted on my Facebook wall, so I felt the need to share it with you. Why? Because it's freaking awesome.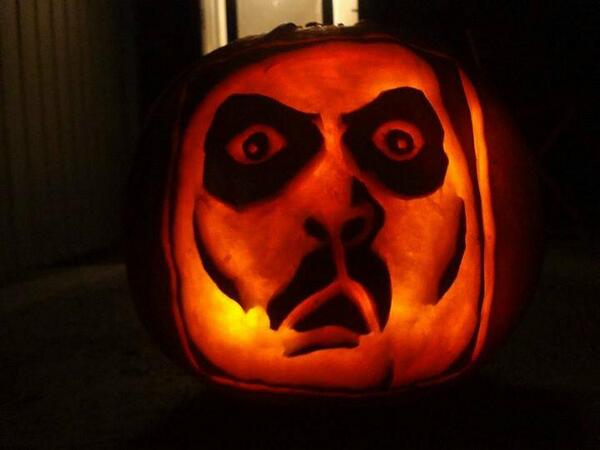 Ohhhhhhhhhhh yesssssssssssssss!
Kudos to whoever made it. I would love to know who it was so I can give them credit. I'm not good at carving pumpkins, by the way. It's probably because I have no interest in trying to clean it up after the carving. It's called thinking ahead, people.
- Former WWE Diva Eve Torres, who they recently billed as a "legend" in a press release for some reason, shared a photo on Instagram from Tuesday morning after giving the WWE divas some self defense tips.
From left to right: Alicia Fox, Kaitlyn, AJ Lee, Eva Marie, Summer Rae, Eve Torres, Rosa Mendes, Natalya, Jojo, Cameron & Aksana.
Obviously some girls aren't there, but it's nice to see the WWE Divas working together like that and learning self defense together. Maybe they can prevent me from breaking my TV the next time WWE books Los Matadores vs. 3MB because I'm sick of seeing that match. Thanks girls. I love ya. At least two of you. Maybe just one. I'm picky like that.
- Finally, last week in this space I talked about Chris Jericho's new online comedy show "But I'm Chris Jericho!" Here are the first two episodes.
Beware of a naked old guy shitting on a couch. I'm just saying.
I think it's legitimately very good and funny. The clips are 7 and 6 minutes, so it's not like it takes a lot of time to get through. Give them a look.
-----
Happy Halloween tomorrow. I'll be drunk at a bar telling the girls dressed in slutty cop/nurse outfits that they look gorgeous and the color of their outfit really brings out the beauty in their eyes. Then it's time for the weekend in preparation for my birthday on Monday. I turn the same age as Larry Bird's number. I feel younger, but the grey hairs coming in tell me otherwise. I'll enjoy it as best I can.
Email mrjohncanton@gmail.com
Twitter @johnreport