WWE is recruiting talent and I'm here to help you get a job!
Hey yo. It's TJR head honcho John Canton giving you the Scott Hall opening line as I fill in for Andrew Johnson for Wednesday Headlines. I received a text from Andrew saying "I have the flu" and he asked if I could fill in. While I am not one of the regular six Headlines guy, my name is on the site (or at least used to be). I said to Andrew: "Sure I'll make jokes about men in their underpants while you eat some soup and watch The View." We're tight like that.
As we all know, World Wrestling Entertainment is always looking for talent. It's a company that employs people of all ages, sizes, color and they do not discriminate. Stop laughing. Be a star. Anyway, recently they opened up a new website where you can apply to be a WWE Superstar at Recruit.WWE.com or FCWRecruit.com will re-direct you there as well. On the site they have this photo as a way to show you what kind of diverse talent they have in WWE.
Daniel Bryan? He's one of the best in-ring performers in the world who has developed into arguably the greatest all-around talent in WWE.
AJ Lee? Has experience as an in-ring performer before she was in WWE and has turned into a surprising hit on WWE television due to quirky personality traits.
Brodus Clay? Well…um…he's big. So they stuck hot girls to dance by him to hide the fact that other than being big he's well…um…still big.
It's not all pictures though. There are words too.
WWE is looking for individuals that possess a number of unique attributes that, either by themselves or combined, play a role in the success of a WWE Superstar.
Simple enough. Then they list five different areas to give you an idea of what they are looking for.
Athletic – Willing and able to engage in intense, physically demanding activities on a daily basis. WWE is a highly athletic style of performance that requires individuals be in excellent physical condition. All prospective Talent are required to pass a rigorous medical evaluation prior to joining WWE.
I like how the word "Talent" has a capitalized T. It makes me feel better that they refer to David Otunga as that as he applies his fourth chinlock of a match that is only three minutes in length.
Charismatic – Do you have "IT?" Do you stand out in a crowd? Do you have a special or magnetic charm or appeal?
You want a magnetic charm? I present you with this.
By the way, how great is the internet when you can Google "Great Khali funny" and find a picture of him playing a flute? What a wonderful we live in.
In all seriousness, I hope that Khali is resting well from his recent surgery.
Determined – A strong conviction to succeed coupled with physical and mental strength. Gaining knowledge of WWE's in-ring product requires the constant application of lessons taught both in and out of the ring. WWE is looking for individuals who are consistently willing go the extra mile.
I think "physical strength" means that you should be taller than 6'4" and weighing more than 230 pounds. I think "mental strength" means resisting the urge to bring up Vince McMahon's performance of the song "Stand Back" should you be alone in a room with him.
Coachable – The ability to listen and learn. Successful superstars are good listeners, open-minded and adaptable.
Q. Who was the World Heavyweight Champion between WrestleMania 20 and Summerslam 2004?
A. Nobody. The title was upheld at WrestleMania 20 until Randy Orton was declared champion at Summerslam 2004.
Correct.
Professional – Be held to a high standard of conduct at all times. As public figures, WWE Superstars are subject to the same scrutiny as other sports figures or celebrities and, as such, are expected to act accordingly both in and outside the ring. All prospective superstars are required to pass extensive background, nudity and criminal searches prior to joining WWE.
Extensive background, nudity and criminal searches? That's fair. What if you have an embarrassing photo in your past like this?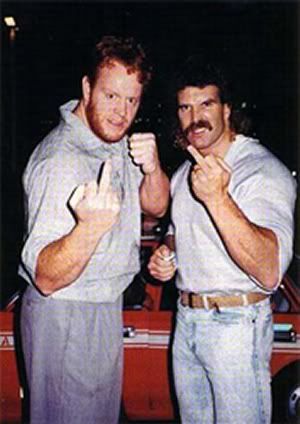 Apparently photos like that are okay. After all, the guy on the left is 20-0 at WrestleMania while the guy on the right contributed the "hey yo" line that I used to start this column. Both are tremendous achievements.
What have you learned from all of this info about the WWE recruiting process? I have no idea, but if you do make it to the interview stage be sure to say that Triple H is the greatest wrestler of all time because sucking up to the boss works in any job.
You're welcome.
It's actually a really smart idea to have a website with all of that info on it for talent recruiting, so kudos to Paul Levesque-McMahon and his staff for coming up with Recruit.WWE.com.
---
If you're wondering why Beth Phoenix wasn't on Raw she tweeted about it late Tuesday night:
"Thank u for all of the support and respect while myself and my family grieves the loss of a loved one."
I'm not sure who it was in her family that passed away, but on behalf of everybody here at TJR we send our condolences to Beth as well as her family.
If she wasn't there, though, why would she be on the pre-match graphic before the divas battle royal? Fire the graphics nerd!
---
Remember the Bella Twins? They left WWE recently. You may not have noticed since WWE forgets that they actually have women on the roster most weeks. They've announced that they're appearing in a movie called Confessions of a Womanizer. It looks to be an indie film. (ProWrestling.net)
That was going to be the title they were going to use on a movie about Ric Flair's dating life until they changed that one to "Holy Crap I Got Married Again?" *
(* Movie does not exist. Yet.)
---
It's actually a good thing that I'm doing Headlines today because I did an interview with Joe Amphlett of TalkSPORT radio in England. My part of the interview begins at around 3:30 on this link so be sure to give it a listen as we talk about Summerslam in detail as well as some of the events from Raw. It's a 15 minute chat that I recorded at about 11:45pmET so if I sound tired I guess I was. Then again I have never liked the sound of my voice. When you get on the site click "Like" on the post too. The response has been great so far so instead of the usual 8 minute chat it got extended to 14 minutes . Keep spreading the good word and he'll get more time. I enjoyed it as usual! Thanks Joe.
I have to use this mention of England to talk about how Prince Harry was reportedly clearly drunk and naked in Las Vegas recently in Las Vegas. So what's the big deal? I wish I was drunk in Vegas right now so instead of talking about this in a negative way I will applaud him for his efforts. I love that it's called a "vacation" by the way. I guess going to Olympic events in England for two weeks is what they considered "work" for him earlier in the month. I hate him and love him at the same time.
---
The last thing I'll leave you with is a WWE meme shared by my good friend Edswoggle (that's his name - deal with it) regarding Chris Jericho being "fired" on Monday's Raw. The image speaks for itself. It's a TJR "Did You Know?" which is unlike the WWE "Did You Know?" because it's actually about something interesting.
Yes my friends the man that is famous for having 1004 holds was "fired" on the "historic" (I am going nuts with the quotation marks aren't I?) 1004th episode of Raw on Monday.
What was the name of that Jesse Ventura conspiracy show that nobody watched? I believe it was called "The Jesse Ventura Conspiracy Show that Nobody Watched." Anyway, if that show was still on television they would have some revealing news about this I'm sure.
And if you haven't seen Jericho's epic "Man of 1004 holds" promo from WCW then what the hell is wrong with you? Here's the clip, junior.
"I got 200 more holds to list!"
Brilliant.
---
Now if you'll excuse me I need to go shop for a house in Las Vegas because I think my beloved Canada is going to explode due to the engagement of Nickelback lead singer Chad Kroeger and annoying teeny pop singer that is too old to be singing that crap Avril Lavigne.
On behalf of Canada, I apologize to the world. At least we give you great Canadian wrestlers right?
Yep. Kurrgan.
Andrew should be back in good health for his weekend Smacking of Smackdown column and if he's not I'll probably fill in there too.
See ya tomorrow for my annual "Twenty Ideas for WWE to Consider" column. It's a big one.
John Canton - mrjohncanton@gmail.com
Twitter @johnreport
Facebook TJRWrestling.com on Facebook