Now that the Royal Rumble is in the books, Elimination Chamber takes place in a month and WrestleMania is on the horizon, there are always thinks to talk about. Lucky for you, the TJRWrestling news team (really just a bunch of guys with laptops scattered around the globe) is here for you.
Do you remember Sting? He's one of the most famous wrestlers of the last 25 years even though he's never worked for the monopoly known as World Wrestling Entertainment. That could change (finally) in 2014.
According to PWInsider (re-written here on Lordsofpain), talks have opened up between WWE and The Stinger to the point that they are trying to figure out when to bring him in. Here's the key info from the report:
PWInsider has confirmed reports that negotiations are ongoing between Sting and WWE. Word is that a decision must be made within the next 2 weeks on whether or not Sting is going to join the company.

Several factors are being worked out right now including scheduling and what Sting is and isn't willing to do creatively. This does not mean Sting is definitely coming to WWE and he could very well work another year with TNA but the impression has been given that Sting realizes if he's going to have a run with WWE, this is the time.

The impression was also given, within WWE, that there will not be a match against The Undertaker, at least at this year's WrestleMania event. However, the idea of Sting debuting at WrestleMania XXX with some kind of cameo or vignette has been discussed.

I like the sound of that. The key thing is to not bring him in as a major player because the man is 54 years old. Use him as a role player, as a part-timer or somebody that only works a couple of matches in a year. Protect him by putting him in a big tag match. Just don't stick him out there as often as TNA did because that does more harm than good.
It makes sense for Sting. They can make a DVD about his career, he can be there to talk about past WCW instances on WWE Network and he can work in front of crowds larger than the hundreds he was wrestling in front of while he was in TNA.
From WWE's side of it, why not do it? If he debuts this year maybe at WrestleMania you don't have to advertise him in a match. Make his debut at WM30, he can save a face from a beatdown and pose for the fans. That's a WrestleMania moment right there. He can maybe wrestle in a couple of matches or maybe serve in a GM type role. In 2015, he can be one of the biggest names in the Hall of Fame. He wouldn't feel like just a WCW guy if he put in a year of work in WWE first.
The Sting story isn't going away. While I'm sure some fans don't even care because he's just a dude in his 50s, I think it would be pretty cool to see just because it's never been done before.
Mick Foley Smashed His TV Due to Royal Rumble Match
A lot of us are passionate wrestling fans. We really get into what we saw because we're fans of the business and believe in the characters we're watching. The question is, would you break something that was in your house just because of something you watched on a wrestling? I don't think I would, but WWE Hall of Famer Mick Foley would. In fact, that's exactly what he did.
Foley went on Facebook and Twitter over the past week talking about how if Daniel Bryan didn't win the Royal Rumble he would smash his TV. Not only did he not win, he wasn't even in the match. He didn't end smashing his TV. He decided to smash one of the smaller TVs in his house. I'm sure a guy like him with a house full of kids has many TVs, so he decided to pick one and smash it with a baseball bat. Here's the video proof.
It was a nice move by Foley. Of course, it's not like he smashed a big TV. That TV is pretty small. It likely cost about $200 at most, so I'm sure a guy with his resources could replace it pretty easily. It's the thought that counts.
There are some fans that think maybe this whole thing is an elaborate work because Foley's angry tweets got picked up by TMZ, which could be in cahoots with WWE. Of course Foley also mentioned his WWE deal expired, but again this is wrestling where nobody ever believes anything they ever read.
At least he didn't jump off a roof. We love ya, Mick.
Goodbye to the Sin Cara character…soon.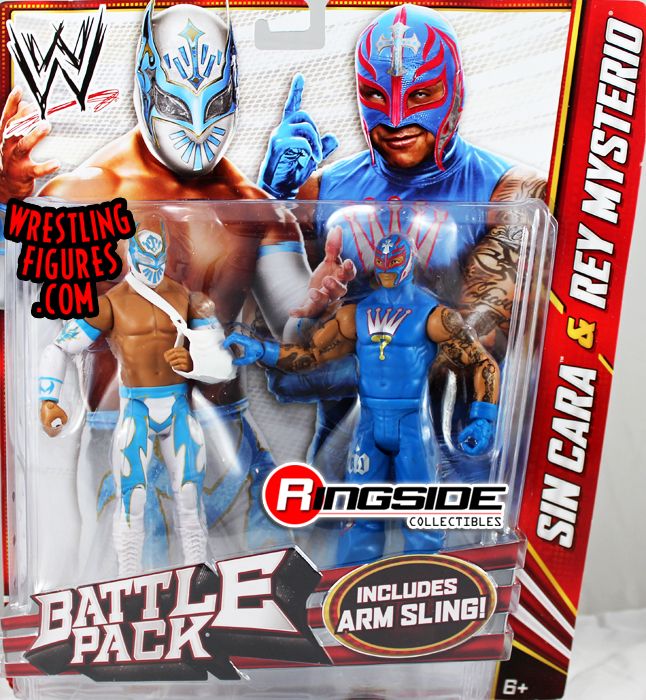 Note: When your action figure includes an arm sling it's really not a good sign.
We would like to wish the Sin Cara character the best in its future endeavors soon. There's a F4WOnline/Wrestling Observer story about how the character of Sin Cara could be gone in the very near future.
WWE officials have reportedly "given up" on Sin Cara with Hunico under the mask already. They're likely keeping the character around for merchandise sales and because he's in the upcoming Scooby Doo WrestleMania movie. (Lordsofpain)
The original Sin Cara was portrayed by a guy named Luis Alvirde, who became a top star wrestling in Mexico as Mistico. As most fans know, his career in WWE didn't go very and as of January 2014 he was no longer a WWE employee. They moved the former Hunico back into the Sin Cara role for the past couple of months. Hunico's a very good worker who doesn't make mistakes.
Now it appears like the gimmick will be resting in peace in soon. But not yet! Because Scooby Doo WrestleMania is apparently a big deal. That made for TV film is going to be released on March 24. That likely means the Sin Cara character could be gone within a couple of months after that. Hopefully Hunico keeps his job.
I don't blame WWE for wanting to create a new masked character since Rey Mysterio is near the end of his career. It is good for merchandising purposes especially with kids. It just didn't work. They picked the wrong guy to make it happen.
At least we can celebrate the end of those stupid lights that made it harder to see the action.
Hey WWE, the way you light the ring is fine and has been fine for like 50 years. You don't need to change it for one person! (They love when I say "hey" to them.)
Raw Viewership Not as Strong as Last Week
Raw had less people watching the show this week compared to last week. Usually the post-Rumble edition of Raw is one of the most viewed episodes of the year. Here's that news from ProWresting.net:
Monday's WWE Raw television show averaged 4.718 million viewers, according to Zap2It.com. Viewership was down from the 4.869 million average from last week. The first hour of Monday's Raw averaged 4.849 million viewers. Hour two drew 4.837 million viewers. The final hour of the show averaged 4.470 million viewers. Last week's show scored the big 5.249 million first-hour viewership total.
Last week's first hour total was likely due to the return of Batista, but it also could have been because Daniel Bryan was back to his old self after destroying Bray Wyatt the week before. It's not a good sign when hour three has 400,000 less viewers than the first hour because that says the audience is tuning out. The main event had a lot of hype, but only after the opening promo with Bryan, HHH and Stephanie.
I'm not sure who to blame for this week's number being a bit low. Who will Vince McMahon and Triple H blame? Anybody under 6 feet tall, of course. Because that's what they do! (I miss you, Mark Henry.)
Listen to TJR Radio from Last Night
Last night (that's Tuesday) we had another edition of TJR Wrestling Radio as Matt Seagull, The Ace and myself discussed everything going on in WWE right now. By everything I mean the stuff we actually care about that could be squeezed into 90 minutes of airtime.
Topics discussed:
- Plenty of talk about the Royal Rumble as well as the obvious omission of Daniel Bryan.
- We went over the rest of the Royal Rumble card with plenty of praise for the Wyatt/Bryan match.
- Some early thoughts on the Elimination Chamber lineup.
- There was a discussion about possible WWE appearances by Sting and Hulk Hogan.
- We spoke about the rumored WrestleMania matches although they can change too.
- Ended the wrestling talk by answering questions of my Facebook wall for about 15 minutes.
- After 75 minutes of wrestling, we talked NFL Super Bowl for the last 15 minutes of the show.
You can listen to the show using this link right here, which will all you to play it right there on your browser or download it so you can listen at your own convenience any time you want. If that's not good enough for you, you can get it on ITunes too. I'll even paste it below right here if you want to listen to it right on this page.
It's that easy. I had a Kelly Kelly joke right there, but I'm going to behave.
----
That's all for me. Thomas & Aaron Briggs will have the Thursday news for ya tomorrow while Mike Holland wraps up the week on Friday. I want to also thank William "Monday" Math and Nicholas "Tuesday" LeVack for joining us on the News Update team. They're doing a great job.
Go check out my WhatCulture.com profile for links to my multiple posts per day (it's usually 3-4 per day) and make sure you look at the big one that takes a close look at some silly Undertaker moments.
I hope the rest of your week is great. As for Mother Nature, please ease up on us. Sick of this damn cold!
John Canton - mrjohncanton@gmail.com
Twitter @johnreport