I haven't done a WNU since December 18th because the last two Wednesdays were Christmas and New Year's Day. Party time is over, so let's focus on the news in the wrasslin'/sports entertainment business.
The big story of the day and probably the year in WWE is the launching of the WWE Network. Of course WWE hasn't come out to say that the WWE Network is the big story, but that's the assumption. Here's the official WWE press release about it.
A groundbreaking WWE announcement will air LIVE on WWE.com tomorrow at 9:30 pm ET. WWE Chairman & Chief Executive Officer Vince McMahon, Chief Revenue & Marketing Officer Michelle D. Wilson, Chief Brand Officer Stephanie McMahon, Executive Vice President, Talent & Live Events Paul "Triple H" Levesque, Executive Vice President, Digital Media Perkins Miller, WWE Hall of Famers Shawn Michaels and "Stone Cold" Steve Austin and WWE Superstar John Cena will make the announcement live from Las Vegas. The groundbreaking announcement will also be streamed live on the WWE App, YouTube, Facebook, Twitter, Yahoo!, Google+, Pinterest and Pheed.
Here's what Dave Meltzer of F4WOnline.com had to say about it:
While everyone expected it, there was something just released by WWE today for tomorrow's announcement from the Wynn Hotel in Las Vegas stating it will be the "WWE Network announcement."
Apparently that got changed on WWE's corporate site, but that's what it said earlier on Tuesday.
Here's what Mike Johnson of PWInsider.com had to say about what the announcement is.
100% for the WWE Network, according to multiple people we've spoken to within the company today.
It's finally here. The WWE Network announcement takes place tonight at 9:30pmET and I know that if I'm around this evening I'll be watching it. There are a lot of rumors about what it's going to be like, but the most likely scenario is for it to be an online service similar to Netflix where a library of WWE shows are available for users to watch whenever they want as long as they have paid the monthly subscription.
We don't know if the subscription is going to be $10, $12 or $15 or how it will work. We don't know if there will be original programming although the assumption is there will be. We don't know how PPVs will work, but it's likely that they will be shown on WWE Network and would be part of your subscription. So many questions. Tonight we should get the answers.
My advice is watch the press conference tonight because all the details should be there. Head to WWE.com for more info as well. I'm also pretty sure that our Thursday News Update guys Thomas & Aaron Briggs will have more about it tomorrow and also Mike Holland on Friday with the FNU.
The first WWE Network advertisement aired as a commercial in late 2011. Here we are in January 2014 and it's finally arrived. It's about damn time.
IN OTHER NEWS
- In sad news, Dolph Ziggler suffered a concussion during a Superstars match against Ryback on Monday night. From NoDQ (plus WWE.com & F4WOnline.com):
Dolph Ziggler suffered a concussion in the match against Ryback at last night's WWE Superstars taping.

WWE.com has followed up with Dr. Amann. Amann noted that Ziggler's concussion symptoms are starting to improve some today. Ziggler will be seeing a neuropsychologist in Pittsburgh later this week for further evaluation. Ziggler's status will be day-to-day as his symptoms improve.

We noted before that there was heat on Ryback for injuring Ziggler with the stiff clothesline. Word is that Ryback is taking full responsibility for what happened. The fact that Ziggler is being sent to Pittsburgh to see a neuropsychologist could be a bad sign.
This sucks. Ziggler had a concussion earlier in 2013 when he was the World Champion and then he lost the title against Alberto Del Rio. He fell down the midcard ladder so to speak after that. Now he's dealing with another concussion. No idea how serious it is. Sometimes a concussion can only cause a person to miss a week. Other times it can be weeks, months or even a career ender. The more concussions you have the more likely you are to sustain them in the future. I'm glad WWE tests their superstars for concussions and that they can get the proper care to get back in the ring, but I also hope Ziggler is smart about when he returns to the ring too.
As for Ryback, he's been wrestling long enough that he shouldn't be injuring a guy by throwing a move as basic as a clothesline. I would imagine that Ryback is on the receiving end of heat for this. I'd say that he would lose his push, but it's not like he had a push either.
- Here's the Elimination Chamber poster featuring Stephanie McMahon. She seeks attention, I guess.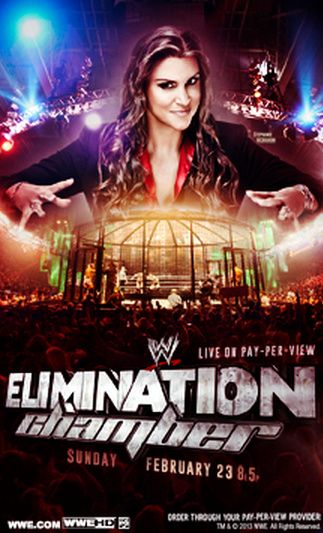 Posters don't really mean anything. Remember when R-Truth was on the Hell in a Cell poster? He wasn't even on the card.
- Lastly, here's an awesome video from ESPN's youtube account that was shown during ESPN's broadcast of the Michigan State-Ohio State college basketball game on Tuesday. The game was in Michigan State (they won in overtime) and the crowd there was loud all night. Some fans chant "miss" in the Daniel Bryan "yes" style during free throws by the opponent. As you can see in the video, some Michigan State football players led the whole arena in loud "yes" chants similar to what Daniel Bryan does in WWE.
It's awesome to see that in the mainstream sports world and on ESPN. I really hope WWE is aware of it and shares it with their fans. Of course now Bryan is a low key heel character although I don't think that will last much longer. It just means they might be reluctant to share it. I think it's an awesome visual to see the whole crowd doing it. It's simple and it works.
Here's an accompanying video featuring Michigan State football player Travis Jackson talking about how he started doing the Daniel Bryan celebration.
I got that from former WWE announcer Todd Grisham on Twitter, who shared the link. Like I said, it's awesome when that Bryan celebration can make it onto ESPN because it's great exposure for WWE.
-----
Here's TJR Radio from last night with Matt Seagull, The Ace and myself. Topics discussed: Old School Raw, 2014 Predictions, WWE Network, Royal Rumble and some brief NFL talk at the end too. I can also confirm that the song that started the show was the choice of The Ace. I was not consulted I promise you! Haha. I had to get that in there.
You can listen to it via this link right here and there's an online player or you can download it to listen at your own leisure. You can also find it on iTunes at this link as well. I've also embedded it below.
We had a lot of fun doing it as usual. The next one is on January 28th following the Royal Rumble.
That's all for me. Hey Mother Nature, ease up a little bit. Thanks.
Email mrjohncanton@gmail.com
Twitter @johnreport