Are we witnessing the burial of Damien Sandow or is this merely some way to pass the time until Creative can find something more substantial for him? Did Damien make enemies out of the wrong people backstage or is he happy about his Halloween-every-week situation?
I can't answer these questions, but looking over the past few months of the Intellectual Savior of the Masses' career has many of us scratching our heads. What are they doing to this guy? But while he's not climbing up any company ladders with his current booking, he is still finding ways to entertain us fans. Maybe this strange chapter in Damien's WWE tenure will ultimately work out for him...or maybe I'm trying a little too hard to find the silver lining in all of this.
I'm going to go back over the past few months and try to recap all of the goofy costumes and characters Damien has appeared on screen with. Many of these are highly entertaining. Some miss the mark. I'll give a grade to each of them, along with short recap and analysis.
Whether all of this is being done as punishment to him or not, WWE--and life in general--is handing Damien Sandow a big pile of lemons. Let's revisit these events as he tries his best to make lemonade out of it all.
Magneto - RAW April 28th, 2014
Wolverine himself, Hugh Jackman, made an appearance on Raw to promote his new X-Men movie. He hyped up this showdown with Dolph and Damien earlier in the week on Twitter. Hugh has also been on RAW in the past, crossing paths with Ziggler frequently. On this night, Ziggler was his pal as they faced off against one of the most deadly villains in the comic world, Magneto. Damien came to the ring and bantered with the two for a bit. After a failed attempt at using magnetism against his foes, Hugh Jackman hip-tossed Damien. Dolph Ziggler then applied his Zig Zag finishing maneuver.
The costume was a cheesy and Damien was made fun of for it. I don't fault him for his pajama-like costume. It worked to brand him as the object of ridicule. This showdown was even used to set up an actual match, which is more than Sandow will get on with some of these segments.
Mitch's Grade: B
Magneto vs. Dolph Ziggler - Smackdown May 2nd, 2014
This match occurred because of the Hugh Jackman segment from Raw just a few days prior. The cape sort of added some flair to Sandow's Elbow of Disdain. Michael Cole and JBL accused each other of having footy pajamas that looked like the Magneto outfit. Sandow tried to use his magnetic powers in this match, but Ziggler just said, "This is stupid," then drop-kicked him. Sandow's cape covered his head, blocking his vision, and he then fell victim to the Zig Zag. Sandow lost as Magneto.
I wasn't sure if I should grade the Magneto gag twice. I decided to go ahead because it was done on two different shows. The bit was slightly stale between Monday and Friday nights, so I dropped the grade a little.
Mitch's Grade: C
Sherlock Holmes vs. R-Truth - Main Event May 20th, 2014
Sandow competed against R-Truth in this Sir Arthur Conan Doyle-inspired getup. After having some troubles in this match, Damien went outside the ring, grabbed his pipe, then "pondered his circumstances," according to announcer Tom Phillips. Sherlock "cracks the case" as Sandow scores the win on this occasion. The fans booed as he grabbed his pipe and magnifying glass to celebrate his win in the middle of the ring.
Not only was the costume good, but Damien did a great job of stepping into character and made good use of his props. Also, he won the match, so that's a plus.
Mitch's Grade: B+
Davy Crockett vs. Adam Rose - RAW May 26th, 2014
This was one of the more educational characters that Sandow has portrayed. While wrestling Adam Rose (in Rose's debut match on the main roster), Michael Cole points out that Davy Crockett is a three-time Congressman. JBL then informs us how Crockett was twice sold into indentured servitude to pay off debts.
The Real Americans, Jack Swagger and his manager Zeb Colter, came out near the end of this match with one of Rose's party friends. A man, who was dressed up like a lemon, was threatened with violence by Swagger in an attempt to distract Rose in his match. Usually this causes the distractee to lose, but not in this case. Sandow fails to capitalize and gets hit with the Party Foul. Adam Rose defeats the American pioneer.
Mitch's Grade: C+
Sandow (The Interpretive Dancer) & Fandango vs. The Usos - Raw June 9th, 2014
This was a very odd match. Sandow looked slightly creepy with his flesh-covered body suit. I will, however, give his dance moves some credit. He first enters the arena to join Fandango and he's got a streamer that he's dancing with. He goes to town with that thing. During the actual match, he stops himself as he's being flung into the ropes via Irish Whip and then dances with passion. Unfortunately, this set up an Uso Superkick that just about took Damien's head off. While I can look back on this and appreciate his commitment to this character, it was odd on first viewing.
Mitch's Grade: C
Lebron James Fan - Raw June 16th, 2014
I debated not including this one, because it wasn't really a character or anything. He just simply wore a Lebron James Heat jersey to get a rise out of the Cleveland crowd. I mainly included this because Lebron has since decided to go back to Cleveland.
This was a battle royal to see who would get a spot in the WWE Heavyweight Championship ladder match at Money In The Bank, which Roman Reigns won. The fickle Cleveland crowd was happy to see Damien, and his King James jersey, get eliminated first. No grade on this one.
Paul Revere vs. Adam Rose - Money In The Bank June 29th, 2014
This might be the most depressing Sandow character of them all, simply because of what happened for him at this event just one year prior. He goes from winning Money In The Bank in 2013 to losing as a comedy enhancement talent in an unannounced match.
While the situation was depressing, this was a funny segment. He rocks the tri-fold hat with dignity and class. He tells the Boston crowd that he (Paul Revere) regrets warning them about the British during the Revolutionary War. He gets a ton of heat when he says that they'll always live in the shadow of New York. Even though Revere lost after getting hit with the Party Foul, it was still mic time and a match on a pay-per-view.
Mitch's Grade: A-
Mr. McMahondow vs. The Great Khali - RAW June 30th, 2014
Damien referred to himself as Vincent Kennedy McMahondow, which is absolutely hilarious. This was one of the funnier impressions he's done. Mr. McMahondow entered Damien into the Intercontinental Battle Royal at Battleground. I don't really understand how people can simply dress up as members of the McMahon family and enter themselves into matches, but Stephanie didn't question that logic when she showed up on the Titan tron.
She did, however, announce that Damien would be fighting The Great Khali, which happened right then and there. Damien lost in quick fashion to Khali. I think one chop was all it took, but I refuse to go back and watch it to verify it. The Khali loss doesn't erase the entertaining McMahon promo that Damien executed, WWE. You can't take that away from me!
Mitch's grade: A+
Bruce Springsteen - Smackdown July 4th, 2014
The only thing Sandow gets to say in this skit is, "New Jersey, is anyone alive out there?" Rusev then comes out and makes short work of Damien. This set up a standoff between Rusev/Lana and Swagger/Colter.
Damien had a good look going on. His voice was garbled like Springsteen. But I couldn't really grade this too highly because it was cut. They should've given him another 30 seconds.
Mitch's Grade: B-
Bret Hart - RAW July 7th, 2014
Damien announced himself as Damien Sand-Hart, which I thought was pretty funny. His outfit was spot-on and he's been making great use of the wigs. This was in Canada, so Damien was committing a cardinal sin by poking fun at the legendary Hart. He called Canada a third world country and told Bret that talking never was one of his strong suits. This led to Bret knocking Sandow out to the floor with a jab.
There was also a match between Sheamus and Damien Sandow on this night. Damien copied some of Bret's in-ring mannerisms, culminating in a failed Sharpshooter attempt. Sheamus would grab him by the beard to get out of the move, ultimately winning with his Brogue Kick.
Mitch's Grade: A
Shawn Michaels - Main Event July 8th, 2014
Newly-returned Chris Jericho was hosting Bret Hart in the Highlight Reel. Bret was talking great rivalries and mentions Shawn Michaels, only to have HBK's music to to hit. Instead of HBK, we get Damien Sandow in HBK attire. The Ottawa crowd chants, "You screwed Bret!" at Sandow, which I still think is funny. After some banter with the WWE Hall of Famer, Damien finds himself on the wrong end of the Sharpshooter.
Damien chose to dress up like modern-day HBK with jeans and camo gear. He could've gone more retro with his more flashy gear from the 1990's, but I'm sure this was easier to put together. This was the second day in a row that he was opposite Bret Hart, which I'm not complaining about.
Mitch's Grade: A-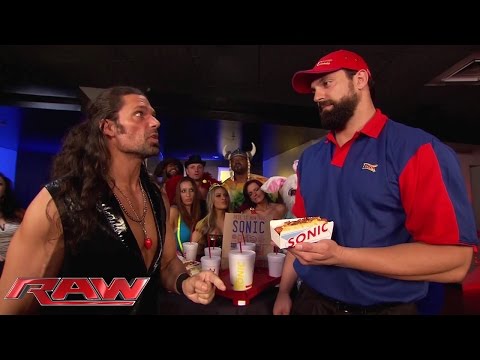 Sonic Employee - RAW July 15th, 2014
Is this a prediction of Damien's future? I sure hope not, but considered that this was his only appearance during this broadcast, the WWE seems to be determined to make this happen. This is completely depressing to see. The man that won a Money In The Bank ladder match last year is shilling fast food. And not even good fast food. Sonic is okay, I guess. But he could've at least been given some Chick-Fil-A or Rally's. Okay, I'm just typing in food I'm craving at this point. It takes my mind off the terrible state of Sandow's career.
Mitch's Grade: F
Mitch's Final Thoughts:
Last Monday's Sonic-inspired interaction with Adam Rose really was a bad note for this column to end on. Can Sandow put on a great wrestling match right now? We don't know because wrestling is not his focus right now. He's purely a comedy character right now. But credit must be given to the man, because he tries.
Looking at my grading, I gave four characters 'A' grades. Sandow's takes on HBK, Bret Hart, Paul Revere, and Mr. McMahon were his best bits, in my opinion. I gave the highest grade, an A+, to his Vince impression. That was a really well-received impression that showed off just how entertaining he still can be.
Where does Damien go from here? It doesn't seem like it would be too difficult for this to transition into some sort of feud. All he has to do is do an impression that another wrestler takes offense to. There are several second generation superstars currently in WWE. Damien should dress up as Mr. Perfect, Rikishi, or Dusty Rhodes. He could then feud with one of their disgruntled offspring after he takes his jokes a little too far.
The man is full of talent and he's showing that every time he puts on a new costume. Will the WWE ever give Sandow a stable character and meaningful in-ring time? The man can obviously handle it.
Did I miss any of Sandow's funny characters? I tried to go over the past few months of reviews of all of the shows, but I could have overlooked some. Feel free to comment below on what you thought of each of Sandow's characters and costumes. If he continues this gimmick of new characters every week, maybe I'll go back through this and do a full history of it all. Like many fans, I'm hoping this is merely a temporary rut in his career.
Once again, follow me on Twitter @MitchNickelson. Also, check out shorter wrestling musings from myself and a few cohorts at mitchandal.wordpress.com.