In the run up to WrestleMania, obviously many people will be giving their point of view on where it's all heading. We have no idea how the matches will pan out at the big one but we love to speculate, we love to discuss and argue and berate each other on our choices and thoughts. This year is no different and, even though some decisions seem to have been made within the last few weeks, it doesn't seem to have harmed the build.
WrestleMania is never the purist's event anyway. It's there for the big buys. It's there for the mainstream. In a way, it's there for the casual viewer. The sort of person who used to watch it when they were younger, or fell out with it during the PG-era but still wants to catch up once a year. There's nothing wrong with that but let's make no mistake that's why the big name legends return each year, The Rock, Hogan, The Undertaker. Make no mistake, that's why they have the celebrities at ringside waving at the camera. Make no mistake, that why it's now 'WrestleMania week' with reading challenges, celeb golf tournaments and Axxess events. Again, there is nothing wrong with this. It's the one day (week?) of the year that WWE can legitimately lay claim to be one of the big entertainment stories in the US and, to some extent, the rest of the world.
On top of that, the regular fan has PPV's like Money in the Bank and Extreme Rules and, let's not forget, the post-WrestleMania Raw, to be cheered by. WrestleMania is for everyone, those events, well, they're for us.
With the build nearing its end with only one more Raw and two more Smackdown's before the big night, I thought I'd give a brief run-down and discussion of how each match is working. Some will be shorter than others because they have just been announced but still, they'll be mentioned. So, here we go. As of Wednesday, these are the matches currently announced and here's my thoughts (and a prediction – yup, I'm going out early with these bad boys).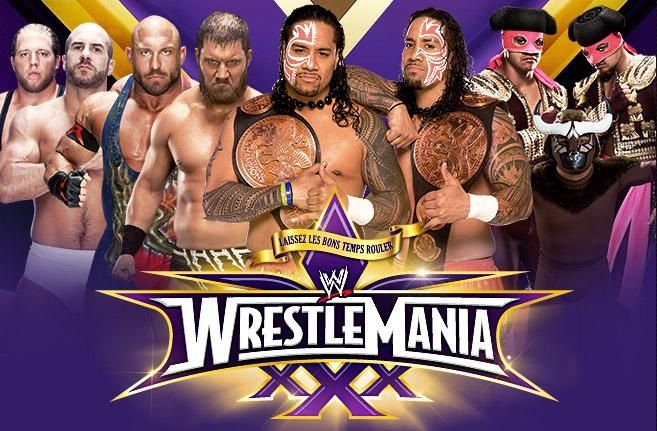 Fatal Four-Way Tag Team Match for the WWE Tag-Team Championship
The Usos vs. RybAxel vs. The Real Americans vs. Los Matadores
Although the Fatal Four-Way itself hasn't had much build, three of the teams in it have had a good through-line to this match. Obviously, Los Matadores appear to be there for no other reason but to make the match a Four-Way. RybAxel were rewarded with this match after they helped decimate The Shield on Smackdown last week but were then destroyed by the very same group this week. The Real Americans are my favourite team right now but, unfortunately, seem to be heading towards the split with Cesaro becoming a babyface. They are there though as a reward from The Authority too. This leaves Jimmy and Jey standing tall as the only viable babyface option. It would have been nice for The New Age Outlaws to lose to The Usos at WrestleMania for a great pop but the match was moved forward to counteract the CM Punk chants in Chicago. I see The Real Americans being the biggest threat but a mix-up between Swagger and Cesaro will let in RybAxel who will then be pummled by The Usos for the win.
Winners and STILL Tag-Team Champions: The Usos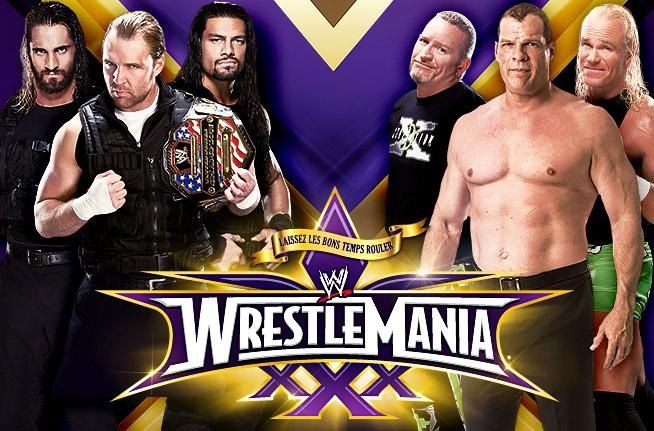 The Shield vs. The Authority (Kane, Road Dogg and Billy Gunn)
This feels like a disappointment. The build has been nice from The Shield's point of view. I'm not wholly convinced by them as babyface's, certainly when it looks as though Ambrose at least will be turning to the darkside quite quickly, but the audience has been on their side since The Wyatt's feud so it makes sense. I don't have a problem with Kane being involved either, the big man deserves a match. I do have a problem with The New Age Outlaws being here though. If they'd made more of a big deal that the NAO were there and were friends and supporters of Triple H, it'd make sense, but they never have. They're effectively just 'some guys in a match'. Basically, it could be any team in this match and it wouldn't change. Road Dogg and Billy Gunn need to have been front row centre with The Authority since they recaptured the tag-team titles, there as HHH's mates, afforded the opportunity by the boss, but it hasn't been mentioned. Either way, this ends with Kane getting pinned by that other big-guy, Roman Reigns.
Winners: The Shield (Kane pinned by Roman Reigns)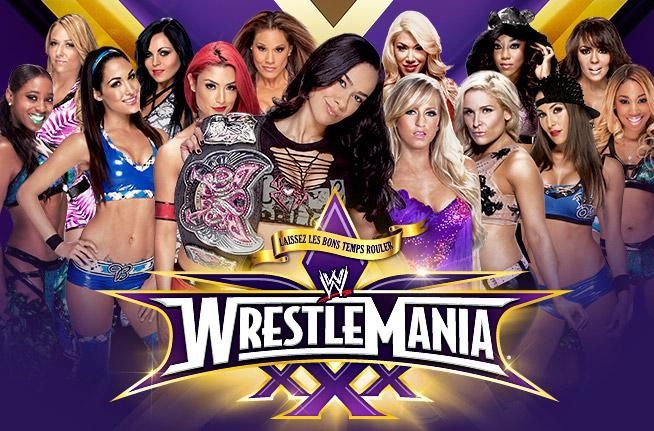 14 Diva Single-Fall "Vickie Guerrero Invitational" for the WWE Divas Championship
In a way, if the guys are getting their Battle Royal and payday, the ladies deserve it too. It's not their fault that, with the exception of AJ Lee, Creative couldn't give two hoots about the division. Seriously, this is the year Trish Stratus inducts Lita into the Hall of Fame and this match shows how far the division has dropped, particularly since the name change to 'Divas Championship'. Having 14 Divas (sigh) in the match though, and the presence of AJ, Tamina and Natalya means this won't be the toilet break match of previous WrestleMania's but I do see it being a short one. I want AJ to retain but, depending on a later match, could see Brie sneaking the pin.
Winner and NEW Divas Champion: Brie Bella
Bray Wyatt vs. John Cena
It is really strange to see John Cena so far down the card but times have changed, even from last year. If WWE want WrestleMania XXX to be one for the ages and used in promotional material for years to come, having 50% of the crowd booing your hero in the Main Event probably isn't the way to go. When it comes to the build for this match, it's been pretty good. Obviously, The Wyatt's cost Cena's repeated attempts at reclaiming the gold and, after the Elimination Chamber match, Cena had had enough. When Cena wants to be, he can be one of the strongest on the mic and he has been matched, if not surpassed, by Bray Wyatt. On top of that, Cena, even if he looked a bit off the pace on Monday, still had a cracking match with Luke Harper. I genuinely don't know how this match will go. Bray going over Daniel Bryan at the Royal Rumble was a surprise but, after Cena's demolition of The Nexus a few years ago, this match makes me nervous. There is no need at all for Cena to collect the win and, if anything, if Bray wins it means the feud can continue to Extreme Rules. It's WrestleMania though. And John Cena. Good build but I don't see any other winner with a week to go.
Winner: John Cena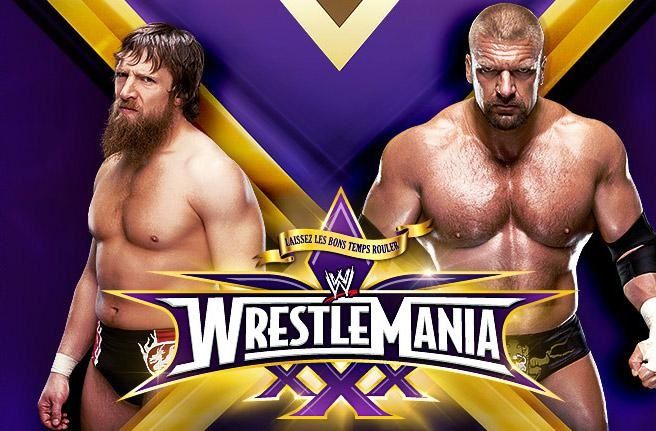 Triple H vs. Daniel Bryan
Potentially the best build in years and it all might not have happened. Since SummerSlam last year, this one has been brewing. It's managed to traverse terrible booking (Scott Armstrong anyone?!) shifting Daniel across to an upper mid-card feud with The Wyatt's and the return of everyone's favourite trouser-ripper Batista. And yet...this probably has most fans more pumped than The Streak match, and that hasn't happened in about five years. Yes, we know, allegedly, that CM Punk was ear-marked for this match but it's now Bryan (and he probably would have been dumped down to the Battle Royal which is scary). It's the #yesmovement against The Authority. It's old school versus new school. It's Triple H, the prototypical WWE wrestler, taking on Daniel Bryan, the independent little man. It will get one of the biggest reactions of the night (depending on how the final match goes down) and these two men will want to put on a clinic. Daniel is finally getting a big match at WrestleMania and Triple H will want to try and steal the show. Bring it on. For the sake of the story, I see only one winner but, if the Boss wins he either becomes the biggest heel in years by winning the big one later on in the night or, potentially, Vince will return and put Daniel in the main-event anyway (if Trips cheats to win). However, over-booking aside, I'm going with my heart on this one.
Winner, and advancing to the Main Event: Daniel Bryan
Andre the Giant Memorial Battle Royal
This will be a lot of fun. It's not had much build because, similar to the Royal Rumble, it doesn't need much. Yes, we'll see a few little plots develop between wrestlers (Christian and Sheamus/Titus and Darren for instance) but this match will be too fast-paced for that. There are still four places up for grabs and I see that going to some Legends (even The Ultimate Warrior hasn't ruled himself out of an appearance) but, when it comes to winners, short of Hogan entering and winning, there's only a few guys it could be. Big E, Rey and Sheamus all stand a chance (I see this event being babyface territory) but, for me, historically, I see only one man winning it, and good on him too.
Winner of the Andre the Giant Memorial Trophy: The Big Show
The Undertaker vs. Brock Lesnar
Every year we talk about how no-one will ever break the streak but this year, just like any other, when the match is in full flow and Lesnar hits an F-5 and goes for the pin, we'll all forget that. That's the beauty of The Streak. The build has been curious though. With both men being part-timers, it's fallen to Paul Heyman to do the bulk of the work and with Punk's departure, the story of Heyman getting another chance at The Undertaker has been lost. On top of that, WWE doesn't want to mention the past between the two which makes Taker coming out and picking Lesnar a few weeks ago a bit meaningless. Also, this Monday on Raw was a lacklustre ending with Taker yet again getting over The Beast and The Walrus. We need Brock to decimate Taker next week on Raw for this match to mean anything. It'll be a potential match of the night, no doubt about it. Both men are too good for it not to be, but it's lacked a certain something in the build. On the night though, who cares?!
Winner: The Undertaker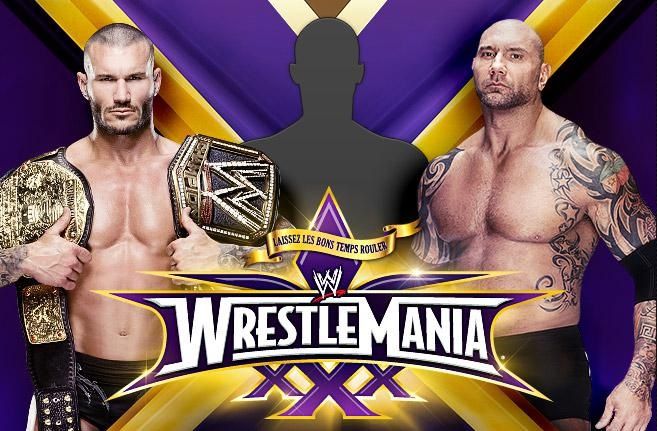 Randy Orton vs. Batista vs. TBD
Randy Orton has done his best, I really believe that, in recent weeks. The return of Big Dave was supposed to be a huge face pop and easy run to the title. It hasn't happened that way though, Batista was turned heel rapidly, and Randy has had to keep the whole thing together. Add to that the recent stipulation that the match will be a Triple Threat and this suddenly piques interest for the audience. Obviously, most people, and myself according to my prediction, want Daniel Bryan to go through. I do see a potential Fatal Four-Way though but that's an over-bookers dream. It will be a match primarily between Randy and Daniel. Nothing against Batista, but his fitness looks similar to that of The Rock in recent years. Fit and toned but not the right sort of fit and toned to participate in a 25 minute Main Event. Again, similar to my reasoning why Cena is not in this match, I see Daniel Bryan winning because, from a promotional point of view, for years to come the WWE can use footage of approximately 70,000 people chanting 'Yes!' to close the event as we crown a new champion. Also, it would be an incredible end to a great night.
Winner and NEW WWE World Heavyweight Champion: Daniel Bryan
So, the builds have been okay on the most part. Strangely, it feels the Taker/Lesnar match has lacked something and, like I've said, needs Lesnar to come out next week and dominate his opponent. Either way, this is a card I'm looking forward to. Do I expect to be 8 and 8 in my predictions? Of course not. If anything, I have a horrible feeling that I'm 'out' with one of my Daniel Bryan picks. Either way, it'll be a great night and, on top of that, we have the best Raw of the year (TM) the following night.
Next week, I'm going to do another 'All the World's A Stage' column in the last few days leading up to the big one. It'll be my fifth one, and my fiftieth column for this site, and I enjoy writing these ones because I look at the build, the performances and outside influences on the story from other sources such as books and films. I'm not sure which build from the above matches I'll look at though. I'll wait until after next week's Raw to decide.
Please follow me on twitter @HughFirth or email me on ashburnham54@yahoo.com All constructive criticism is appreciated.
I also write at www.whatculture.com (this is my archive of columns http://whatculture.com/author/hugh-firth ) so give it a look. I don't just write about wrestling there but also films and TV and, for this week, er, introverts http://whatculture.com/offbeat/18-awkward-moments-every-introvert.php ).
Ta ta for now and hopefully see you next week.