Live from a stuffy office in San Diego, California, this is TJR Wrestling's WWE Smackdown Review! I, Thomas Briggs, will be your humble guide this week, as we discuss all the happenings on WWE's second show.
This is my second turn guest writing about Smackdown, and just as a reminder, I like to do things a little bit differently than those who came before me. I'm not as funny as an Andrew Johnson, nor am I as meticulous as a John Canton (seriously, you could read that guy's match recaps and feel like you were actually there). I like to keep things simple. So here's how my review of the March 14, 2014 episode of Smackdown will work:
The WWE likes to have THREE major storyline developments in each of its major television shows. This could be a big moment, like the Occupy Raw segment on last week's Raw, or a match in which a wrestler's character is developed in some way. The goal of these THREE developments is to stick with the viewer, and make you want to come back for more.
Pretty simple, right? But before we get into the THREE big reasons to watch this week's Smackdown, let's take a moment to look at the show as a whole.
Summary:
Raw Recap: Yes! Movement occupies Raw.
Triple H in ring promo.
Seth Rollins defeats Damien Sandow. (2:30)
Raw Recap: Hulk Hogan's big announcement.
Big E defeats Fandango. (1:35)
Raw Recap: The Undertaker faces off against Paul Heyman.
Bad News Barrett: The Undertaker's streak will be broken, and you will lose your job.
The Rhodes Bros. defeat the Real Americans. (8:25)
Raw Recap: Bray Wyatt and John Cena set their WrestleMania match.
Bray Wyatt defeats Kofi Kingston. (5:00)
Kane and the Shield backstage segment.
Nikki Bella defeats Tamina. (3:15)
Dolph Ziggler defeats Alberto Del Rio. (11:15)
Dolph Ziggler in ring promo, enters Andre the Giant Battle Royal.
Newest Hall of Fame inductee: Carlos Colon. Video package.
Wyatt Family pre-tape promo.
Big Show defeats Kane. (5:30)
​​
Smackdown as a whole was a bit too heavy on Raw Recaps this week. It was also a bit light on actual wrestling, which you'll notice indicated by the match times. Seth Rollins vs Damien Sandow should be awesome, but that's basically an impossibility when they're only given two and a half minutes to work with. Otherwise, this week's episode was good, if not great.
Here are the top THREE reasons to watch this week's Smackdown:
1. Triple H has regained his composure, and is intent on BURYING Daniel Bryan.
It's always a safe bet to assume that whatever kicks off an episode of Smackdown is to be considered very important. And once again, we have Daniel Bryan vs The Authority taking center stage. While Daniel Bryan was absent from the show, Triple H did a very good job of furthering their story. You have to hand it to him, the guy is a natural when it comes to being a royal turd sandwich.
One intriguing aspect to Triple H's promo was his wording when describing his beef with Bryan. Triple H PROTECTED Bryan back at SummerSlam when he turned on him and gave the belt to Orton. And now he's going to BURY him at WrestleMania. You don't have to be a genius to see that WWE is targeting hardcore fans with their terminology. It's another attempt at blurring the lines of what is and isn't real, with the hope being that lapsed fans will show up to watch "their guy" win. We saw it with CM Punk a couple years back, and now we're seeing it with Daniel Bryan.
Honestly, I have mixed feelings regarding this approach. When Punk used "insider" terms as a way of winking at the audience, it could often feel forced. This is professional wrestling, we know it isn't real, and we're ok with that. Just give us a fun story that doesn't completely do away with logic and common sense. Yet, on Smackdown this week, I thought Triple H did a great job of using terminology like PROTECT and BURY naturally. Again, maybe that's because he's so easy to hate, and therefore good at being a heel.
My big worry about Bryan's match with Triple H at WrestleMania is that it will be too predictable. With the title match stipulation thrown in, it now appears impossible that Triple H defeats Daniel Bryan. There's simply no way the WWE would tease a Daniel Bryan championship match at WrestleMania, and then not pull the trigger on him being there. Especially considering both Batista and Orton are currently heels. So it takes some of the surprise out of Triple H vs Bryan.
Still, the payoff is absolutely worth it. If WWE ends WrestleMania 30 with Daniel Bryan raising the WWE World Heavyweight Championship over his head, it'll all have been worth it.
2. WWE really wants you to take The Andre the Giant Memorial Battle Royal match seriously.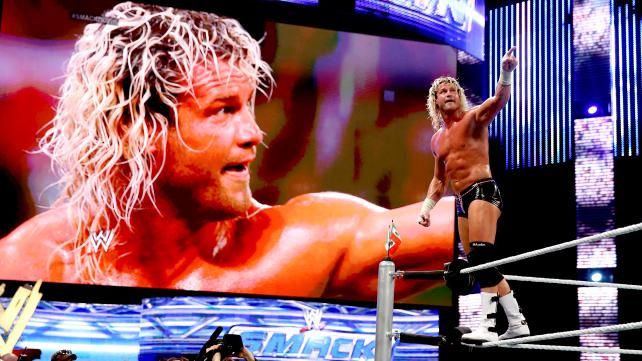 After Hulk Hogan's big announcement on Raw, Big E, Ryback, and Curtis Axel were the first announced participants in the new Andre the Giant Memorial Battle Royal. On Smackdown last night, Fandango, Alberto Del Rio, and Dolph Ziggler were added to the match as well. Obviously, there are still twenty four slots remaining in the match, and quality of participants is sure to fluctuate. Still, this is a good start, and represents some of the best of the mid-card.
The Andre Battle Royal (from this point on the "ABR") is an ingenious way of capturing one goal: involving as many superstars as possible in WrestleMania. Although the event is an hour longer than every other Pay Per View, there's only so much time to distribute between WWE's large roster. And WrestleMania represents the largest payday for WWE Superstars, so it makes sense to get a chunk of them all together in one match.
The WWE clearly wants the ABR to take off, and I'm really hoping it does. The last time the WWE created a new tradition to get as many wrestlers involved at WrestleMania as possible, it spun off into it's own event - Money in the Bank. Those matches were so fun, and afforded midcard talent the opportunity to show off their abilities, that it became lots of fans favorite match of the night. Although a battle royal isn't quite as unique as the Money in the Bank format, it should still allow for some awesome spots. I just wish there were something larger at stake than a trophy.
As I stated before, Fandango, Alberto Del Rio, and Dolph Ziggler were all added to the ABR on this week's Smackdown. Perhaps the best moment of the entire night was Ziggler throwing his name into the mix. After a rough 2013, he had finally secured consecutive big wins (both against Del Rio), and had a moment to shine on the mic after the match. He sounded genuine when he spoke about the importance of winning the ABR, and I believed him because of it. He was without a doubt the biggest star of this week's Smackdown. It also helped that his match with Del Rio was clearly the match of the night.
3. The Shield rejects The Authority
It's becoming increasingly difficult to get a good read on the Shield these days. And that's a good thing! Last week, I stated that The Shield would officially break up on Raw, leading to some sort of big match at Raw. Well, that didn't happen. Not even close. Ambrose, Rollins, and Reigns came together as one cohesive unit on Raw, and they looked even more in tune on Smackdown. But in what direction is their group moving?
The Shield has long been heels, obviously, but recently Rollins and Reigns have been fan favorites. And while they've served Triple H and The Authority in the recent past, things got a little muddy on Smackdown this week…
At the start of Smackdown, Triple H punished Damien Sandow, who last week refused Triple H's orders to interrupt Daniel Bryan's Occupy Raw segment. The punishment for refusing such orders was a match with a member of the Shield - ultimately Seth Rollins. In this way, the Shield operated as the hounds of The Authority. Yet, later on Smackdown, the Shield hesitated to support Kane in his match against Big Show. And once they did join Kane at ringside, they became the distraction that caused him to lose the match.
As if this act of defiance wasn't enough, WWE hammered it in even more so after the match, when Kane attempted to chokeslam Rollins, and ended up taking a spear from Reigns. What will happen next? Will they feel the wrath of The Authority, or will Kane be ostracized from management?
Clearly big changes are ahead for the Shield, and it's pretty darn awesome that they've become such a large focus on Raw and Smackdown.
Other Notes:
After Rollins' match with Sandow, the Shield proceeded to triple powerbomb Sandow, which Michael Cole noted was "Vintage Shield!" If that's Cole's idea of vintage, I bet he has a REALLY shitty vintage vinyl collection.
The Usos apparently showed up to just save the Rhodes brothers from the Real Americans. I'm not complaining, they're getting great crowd reactions and are carrying themselves like a great championship team.
The WWE is doing a great job of slowly building Bray Wyatt up, so come WrestleMania, he'll be considered a legitimate threat to John Cena. It's amazing that this is the same guy that once had to deal with the "Husky Harris" ring name.
Tamina vs Nikki Bella was terrible. Skip it and watch AJ Lee vs Natalya on the WWE Network. NOW!
I really like Carlos Colon being selected for the 2014 Hall of Fame. You know what would be perfect? If WWE took the Class of 2014, and gave them their own section on the WWE Network so we could watch exactly why they're being inducted. I swear, WWE should start paying me for these gems.
​_________________________________________
PLUG TIME! Be sure to listen to this week's SharpShooter Cast, which should've been titled: Daniel Bryan wins at life.