Coming straight at you from Sunny San Diego, California, this is TJR Wrestling's Smackdown Review! Once again, my name is Thomas Briggs, and I'll be your humble host this week. As a reminder, I review things a bit differently than others on this site. Rather than going through each match and giving a play by play, I instead like to discuss the three major sticking points of Smackdown. These three items can be storylines, matches, or simply how an individual is being pushed. They are the top three reasons an episode of Smackdown is worth watching.
So let's get right to it!
Summary:
Batista and Triple H in ring promo.
Recap of Shield vs Authority storyline.
The Shield (Rollins and Ambrose) defeats 3MB via pinfall. (3:05)
Kane and the Outlaws calls for a second match.
The Shield (Rollins and Ambrose) defeats Rybaxel via pinfall. (4:10)
Scooby-Doo long trailer. Sin Cara defeats Damien Sandow via roll up. (1:05)
Big Show interview with Renee Young. Fandango defeats Goldust via pinfall. (3:15)
Sheamus defeats Batista via disqualification. (5:30)
Raw Rewind: Wyatt is in Cena's head.
Wyatt Family pre-tape promo.
The Bella Twins defeat AJ Lee and Tamina via pinfall. (3:20)
Emma and Santino date sketch.
Jack Swagger defeats Jimmy Uso via submission. (2:00)
Raw Recap: The Beast vs The Streak.
Mark Henry defeats The Miz via pinfall. (3:30)
Razor Ramon Hall of Fame video package.
Bray Wyatt defeats The Big Show via pinfall. (4:10)
Two weeks ago I criticized Smackdown for being light on wrestling… This week was even worse. When the longest match of the night clocks in at just five and a half minutes, you know something is wrong. Still, we're just barely over a week away from WrestleMania, so WWE is trying hard to get all their hype videos in. I expect even more of this next week. Despite the lack of in ring action, it was still a good show, and absolutely worth watching. So if you haven't seen it yet, fire up Hulu Plus and give it a shot!
Here are the top three reasons to watch this week's Smackdown:
1. We're supposed to now think that Batista is ruthless.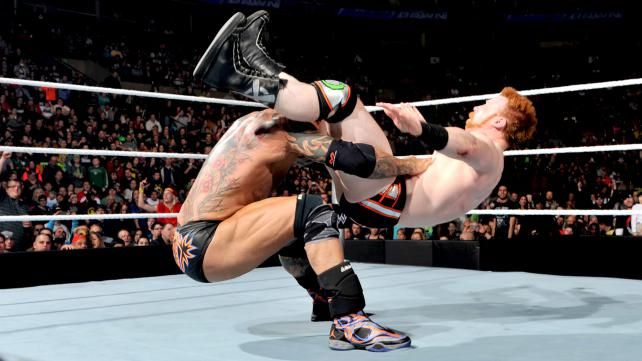 Smackdown kicked off this week with Batista giving an in-ring promo. It was standard heel-fare. The fans are losers, he's back to win the WWE Championship, he's going to make everyone go home disappointed at WrestleMania, yadda yadda yadda. Honestly, the material was fine, but the delivery just wasn't on point. Which brings up a great question: what in the hell happened to Batista's mic skills? While talking was never a great strength of Batista's, he was a good heel, and absolutely serviceable on the mic. He just sounds lost out there now. And again, he failed to say the letter E when saying "WWE". It's just strange how much he's regressed over the years.
Despite his lack of prowess on the mic, at least it feels like Batista's sense of style is working for his character. Although it can be difficult to take someone who wears sunglasses indoors seriously, and his silly hat came across as trying too hard to be cool, it all works in making Batista look like someone who feels as if he's better than everyone else. So while you may laugh at his sense of style, or anger at the thought of him receiving a push in the place of others more deserving, you're ultimately supposed to dislike him, and clearly he's succeeding in that way.
Midway through Batista's promo, Triple H interrupted and saved the segment. There's a really interesting dynamic going on here. Triple H, Randy Orton, and Batista are all former members of evolution, they're all top heels in the company, and they're all standing in the way of what fans want - Daniel Bryan to win the WWE Championship. Unfortunately, Triple H, Randy Orton, and Batista are NOT at the same level of their games. During this segment, I turned to my mom (big shout out to the lovely Liz Briggs! Thanks for being a great host.) and said "One of these guys is way better than the other… Can you tell which?"
At some point, fans are going to stop booing Randy Orton or Triple H. I wouldn't worry about that happening to Batista, because people clearly aren't into him right now, despite WWE's efforts to get him over a can't miss spectacle. And that could be a problem. WWE's focus should be on Daniel Bryan overcoming three despised heels, not two tweeners and a true heel. If Daniel Bryan is to walk out of WrestleMania as Champ, which could be a classic moment, he needs to so against three legit threats.
Batista's match with Sheamus this week was WWE's attempt at pushing him as an "animal". Of course, Sheamus is one of the most protected wrestlers in the company, so there was a delicate line to traverse here. WWE accomplished their goal by having Batista disqualify himself by beating Sheamus down with a chair. Still, Batista's attack failed to convey him as an animal. It just kind of made him look like he couldn't take Sheamus.
I know WWE is focussed on that stupid buzzword - ruthless aggression - for Batista's character, but at this point, I think they should just go with what works. Batista as a narcissistic d-bag who thinks he's above those smaller than him. Simple enough, right?
2. Bray Wyatt poses the biggest WrestleMania challenge to John Cena in years.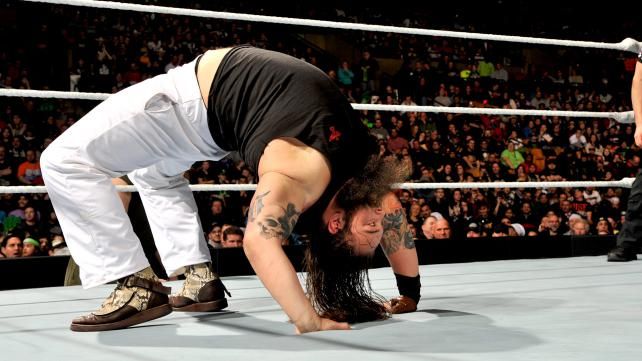 A little lost in all the excitement surrounding Daniel Bryan's bid for the WWE World Heavyweight Title is just how damned good John Cena and Bray Wyatt's story is right now. It reminds me a little of CM Punk's work with Paul Heyman late last year. I wasn't always the focus of Raw or Smackdown, but it was must-see television. The same is the case for Cena/Wyatt. Bray in particular is doing fantastic work, unprecedented for someone of his experience level.
It hasn't been out of the norm to see three segments throughout an episode of Raw dedicated to Daniel Bryan/Triple H/Orton/Batista. On Smackdown this week, that same kind of time was given to Cena/Wyatt, and I think that was an excellent choice made by WWE. And with Cena only featured in Raw recaps, it was on Bray Wyatt to carry the show. And he absolutely succeeded in doing just that.
Firstly, the Big Show put over Bray and the Wyatt Family in his interview with Renee Young. He acknowledged their run of success in the WWE, and the fear that they've created in the locker room. Then, we got another Wyatt Family pre-tape promo, in which Bray once again killed it. Maybe I'll get called crazy for saying this, but Bray's promos remind me a little of Heath Ledger's performance as the Joker in The Dark Knight. When he speaks, it doesn't matter if what he's saying is cliched, non-sense, or poetry, it's impossible to not take notice and listen. He's that good. While other top heels *cough*Batista*cough* are floundering, and it's easy to tune them out, Bray seems to be perfectly locked in to his character, and enjoying playing his part. And this is just the beginning of what hopefully turns into a Hall of Fame career folks.
Next, we got another fantastic video package of the Cena/Wyatt story so far. Again, this is the same Eminem video we've gotten over the last couple of weeks, and it does a great job of conveying the drama surround John and Bray.
Lastly, Bray defeated Big Show in a mere four minutes. If you've gone to a house show recently, you know how much of a fan favorite Big Show is, and how protected he is in matches. He's the good guy who always makes the save, attracting huge audience reactions, and he RARELY loses. And while Bray's victory wasn't exactly clean (Luke Harper struck Big Show in the head while Erick Rowan distracted the referee), it was about as clean as you're going to get against Big Show. Not only did the match put over Bray Wyatt, it also put over the danger of the Wyatt Family as a complete unit.
If it's anywhere near as good as his match with Daniel Bryan at Royal Rumble, expect Bray Wyatt vs John Cena at WrestleMania to be special.
3. The Shield is breaking good.
This shouldn't come as a surprise to anyone who has watched the last couple weeks of Smackdown, but WWE is working hard at pushing The Shield as a top babyface team. This week's Smackdown featured Kane and the New Age Outlaws (representing The Authority) booking the Shield in back to back matches, first against 3MB, and then against Rybaxel. Of course, both 3MB and Rybaxel are heel tag teams, which should tell you the direction The Shield is headed in.
The Shield, represented here by Rollins and Ambrose in the ring and Reigns outside, easily dispatched both opponents. And again, Seth Rollins shined in the ring. It's very interesting observing how each member of The Shield works as a good guy. While Dean Ambrose seems best suited as a villain, thanks to a great understanding of heel mannerisms and facial expressions, both Reigns and Rollins I think are going to be great faces. Rollins is a bit undersized, and takes great bumps, which makes him the ideal underdog. It's just icing on the cake that he's also an athletic freak.
Whether or not Dean Ambrose is the ideal babyface, it's nice to see WWE give him some time to develop as one over Roman Reigns. Reigns is already a fan favorite, he doesn't need to sell fans on his likability. Ambrose, on the other hand does. On Smackdown, he played the sympathetic babyface role, taking most of the beating until making the hot tag to Rollins. It's the right way to push Ambrose right now, and Reigns still got his moment in the triple powerbomb to Ryback.
The booking of The Shield this week on Smackdown gives credence to the idea that something we all expected to happen - The Shield's imminent break up - isn't actually happening any time soon. Perhaps there's room in the WWE for a babyface three man faction. With the Wyatt Family providing the perfect foil, it certainly seems as if that's the case. Those two factions battling it out at house shows is a reason to buy a ticket. It would be silly of the WWE to end that now.
OTHER NOTES:
HYPOCRITE ALERT! Although I slammed Batista for wearing sunglasses indoors, my favorite wrestler of all time is Bret Hart.
Am I the only person who thinks of Taylor from the short lived reality show "Kid Nation" whenever Batista or Triple H says "Deal with it!"? I am? And that makes me a weirdo? Well nuts to you.
Billy Gunn and Road Dogg looked a bit too old wearing suits next to Kane. Gunn looked damn near dignified! It was a weird look for the two of them, but I'm glad to see them get another WrestleMania moment.
Not only was Sin Cara vs Damien Sandow another tragic bullet to Sandow's career, but what's the point of Sin Cara if he isn't doing anything crazy athletic in the ring? If the entire extended existence of the Sin Cara character is to put over a Scooby Doo cartoon, it's time to rethink priorities.
After coming back stronger than ever, Goldust no longer looks like he's having fun in a WWE ring. My guess? His and Cody's feud with Fandango isn't particularly inspired. WWE should've given the two something more than a "me too" storyline and a spot in a battle royal.
Color me surprised that Jimmy Uso tapped out to Jack Swagger's ankle lock. I'm a big fan of the Usos, but the loss shouldn't hurt them. The idea should be they're better as a unit. And Jack Swagger desperately needed a win to avoid being simply the other guy on Cesaro's team.


_________________________________________
PLUG TIME! Check out this week's episode of The SharpShooter Cast to learn our thoughts on Raw. Here's a STREAM of the show:
And here's the Direct Download! (Right click and "Save Link As")
If you're interested in listening to more episodes, visit our little corner in the iTunes Store. Be sure to leave us a rating! Or, you can always click "More" on the above player, and listen to our entire catalog. Pretty handy.
Finally, if you're like me and have a favorite app not made by Apple to play your podcasts (I love me some DOWNCAST for my iPhone, and iPP Podcast Player for my Android Tablet), here's the RSS Feed for your convenience: http://sharpshootercast.libsyn.com/rss
​