I think Kurt Angle is worthy of a Hall of Fame spot.
I have never watched TNA. It sounds like my opportunity to do so might be running out very soon. Poor financial decisions certainly have played a factor but it seems booking decisions have made matters far worse.
Take Kurt Angle. He has given the better part of seven years to the TNA organization. They have a Hall of Fame Dinner for Kurt Angle and then two nights later, at Bound for Glory 2013, he turns down the honor because he is "not worthy of being in the Hall of Fame." Huh?
Using the honor of a Hall of Fame for an angle is quite ridiculous. I would argue Kurt Angle is not only worthy of any accolades that TNA gives him but worthy of being in the WWE Hall of Fame as well. I may not have watched his work in TNA but I do fondly remember his WWE career.
So on the weekend he was sort of put into the Hall of Fame, we remember Kurt Angle's WWE career. That is the one he should be remembered for. Hopefully one day he will be at a WWE Hall of Fame ceremony. Let us examine his "greatest hits":
Kurt Angle American Hero
I was a big fan of Angle's work right away. He has weeks of vignettes describing his three I's. The idea of a guy explaining how much better he was then all of you was a great twist on the classic babyface model. He had all the qualities of a hero and told you so on a constant, annoying basis. It led to Kurt becoming the "Eurocontential " Champion within his first few months in the WWE. The arrogant champion was born.
Kurt Angle and Stephanie McMahon
It was his work with Stephanie McMahon and Triple H that made him a star. The love triangle between the three was enough to push Kurt Angle into the Summerslam 2000 Main Event. It is a shame Angle got injured so early in that match but the impact of the angle was already felt. It was certainly a shocker when I saw the above image. Kurt Angle became the WWE Champion less then a year after his debut in large part to his "love triangle" when he won at No Mercy 2000. Very Impressive.
Team ECK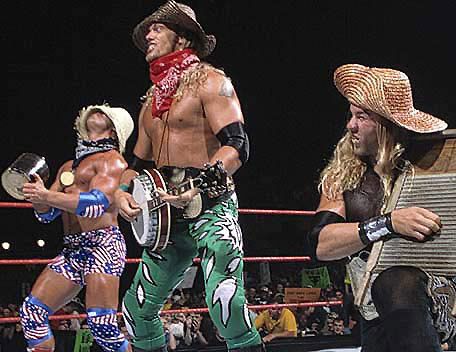 I don't know about you but I miss these three guys together. It was some of the best comedy the WWE had to offer in the early 2000's. I still fondly remember Christian training in Kurt Angle's Chicken Suit for a Light Heavyweight Championship match. Good times.
Kurt Angle Throws Shane McMahon Through Glass
Because of course the boss' son would be a part of one of the bloodiest match in WWE history at King of the Ring 2001. This image gives you only some limited idea to the hardcore nature of that match. What is the most amazing part? This was only the second of three full matches Kurt would wrestle that night. He was and always will be a workhorse.
Invasion Kurt Angle
Sure the Invasion angle was one of the biggest disappointments in WWE history. But we cannot dispute the greatness of the Austin-Angle matches. Their match at Summerslam 2001 was a classic. It was also a lot of fun to have Angle recreate the famous beer truck sequence from only a few years early. Besides I was done listening to Stephanie sing for "Austin Appreciation Night" right before the milk bath. Thanks for stopping that Kurt.
Kurt Angle versus Edge
These two had a lengthy feud in 2002. It lead to Edge beginning the "You Suck" chants during Angle's entrance music. This would stick for the rest of Angle's career. The fans loved it. That creative idea alone should have been enough to get Edge in the Hall of Fame.
But my favorite is the wig. Kurt lost a "Hair vs. Hair" match at Judgment Day 2002 to Edge. His head was shaved bald. However, we didn't get to see his shaved head for weeks. Instead he wore this ridiculous wig and insulted bald people. I miss that wig.
Kurt Angle versus Brock Lesnar
Two of the best wrestlers the WWE has ever had facing off against each other. They had three classic matches that would be a part of any list of top matches in WWE history. Kurt was working with a bad neck when he worked a twenty-minute WrestleMania Main Event Match with Brock Lesnar. A shame it is remembered for its botched Shooting Star Press. It was a shocking ending to a highly underrated match.
Thankfully they continued this classic feud. It led to was another excellent match at Summerslam 2003 with Angle pulling out the victory this time. However, it was their Iron Man match on a subsequent Smackdown that will rank at likely the finest television match ever. I would love to see this two have "one more match". A guy that dream can't he?
Kurt Angle versus Shawn Michaels
This was a dream match. It had that classic slow build that I love starting with their interactions at Royal Rumble 2005. I remember going into the match with the thought that it could never live up to the hype. Then I watched them fight at WrestleMania 21. It was absolutely brilliant. Watch it and see why it was voted the match of the year for 2005. They even had a great rematch at Vengeance 2005. Sometimes a match does live up to the hype. With Angle it usually did.
Conclusion:
I certainly left out a lot of Kurt's other greatest WWE moments. We have his part as opener of the best Summerslam ever, Summerslam 2002, against Rey Mysterio. We had his classic feud with Eddie Guerrero. We had "The Wrestling Machine" which was part of his final days in the WWE. The moments listed above would be the envy of any WWE Hall of Famer. I hope one day Kurt Angle will "find himself worthy" of Hall of Fame honors. He certainly deserves it.
----------------------------------------------------------------------------------------------------------
Feel free to contact me at lasher@pacificu.edu. Additionally, I added a Twitter account, WWELasher as well. I would love to hear your thoughts.