The 4th annual 20 Ideas for WWE to Consider to column. Rational thoughts from a lifelong fan. I hope you enjoy reading it as much as I enjoyed writing it.
Welcome to the 4th annual "20 Ideas for WWE to Consider" column. Allow me to introduce myself first.
My name is John Canton. I'm a Canadian born wrestling fan that's 32 years old. I've been watching World Wrestling Entertainment programming since I was about five years old. I've seen every PPV, nearly every Raw and every Smackdown. I've been writing about the product on and off for over a decade. For the last 4+ years I've written about Raw every week in a column called The Raw Deal. I also write a PPV preview & review for every PPV and in 2012 I reviewed every WrestleMania as well. I've been to dozens of live WWE events in my life including WrestleManias, PPVs, Raw, Smackdown and house shows.
I'm a wrestling fan with a positive view about "this business" (channeling my inner Triple H). I love it. I defend it to people that don't get it. I like to compare it to a favorite sports team. Deep down I love the team. I always will. Do I agree with everything they do? Of course not. Sports teams make bad draft picks, trades and free agent signings while wrestling companies push the wrong people and have bad matches once in a while. Being a fan means you care about what you're watching and spending your time on. I'm a fan of WWE and always will be.
My rules for this column are that I can't pick something that is unrealistic. I'm not going to say that WWE should bring in a specific wrestler from TNA. They have contracts. I can't say they should book Shawn Michaels vs. CM Punk because Michaels is retired. There's nothing about Sting in here although if he does come to WWE when his TNA deal is up early next year then that's a big deal obviously. I don't know that it's happening, though. I have to be realistic with my options.
There were aspects of this column that were difficult to write because I have enjoyed the WWE product a lot this year. It's been the best WWE year since I've been writing about it full time every week since 2009. I don't think that it's better than my favorite year ever (2000), but it's definitely better than average. The PPVs have been great. Raw produces a lot of awesome matches. I'm going to Night of Champions in Detroit in a couple of weeks because I'm happy to spend $100 to see WWE live these days. It's an enjoyable product for me right now. Of course I still have ideas to share, but it's not like I'm doing this because I think WWE is a bad product right now.
Below I've listed twenty ideas. They are in no particular order except that the last four are all about WrestleMania (some others are too) because it's important to end on a high note. It's hard to compare them or rank them in terms of importance. I believe they're all meaningful. Some of them are things that I'm suggesting while others are based on bits of news or rumors that I've taken and added some creative ideas to. I'm also not here to offer predictions on what will happen. It's mostly about what I think WWE should consider doing.
Now that we've got all that out of the way, let's begin.
1. Damien Sandow should cash in the Money in the Bank briefcase for the World Title at WrestleMania 30
The Money in the Bank briefcase has been around for eight years now. How many winners of the Money in the Bank briefcase cashed in to win one of the major titles at WrestleMania? Zero. Sandow should be the first one.
Sandow's gimmick is the "intellectual savior" meaning he's the smartest guy in the company or so we think. If he's that smart then he would realize how special it would be to be the first and only man to cash in the coveted Money in the Bank briefcase at WrestleMania. It would be a great moment for him that would also boost the prestige of the World Heavyweight Title.
2. Keep The Shield together until at least WrestleMania 30
It's obvious that The Shield will go their separate ways at some point, but I hope it's after WrestleMania. The reason I want them to stick together that long is because there are still plenty of people they can feud with in their current role as heels. They are all in their mid to late 20s and will have plenty of time to be singles wrestlers. The longer they work together, the more it will mean when they split up. Don't rush it, WWE. Keep this group together for feuds with the likes of Punk, Cena, Ziggler, Rhodes and others. There are plenty of things for The Shield to do before they break up.
3. The survivors of Survivor Series matches should get to choose their spot in the Royal Rumble
I'm a big fan of the idea that success in one match leads to a reward in a future match. The Rumble winner getting a title shot at WrestleMania and Money in the Bank winner getting a title shot whenever they cash in are both great ideas. How about one more? My suggestion is that if you have two Survivor Series 4 on 4 elimination matches, you should reward the winners by allowing them to pick their spot in the Royal Rumble.
As an example, you could have four people as survivors of those matches. Prior to the Rumble, you could have a Fatal Fourway Elimination Match where the winner gets to pick his spot in the Rumble, the second place wrestler goes next and so on. By doing this, it would place a greater importance on Survivor Series because it gives an advantage to somebody in the Rumble, which could then lead to a WWE or World title match at WrestleMania.
I think Survivor Series has lost some of its luster. In order to bring some of that prestige back, they should reward the winners of the elimination matches to make them mean more. If fans are more invested in a storyline because of the prize that goes to the winner, they will be more likely to order Survivor Series every November.
4. Hold a June PPV event in England
I get it, WWE. I know that logistically it's not a great idea to have a PPV event in England, but I think they deserve it. As we all know, in 1992 they had SummerSlam in England and it's one of the most famous shows ever because of the amazing atmosphere that surrounded the event. A fun fact about that event is that it was shown a couple of days later in North America. In the late 1990s there were some UK only specials too, but nothing that was shown worldwide live. Since WWE wants to continue to hold SummerSlam in Los Angeles (or possibly New York) then move one of PPVs that isn't a big deal over to England.
Having a PPV event in England doesn't necessarily mean that they should hold it in a football-sized stadium. They could hold it at the O2 Arena in London, then tape Raw and Smackdown there the following nights. Perhaps one of the events could be in Manchester. I suggest that the event would take place in mid-June because late-June is the start of Wimbledon in England and you don't want to play second fiddle to that. I think July should stay for Money in the Bank and August is SummerSlam. Better to go to England in the summer months.
If they want to keep the 12 PPV in a year format that's fine. Add this as a 13th PPV. The PPV business is a positive thing for WWE and I really don't think adding one more PPV would hurt the product at all. (This is on the assumption that the WWE Network won't be ready, so the traditional PPV format will be in place.)
Regarding the time issue, I think WWE should air the event live at 8pm England time, which would be 3pm Eastern and 12pm Pacific. If people don't want to watch the event live in the afternoon here in North American then re-air it at 8pm when PPVs normally air. I know fans in England get some PPVs free, but I think it would be smart to make them pay to see this one. Interest would be higher. It's a smart way to make money. I wouldn't mind an afternoon PPV event. There used to be afternoon PPVs all the time in the 1980s and into the early 1990s too. If a family has a couple of kids that they don't want staying up until 11pm they'd be more likely to order a show with an early start time.
European WWE fans are great. Give them a PPV that matters. They deserve it.
5. Bring Back King of the Ring as a Pay-Per-View in place of Hell in a Cell in October
I write this every year. I don't like repeating myself too much, but as a King of the Ring fan I will always bring it up in this column. I loved the concept. I didn't always like the execution. However, if they book it right it can mean something.
My ideal scenario would be to put King of the Ring in October. Get rid of Hell in a Cell as a PPV. Save Hell in a Cell matches for when a rivalry deserves that kind of match. Another option would be to do it as the England PPV in June? England's known for royalty. It's a good fit.
6. When Tyson Kidd returns, put the Intercontinental Title on him in his first match back
I'm not sure when Tyson Kidd is coming back to action after the major knee surgery he had back in January. However, what I hope is that when he returns he is booked in a way that gives him momentum right off the bat. If he comes back as just another guy on the roster that won't help him. I also think it's important that he comes back as a babyface because his fast paced offense looks better in a babyface role.
The angle could be set up pretty easily. Let's say this takes place in December or January. If Axel is still the IC Champion at that time they could have Paul Heyman walk out on Raw bragging about Axel is one of the best IC Champions ever. Whether that's true or not, remember that heels lie. He throws out an open challenge against somebody that Axel hasn't already beaten. The man that answers is Kidd making his return. They had some memorable matches on NXT last year that likely opened the eyes of management to the point that they might want to see it on a grander stage. Kidd wins the IC Title in his first match back and is immediately in a more important place than he was last year.
Remember CM Punk's promo back in January that mentioned Little Jimmy was better positioned on the show than a workhorse like Tyson Kidd? The roster knows how great he is. It's time for the WWE Universe to know.
7. Bring back Kharma before the end of 2013
I like that WWE is giving more time to the women on their show, but there is somebody missing. That's Kharma aka Awesome Kong.
When WWE released her, she was going through a tough time in her life after having a miscarriage and reportedly she lied to people about what happened because she was distraught about what happened. She was never used in a regular role and she was eventually released last year because she likely weighed too much for WWE's liking. Does that mean the door is officially closed for her to return to WWE? I sure hope not.
Since her WWE release in July of 2012 she has vowed to get into better shape. As you can see from the photo below taken from a recent Shine iPPV event in Florida, she looks like she's in awesome (yes that was on purpose) shape.
I'm guessing that WWE would have interest in her again now that she's in better shape. There's a lot that Kharma can do in WWE whether it's a heel or a face. As a heel perhaps she could be AJ Lee's bodyguard to protect her from everybody else that hates her. As a face she could be brought in to finally get revenge on the Bella Twins or she could go after AJ following one of her promos ripping on the other girls. Now 35 years old, it's the right time to bring her in and see what they can get out of her. They've teased us with her before. Let's see what she can do.
8. Politely ask Jerry Lawler to step down from the announce team
See how I said politely there? It's because I respect Jerry Lawler as an all-time great wrestler and a legendary announcer. However, he's not as good as he was. He hasn't been for many years now. I'm sure that Vince McMahon has a lot of loyalty to him since Lawler has been announcing for WWE for over 20 years, but Lawler's also turning 64 years old later this year. I remember reading last year after his heart attack that Lawler said he had a few years left on his deal, so maybe they will let that run out. I'm not sure.
The guy who I think should be in that Raw commentator spot as part of the three man team with Cole & JBL? William Regal. I've written about him in columns like this for a couple of years now. He's ready for it.
9. Bring Back Shane McMahon to counter Stephanie and Triple H
This news is very fresh. It surfaced on the internet on Tuesday in a press release: "Shane McMahon has voluntarily stepped down as CEO of YOU On Demand, the first national Pay-Per-View and Video On Demand platform in China. McMahon will continue to serve as YOD's principal executive officer of and Chairman of the Board."
What does that mean exactly? That Shane McMahon is coming back to WWE! No. Sorry. That's not what it means. However, what it looks like to me is that Shane is no longer going to deal with the day to day operations of the company although he's still involved with it.
The big theme on WWE TV since SummerSlam has been about the corporate power of WWE COO Triple H and his wife Stephanie McMahon. Nobody has been able to slow them down. At some point there has to be a babyface in power that says "enough of this crap." Right now, Vince McMahon is on the side of Stephanie and Triple H while there are rumors that he may turn babyface in the angle. I think it would be awesome to see Shane McMahon back. On WWE TV they could say he was there to represent the Board of Directors who didn't like Triple H's actions. It's that easy to bring him back. Whether he wants to come back to WWE, I don't know.
I admit that this one was a big reach on my part. I think it would be cool to see him return "home" so to speak.
10. Best of Seven Series: Sami Zayn vs. Antonio Cesaro
Their recent match on NXT was exceptional, so how about we see more? The best way to do it is to put one of the secondary titles on Cesaro. I would pick the United States Title. From there you debut Zayn shortly after, have him take Cesaro to his limits and do something like a double pin spot where there is no clear winner. Due to the inconclusive finish, Raw GM Brad Maddox (or Smackdown GM) sets up a Best of 7 series that includes matches on Raw, Smackdown, Main Event and then of course it goes to seven matches with the last one taking place at a PPV. My winner would be Zayn, but I think it would be a feud that really benefitted both guys.
Zayn is awesome. He's ready to be on the main roster. His chemistry with Cesaro is incredible. They would find ways to keep things fresh for seven matches and hopefully elevate the US Title at the same time.
Other best of seven series I'd love to see: Dolph Ziggler vs. Seth Rollins, CM Punk vs. Dean Ambrose, Cody Rhodes vs. Randy Orton (more on that later) and Daniel Bryan vs. anybody. There are plenty of others I'd like to see too. Those are just a few examples.
11. When John Cena comes back put him in a feud with Bray Wyatt
I want Bray Wyatt to be a big deal. How do you make that happen? Put him in a feud against John Cena. When Cena comes back from this injury in the new year he'll be as fresh as he's ever been. That's why it's the perfect time for a feud with Wyatt.
Here's how I'd book it: Three weeks before the Royal Rumble, announce that Cena is back from his injury and the Rumble match will be his first match back from his torn triceps surgery. During the Rumble match, Cena draws a number in the middle. Before he can even get in the ring, Wyatt and his family jump him in the aisle. They give Cena a vicious beating outside the ring that leads to Cena being carted out. Wyatt ends up entering the Rumble one spot after Cena. Of course it's Super John Cena, so he comes back out, throws Wyatt out of the ring and leaps over the top rope himself so that he's officially eliminated too.
That's just one idea. It doesn't have to lead to a WrestleMania match although it would be close to it, so it's possible. You could always just do the match at Elimination Chamber to end the feud there. Either way, I like using the Rumble to create big angles or a new feud in this case.
12. Give Dolph Ziggler a lengthy World Title run
The stop and start push of Dolph Ziggler is one of those things that has pissed me off as much as anything on WWE TV in the last year. When he won the Money in the Bank briefcase it was a big deal. At the start of 2013 he should have been somebody that had a lot of momentum, but instead he was relegated to an unimportant tag title match at WrestleMania (so was Daniel Bryan). While that was going on, the very disappointing Alberto Del Rio vs. Jack Swagger feud involved the World Title. What a waste. Of course Ziggler cashed in the MITB briefcase the night after WrestleMania on Raw to win the World Title, which was a memorable moment. Soon after that he suffered a concussion and when he defended the World Title against Del Rio he ended up losing the match while also turning babyface. Did he get it back in rematches? No. He's just another guy in the midcard now. It's a damn shame.
Ziggler should win the World Title soon. He has put in so much hard work over the years and I'm not sure why management feels discouraged when it comes to him. He can be a top guy. His matches are great. The crowd likes him a lot. He's proven to be very durable. Everything is there for him. Let him run with the ball.
I'm specifically saying World Title run because I doubt there will be any room for Ziggler in the WWE Title picture since I think it will involve the likes of Orton, Bryan, Punk and Cena over the course of the next year. There's a chance that others may crack open the door, but it's hard to know who it might be.
13. Keep the Divas Title on AJ Lee for one full year
This is unlikely and I know that. It's about making a star, though. Obviously in 2012 AJ Lee was one of the biggest breakthrough stars in WWE male or female. She earned the screen time she was given. Now as Divas Champion she can change her character a bit going from a crazy woman to a more confident, strong character that earns the respect of everybody. It might turn her face, but that's fine too. If it happens at WrestleMania that's okay because that would be about ten months instead of a full year. If AJ had the title for 10 months then it would be a huge deal for somebody to beat her.
A long title reign would increase the value of the title. The Divas Title doesn't carry a lot of weight in WWE these days mainly because they just pass it around every few months to the next worthy woman. There are rarely memorable feuds or title victories that mean something. While I do remember that Kaitlyn won the Divas Title in her hometown of Houston, I don't think it was that big of a deal. I just remember because I think she's pretty. That's me.
The reason I said it's unlikely is because at Night of Champions she's defending the Divas Title in a fatal fourway that could see her drop the title to one of the women on Total Divas, who in this case are Natalya, Brie Bella and Naomi. It would make for a good story on Total Divas after all.
14. Make Antonio Cesaro a "Paul Heyman Guy"
Remember when Paul Heyman was introducing the next "Paul Heyman Guy" and it was Curtis Axel? When it was happening I really hoped it was going to be Cesaro. No offense to Axel, but I think Cesaro is more polished and the better overall talent. While I like Cesaro's association with Colter in a campy sort of way, I think an association with Heyman would be fantastic. They could still do it, of course.
I also want Cesaro to be a World Champion within the next year. Not right now. He needs to be built up a bit. Perhaps this is something for next year after winning Money in the Bank or simply waiting for the right moment to push him to that next level. In terms of in-ring performers he's one of the best in WWE. He's had great matches with a number of different people over the years. The guy has all the tools. What he needs is for management to really get behind him and see where his career can go from there.
I'm really talking myself into this idea of Cesaro as a Heyman Guy. You can expect me to mention it regularly in the future.
15. New rule for cage matches: The ONLY way to win is by climbing over the top to win
If you've read my work over the years then you know the way that WWE books cage matches has bothered me for many years. Currently in WWE, you can win a steel cage match by pinfall, submission, walking out the door or climbing over the top of the cage to win.
I realize that the reason they have multiple options is to create drama during the match so that they present a scenario where one guy climbs over the top while another walks out the door. Walking out a door is much easier than anything else and anybody that doesn't attempt to walk out the door looks like an idiot. I think the only reason they even have that rule in is so that a buddy of the heel can slam the door into the face of the stupid babyface. It also makes no sense when somebody hits a finishing move, then they choose to climb over the top instead of simply walking out the door. "Walk out the door you dummy!" That's always my reaction when I see that. Wrestling should make sense. It's not too much to ask, is it?
The reason for steel cage matches is to keep two (or more) combatants within close proximity of one another so that they can't get out of the ring to avoid wrestling. It also prevents outside interference. I like the idea that the winner of the match is the first man to beat down his opponent so much that they can't get back to their feet in order to prevent the other guy from climbing over the top to win. There's always drama in the climb too. In some cases if a big guy like Big Show or Mark Henry is in the match then I'm okay if they make a special announcement saying there's a pinfall the match can be over that way, but I think as a general rule climbing over the top of the cage should be the ONLY way to win the match.
Cage matches don't feel like a big deal anymore. They should be. Simplifying the rules would help.
16. Have Cody Rhodes win a feud against Randy Orton
This is also something that comes from a recent happening because Rhodes was "fired" on Raw this past week prior to his wedding. When he comes back in a month or two, he's going to have a lot of momentum. How he comes back isn't something we know yet, but it's obviously happening. My hope is that at some point soon after his return he gets into a long feud with his former mentor Orton that benefits Rhodes to the point that fans see him as a potential top guy.
When I say "win a feud" I don't mean like last year's TLC PPV when Dolph Ziggler beat John Cena in a ladder match. That meant absolutely nothing because Cena went on to win the Royal Rumble and the WWE Title at WrestleMania 29 while Ziggler wrestled in a tag match at WM29. When I say win a feud I mean it should elevate Rhodes to that next level. That doesn't mean WWE Champion right away, but it would put him on the brink of that.
Orton's an established top guy. Rhodes is a guy that's on the rise with the potential to be a top guy. The history is there. They have great chemistry. I hope that at some point within the next year they have a memorable rivalry that can benefit both of them.
17. Find a non-wrestling role for Steve Austin at WrestleMania 30
Let me preface this one by saying I don't think "Stone Cold" Steve Austin is ever going to wrestle again. His last match was ten years ago. There's no reason to risk his health or have a crappy match. He has too much pride to do that. I think he's done wrestling. On a side note, Austin's "Steve Austin Show" podcast is outstanding. It comes out every Tuesday & Thursday. I never miss it.
With that said, I have missed seeing Austin on WWE TV the last couple of years. I hope that since WrestleMania 30 is a big deal (round numbers are) that he has some role at next year's event whether it's as the special guest referee or perhaps he can induct somebody into the Hall of Fame. See my next idea.
18. The Rock should be the "main event" Hall of Fame name at WrestleMania 30
Plans can always change, but I'm going under the assumption that The Rock won't wrestle at WrestleMania next year. The Cena story is finished after the last three WrestleMania events. Obviously there's a rumor that Rock could face Brock Lesnar because they're the big part-time talents that WWE has been using the last couple of years, but what if Rock doesn't want to wrestle? It's a possibility.
The Rock got hurt at WrestleMania this year and last year as well. He's filming the Hercules movie right now while dealing with injuries that included three hernia surgeries and adductor tears that is still not 100% five months later. He's in his 40s now. He's a big man. Injuries are going to happen. I don't know how many more matches he has left. I think I'm being realistic when I say that he may not wrestle at WrestleMania 30.
Obviously every WrestleMania is a big deal, but if the Hall of Fame is headlined by The Rock with his biggest rival Steve Austin inducting him that would truly make WrestleMania 30 something special.
19. The Undertaker's WrestleMania 30 opponent should be Brock Lesnar
I'm sure that this is an obvious choice assuming Rock doesn't wrestle at WrestleMania. They have a history dating back to late 2002, so I would think that the chemistry would still be there for them.
Of course we don't know for sure if Undertaker is going to wrestle at WrestleMania, but if he does I think Lesnar would be the perfect opponent for him. The other obvious choice would be John Cena although we've seen Undertaker against babyfaces too often in recent years (Triple H and Michaels twice each) that I would prefer it if a heel like Lesnar was the opponent. It would be a great story to see if The Beast
My pick to win that match? The Undertaker. I don't believe he should ever lose at WrestleMania. Lesnar's a huge name that will make people believe that Undertaker can be beat. That's how you sell a big match at WrestleMania.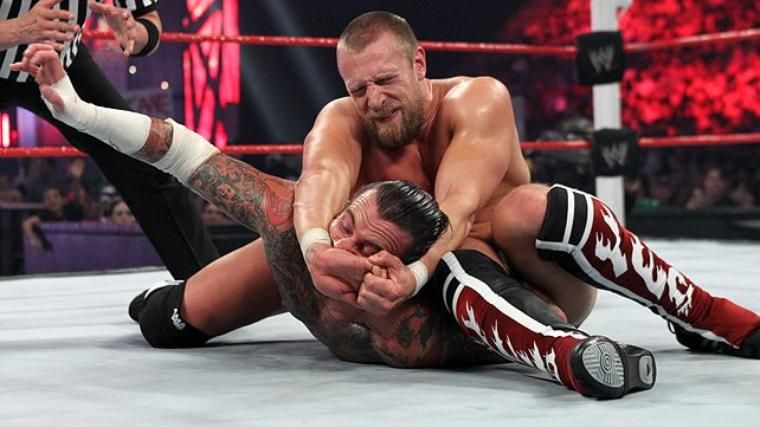 20. The main event at WrestleMania 30 should be Daniel Bryan winning the WWE Title from CM Punk
This is my favorite idea. By a wide margin. If this one happens and the other 19 don't happen then I'm absolutely fine with it because this is the most important one to me.
I don't care how they get there. I'm sure you can come up with booking scenarios as can I, but that's not the point. My preference is that Punk would be the WWE Champion while Bryan is the Royal Rumble winner that chooses to face the WWE Champion at WrestleMania.
I want this match to be the last match at WrestleMania 30. Not a triple threat. A singles match. Guys like Cena, Orton, Triple H and Undertaker have main evented many times before. Let's see some fresh faces in the last match. They are the two best performers in WWE. Punk has been the best for at least four years now. Bryan has proven it the last couple of years. They have earned the right.
Give us CM Punk vs. Daniel Bryan in the main event of WrestleMania 30. Nobody deserves it more than them.
------
This is probably my favorite column to write every year along with the annual Johnny Awards in December. This was my fourth straight year writing this column. Here are links to the past.
Twenty WWE Ideas - 2012 Edition (I also wrote a column in July looking at last year's 20 Ideas that you can read right here.)
Twenty WWE Ideas - 2011 Edition
Twenty WWE Ideas - 2010 Edition
There was actually a 2008 edition too (not in 2009), but I can't find it anymore.
What do you think of my ideas? How did I do? What was your favorite idea that I came up with? What idea would you suggest to WWE in order to help them improve their product? My contact info is below. Let me know. Most let me know using social media, but if you want to email that's great too. I could post another column with your feedback in the near future too.
Lastly, thanks to my buddy Steve Melo for the banner up above and the banners in all my columns. He does great work.
Until next time, thanks for reading.
John Canton - mrjohncanton@gmail.com
Twitter @johnreport
Personal Facebook and TJRWrestling.com on Facebook