The 2013 version of WWE Tables, Ladder & Chairs (oh my) takes place next Sunday December 15th in Houston, Texas. This is the 5th annual WWE TLC pay-per-view with all of them taking place in December.
What I find interesting about this year's card is there's only one stipulation match announced at this point: Cena vs. Orton in a TLC Match. In past years there was a Tables Match, Chairs Match and Ladder Match in addition to the TLC match, which wasn't even the main event last year. The main event last year was Cena/Ziggler in a Ladder Match while the WWE Champion CM Punk missed the show with an injury.
I'm not sure if WWE plans on adding stipulations to other matches on the card or if they're just going to have the main event with a stipulation while everything else is a regular match. There's still one week of television left, so we'll find out in the coming days.
At this point these are the matches officially announced.
WWE Unified/Undisputed/Pick a Name Championship: World Heavyweight Champion John Cena vs. WWE Champion Randy Orton (Tables, Ladders & Chairs Match)
Daniel Bryan vs. The Wyatt Family (3-on-1 Handicap Match)
CM Punk vs. The Shield (3-on-1 Handicap Match)
Divas Championship: AJ Lee vs. Natalya
Intercontinental Championship: Big E Langston vs. Damien Sandow
It's nice to see WWE actually advertising five matches this year as opposed to the usual three matches that they have announced by this point. It's almost as if they actually care about the midcard. I hope that's the case going forward because the last few months the midcard storylines have been sorely lacking. Also, should we pencil in Miz for the Kickoff Match since he's the most must-see pre-show wrestler ever? His catchphrase goes something like that, I think.
Here are some questions and answers about the show, all of which come from me.
1. Who will emerge as the winner in the WWE Champion Randy Orton vs. World Champion John Cena match to determine the Unified Champion?
Right now I'm leaning towards Randy Orton just because I think it would benefit him more as we head into a new year. Plus, the winner of the match is the guy that pulls down the titles that are hanging from the rafters. That means Cena doesn't have to be pinned or submitted to lose. It happened last year at TLC when he lost a Ladder Match to Dolph Ziggler, which really meant nothing in the long run.
I heard Michael Cole on Smackdown talking about Cena having a bad record at the TLC event. Here are some of Cena's results at TLC: 2009 lost WWE Title to Sheamus in a Tables match, 2010 defeated Wade Barrett in a Chairs match, 2011 he wasn't even booked for the show and then last year he lost to Ziggler as I mentioned. He's only 1-2 at the event. Part of the reason guys like Sheamus and Ziggler beat him was because of the stipulations in those matches.
One of the predicted finishes that a lot of fans (including myself) have thought about involves no clear winner. I know Triple H has said there will be one champion, but heels lie. As long as they hang up two titles above the ring the possibility exists where each man comes down with one title in their possession (perhaps they switch titles so Cena is WWE Champ while Orton is World Champ). From there what could happen is a rematch at WrestleMania, but then that would hurt the Royal Rumble winner...unless that person goes after Undertaker's Streak. I don't want to get into fantasy booking, but there are obviously a lot of possibilities.
My opinion can definitely change based on how they book things on Raw this Monday, but for now I'm picking Orton to leave as the one WWE Champion after somebody costs Cena. Will it be clean? I doubt. Somebody will interfere. I just think it makes more sense for the heel to have the longer title reign. Then again that tie idea sounds possible too! See? That's the intrigue about the match. The finish isn't obvious.
2. Is WWE making the wrong decision by going back to the Orton vs. Cena feud?
Yes. I think they are. I doubt I'm alone in thinking that considering how the ratings from Raw showed a downward trend as Monday's show went on. They spent 3 hours hyping up the contract signing, yet that third hour had less viewers than the first two hours. If it was a hot angle or something that the fans really wanted they would have stuck around. Yes, I realize that Daniel Bryan wasn't drawing huge on top. The thing is, nobody is "hot" right now. That's why it bugs me that they went back to this rivalry. If you listen to the crowds, Daniel Bryan is the one the fans want to see in this spot.
I have no problem with either guy. I like them. It's just that this feud has been done many times over many years and has produced far too many matches. It's not like they're putting on matches like Flair vs. Steamboat, Undertaker vs. Michaels, Austin vs. Hart and legendary stuff like that. They have average matches for the most part. Their best match was probably that Ironman match from 2009, which was pretty good, but I honestly don't remember much about it other than they used a lot of props to help them get through the one hour time limit. It didn't feel like a special match to me.
The reality is that WWE is always going to go back to Orton vs. Cena whether we like it or not. They started on the main roster in 2002, they've each won over 10 World Titles (counting both titles) and I'm sure that in the eyes of WWE's decision makers they are seen as loyal company employees that will always be put on a pedestal. Of course Orton's got a couple of strikes against him from the Wellness Policy, but I don't know how legitimate that whole thing is anyway. In Vince McMahon's eyes, they're his two golden boys. That thinking won't change any time soon.
3. Do you like having two 3 on 1 handicap matches on a pay-per-view?
I don't like it at all. I think handicap matches are fine on television once in a while, but WWE is going a bit crazy with the amount of handicap matches they have had in the last few weeks. I absolutely understand that they do them because it's a way to get sympathy for the babyface wrestlers. I never thought we'd see the day where two 3 on 1 handicap matches are the 2nd and 3rd biggest matches on a show where you're asking people to spend $55 for. It's further proof that the decision makers in WWE are out of touch these days because that never would have happened when the shows were better.
All of this is likely going to lead to Vince McMahon (I already mentioned him) coming back as the babyface owner that says things aren't fair in WWE today, so he has to change some things. Of course we don't know why he would come back as a babyface, but hopefully that's part of the explanation.
4. Is CM Punk doomed facing all three members of The Shield?
I think the right answer to that is yes, but I wonder if they might do something that allows Punk to actually sneak out with a victory. The reason I say that is because at Survivor Series they (WWE in this case) made it a point to make Roman Reigns a big star with four eliminations in his match and the title of Sole Survivor. It was a big deal that he won. The rumor is he's headed down the babyface path very soon, so why not set it up here?
Here's how I would book it: Reigns goes for a Spear on Punk, he moves and he accidentally takes out Rollins with it. Ambrose is pissed about it, so he gets in Reigns face, Reigns shoves him down and leaves. They could even have Reigns hit him with a Powerbomb to really drive home the babyface turn. There's Punk with the GTS on Ambrose win the match. Punk wins, friction grows in The Shield and Reigns becomes a lone wolf babyface wrestler with the Royal Rumble around the corner. Works for me.
The reason I think they might do something tricky like that is because I get the sense that Punk will be back in the WWE/World Title (whatever you want to call it) picture very soon. He's done that feud with Heyman. It's time to build him back up with some big wins. I think winning a 3 on 1 handicap match against a credible team like the Shield would help him. He's my pick to win the Royal Rumble at this point. It would be a good idea to continue to give him momentum.
If that doesn't work for Punk, he could always try a singing career.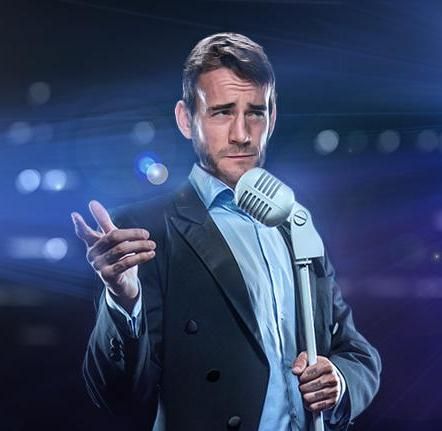 Credit WWE.com for the graphic following Punk's singing on Raw. Crooning Man Punk has arrived.
5. Will Daniel Bryan be able to overcome The Wyatt Family?
I think Bryan's going to lose the match after putting up a tremendous fight for 12-15 minutes or so. There's nobody better at showing that babyface fire, having that fighting spirit and getting the crowd behind him despite being the underdog. That's what Bryan is in this match; the clear underdog.
There are obviously a lot of possibilities for it, but I really think it's going to lead to a win for the Wyatt Family. Bryan and Punk beat them in a tag last month. Now they get their win back in an unfair setting.
6. Is there any chance for Damien Sandow to beat Big E Langston for the Intercontinental Title?
No way. Sandow's just a guy for Langston to beat as he racks up victories during his long IC title reign. It's obvious that WWE is high on Langston as a younger guy with a physique they like. He's going to get a push to the main event level within a year or two, I think. Before he gets there, he'll hold the IC title for a while. I'm a huge Sandow fan and I'm glad he's on the PPV, but this match is very predictable with Langston likely emerging as the victor.
7. What kind of match will the tag champs Cody Rhodes & Goldust be involved in?
There are so many teams in the mix that it's hard to guess what might happen, but you're not reading this for me to say "I don't know" to these questions. I think the team of Curtis Axel & Ryback (aka "Rybaxel") might be the team to get a tag title shot because they beat Cody & Goldy in a non-title match on Smackdown.
This is the perfect PPV to do a 4 team ladder match with the titles hanging from the rafters. It would steal the show. In addition to Cody/Goldust and Ryback/Axel they can add The Usos and Real Americans to the mix. The tag division is a strength with other teams out there including Prime Time Players, R-Truth/Xavier Woods, Los Matadores, 3MB and Tons of Funk, who are likely going heel, also part of the mix.
I hope WWE does something special with the tag teams at TLC because there really is a lot of talent there.
8. What do you expect from the AJ Lee vs. Natalya match for the Divas Title?
It's a tough one to call because I think there could be a title change. AJ has had the title for about six months now, so any time somebody reaches that point there's an expectation that they may lose it. I've written month after month that I want to see her hold it until WrestleMania and drop it to whoever they choose because I think the title change would mean more at that point. I'll probably pick AJ to retain, but I would have no problem with Natalya winning it because it's been three years since her last reign. She's due for another one.
What I'm looking forward to is how much time they get. I really hope they get about 10 minutes because I think if that happens it could be one the best women's matches in WWE this year. They're two talented women with contrasting styles and there's even a backstory now, so I hope they are given an opportunity to show what they can really do.
9. What will be the best match on the show?
I'm going with Orton vs. Cena for this answer because I think they'll get the most time, there's a great gimmick set up for it (TLC) and both of them have proven that they're able to have very good matches in a big match kind of setting. If there was a tag team title ladder match then I'd possibly pick that, but that's not official or even rumored outside of my own thinking. I think Orton/Cena is going at least 20 minutes. Maybe more. It would have to really suck for them to not have a very good match.
I think the people involved in the two handicap matches are very talented, but it's hard to forecast how good those matches will be. Ideally, a 3 on 1 handicap match shouldn't be booked to be very long so that makes me wonder how great they are going to be. Will either one get even 15 minutes? I have my doubts.
10. On a 1-10 scale with 10 being high and 1 being low, how excited are you for TLC?
I'm at a 6 right now. If they put together some kind of exciting match for the tag times that number would likely go up. I also think it would be a good idea to add some stipulations to these matches to make them stand out a bit more. The TLC PPV concept should mean several gimmick matches. As of now we only have one. Come on WWE, stop being lazy with the booking. What does the creative team even do? Be creative!
As somebody that's written about WWE PPVs both before and after the shows, one thing I have learned this year is they really don't invest in their midcard matches. It's rare for them to put on some midcard match, give it 20-25 minutes and let it really shine. They should do something like that on every PPV. Instead it almost never happens. Remember last year's TLC with The Shield against Ryback, Kane & Daniel Bryan in a TLC match? That was an incredible midcard match. That's what this show needs.
The last four PPVs have all been average or below average. It's been a bad stretch of PPVs for WWE. I don't think TLC is going to provide us with anything that is truly must see despite all their claims that the main event is so important. I hope there are surprises to prove me wrong.
---------
That's all for now. Be sure to check out my latest exclusive column on WhatCulture.com about Daniel Bryan and some rivalries I want to see for him in the near future. On Monday morning I'll post a Slammy Award preview column on there as well.
I'll be back on Tuesday with the Raw Deal and then next weekend for the preview (Saturday) & review (Monday) of WWE TLC.
Until next time, thanks for reading.
John Canton - mrjohncanton@gmail.com
Twitter @johnreport
Personal Facebook and TJRWrestling.com on Facebook