Five years. That's how long I've been writing the WWE Raw Deal review column. It started back on May 25, 2009 when five babyfaces dressed in Los Angeles Lakers uniforms and five heels dressed in Denver Nuggets uniforms. It was not a good episode of Raw, which I have since re-posted this weekend. It's fair to say that 2009 was a bad year for WWE. If you were watching then you know. If you weren't watching then you're lucky.
It's time to reflect back on the highs and lows of Monday Night Raw in the last five years. Once I get through that (and include some reader comments), I'll write about how the Raw Deal got started and some other things along the way.
The Highs Of Raw in the Last Five Years
There will be a lot of videos here to help remember the great moments of Raw since May of 2009.
- CM Punk's speech in Vegas on June 27, 2011. I remember writing live that night when Punk sat up there on the ramp to do deliver his "shoot promo" and it was absolutely riveting to listen to. I recall doing my best to recap it, but then when it was over I was looking forward to re-watching it over and over because it was one of those things that left me in amazement.
The Punk speech is my favorite moment in the last five years. No question about it. It was something that lit a fire under everybody's ass and Raw became a better show because of it.
- Brock Lesnar's return in 2012. It's probably my second favorite moment of them all in the last five years. Always been a huge Lesnar fan. It was incredible to see him on WWE TV again.
What an ovation. Wow.
- Bret Hart's return in January 2010. I never thought it would happen. There was so much bad blood there, but when he showed up on the first Raw of 2010 it was such a wonderful moment. Then he hugged Shawn Michaels in the ring as a way to let us know that everything was cool now. The past was in the past. Time heals all wounds. No better example of that than when Bret showed up.
- This incredible video package leading up to Michaels vs. Undertaker at WrestleMania 26 in 2010 is probably the best one WWE has ever done. It's either that one or Rock/Austin "My Way" going into WrestleMania 17 as my two favorites.
- Shawn Michaels retiring his way. Don't get me wrong, I miss my favorite wrestler ever as much as anybody. However, it was great to see him go out the way he wanted after one more classic match with The Undertaker in 2010 and he got the farewell he deserved.
- The growth of AJ Lee as a performer. If you look at how she started out on NXT as just another diva to where she ended up as the only woman that actually has a gimmick in WWE it showed how talented she is. Even though she was booked like a slut a lot of the time, she made things interesting.
- When The Rock came back in February of 2011 it was amazing. It had been so long since we saw him that it felt really fresh. His promo was so inspiring that the next day I wanted to go to WrestleMania, which was my first one, and that's what happened.
- Kane's speech at anger management class.
"Years ago I had a girlfriend named Katie but…um…let's just say that it didn't turn out too well."
I enjoyed Team Hell No a lot. Some of the best comedy segments WWE has ever done, not just in the last five years.
- Bob Barker was a tremendous guest host. The bit with Jericho was especially great when he called him "happy boy" and yelled "he speaks" when Jericho finally said something.
- Eve Torres in a business suit when she was the assistant to John Laurinaitis. It was a good look. I found her so boring as a face, but as a heel I absolutely loved her. I guess that's a reflection on me as a person!
- The Shield's debut in November 2012 was great because they brought something fresh to the show. They actually started at Survivor Series, but over the last 18 months they've been a part of so many incredible six man tag matches that have consistently been among the best parts of Raw on a weekly basis.
- This moment when Chris Jericho yelled at Michael Cole. Twice.
I miss Jericho. A lot.
- That John Cena vs. CM Punk match from February 25, 2013 was special. I remember the date because it's my brother's birthday. How about that piledriver by Punk? We don't see those anymore. It's one of the best matches in Raw history, no doubt about it.
- R-Truth smoking and drinking water as a way to turn heel. It was just so silly, but I hate him so much as a babyface that I welcomed it too.
- All the TJR signs from over the years. I never thought people would want to put my name on signs at wrestling shows, but it's happened many times. We've even set up a photo gallery with pics of TJR signs making it on TV. Here's a meme that was made for one of the signs:
- Lana's legs. What? I needed something current! Her ass too! Her everything really!
- Anything with Paul Heyman. I know that's really vague, but I don't care. The man is an amazing performer and seeing him back on WWE TV weekly makes Raw a better television show. When he showed up in that car with CM Punk it got me excited for Punk's heel turn.
- There was "Tea Time" segment with Santino, Vladimir Kozlov and Sheamus that was absolutely hilarious. Some comedy segments with Santino are really bad, but this one worked well. It's from November 8, 2010.
Kozlov's comedic timing was pretty awesome, at least in this segment.
- Dolph Ziggler winning the World Title after cashing in Money in the Bank on the Raw after WrestleMania 29 in 2013. What a moment. What a crowd reaction. A shame what happened to him in the last year, but at least that memory will last forever.
- The Raw crowd after WM28, WM29 and WM30 were all amazing. I was in the Raw crowd after WM30 and it was one of the most fun experiences that I've ever had at a wrestling show. There's nothing like it. It gets my highest recommendation.
- The rise of Daniel Bryan as a top guy. So much fun to witness it and write about it. Nobody deserves it more.
I could probably sit here and reminisce about great moments for much longer, but it's time to remember some of the bad too.
The Lows of Raw in the Last Five Years
I really don't feel like posting videos of this stuff. I hate myself for remembering a lot of it.
- Hornswoggle vs. Chavo. I don't recall how many matches they had on Raw, but it felt like at least ten and the announcers would just laugh during them as if they were funny, yet they were excruciating to watch.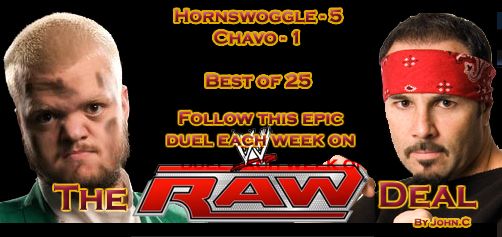 - Michael Cole's heel days when he was feuding with Jerry Lawler was such a colossal waste of time. Every time he would be out there I just groaned because it took time away from the actual wrestlers that could
There was even a point where John Cena had a match against Cole that was one of the worst matches in Raw history.
- Guest hosts. There were so many bad ones. Maybe 10% of them were entertaining. Most of them sucked. I think that Jerry Springer segment was the worst one, but then I think of other awful things like Macgruber and ZZ Top so it's tough to say.
- The anonymous GM angle was painful to watch. We kept waiting for a payoff to it thinking it would be some big name, but instead they went the joke route by saying it was Hornswoggle.
- Removing Jim Ross from commentary. There were so many stops and starts with him. He's the best wrestling play by play announcer ever, yet they treated him like shit. It's a shame.
- Edge retiring due to injury. It happened soon after WrestleMania 27. Wasn't expected. They didn't put it in a main event spot or anything like that. He just said he couldn't wrestle anymore and that was it. Still makes me sad.
- That segment where Triple H said he was representing the Board of Directors to say that Vince McMahon was being removed. Then Vince started crying, so Hunter said "I love you pop" and it was just so bad. Of course Vince returned months later as if the whole thing didn't even happen because WWE likes to forget things.
- When Steve Austin hit Tough Enough winner Andy Leavine with the Stunner and Andy barely sold the thing. It's the Stone Cold Stunner. You lay down. You don't walk up the ramp quickly. No wonder he got fired quickly. Dummy!
- Little People's Court. So many short people jokes. Not as funny as WWE thought. I hate that my favorite wrestler Shawn Michaels was a part of such a colossal waste of time. I don't hate it as much that Triple H was involved because I care less about him.
- All of the different people in charge of Raw shows just how disorganized they are sometimes. It would be nice if there was more stability and that they could do something other than a heel in command, but that's all that ever seems to happen. I actually liked John Laurinaitis by the end of his run. I wish it lasted longer (that's what she said).
- Jerry Lawler's heart attack. What a surreal moment that was in September of 2012 in Montreal during a live edition of Raw. I wasn't watching live because I watch the NFL on Mondays in the fall months, but I received a lot of texts as well as tweets about it. It's amazing that Michael Cole was able to keep going after that moment and continue doing his job. The fact that WWE's Dr. Sampson was right there likely saved Lawler's life because if he didn't get attention right away he could have passed away right there. Lawler ended up coming back and he's been there ever since.
- CM Punk leaving WWE. I miss him. I know some people hate him for leaving, but he's been the best performer in the WWE for the last five years and as a fan I just really miss writing about a guy.
- The entire "Embrace the Hate" feud that Kane had with John Cena that also involved Zack Ryder, who got tossed off the ramp in a wheelchair. There was so much bad acting during those segments.
- Going to three hours full time. I know why WWE did it and I don't blame them for it because it's making them money. However, writing about a three hour show every week is very tiresome. They actually have longer matches on average now because of the extra time and I've written positive articles about that, but I would love to see Raw become a two hour show again. It's not going to happen, though.
There are probably other bad things too, but I try to forget them. Feel free to remind me of more in the comments below.
Reader Comments On The Best & Worst of Raw In The Last Five Years
I've always been interactive with TJR readers because without you then none of this is possible. With that in mind, here are some comments from people on my Facebook page when they were asked about some good and bad moments from Raw over the last five years. I'm leaving names out because I don't want people mad at me for posting their name if they don't want it, but the comments do come from here. Let's see what you guys and gals remember.
* What a change. So much better than before. On their way up since 2011: Punk, Bryan, Heyman, Wyatts, Shield, Usos, Ziggler, Cesaro, Lesnar, Barrett, Colter, JBL. Been a great couple of years. I'm intrigued by the direction since 2011 and actually excited for the future.
* Guest hosts were absolutely awful 90 percent of the time in 2009.
* Raw didn't get good until the Summer of Punk.
* 2009 - Very Boring. That's about it.
2010 - Meh. Better than 2009 but still felt very boring.
2011 - Even before the Summer of Punk the product had actually improved quite well. A strong year.
2012 - Another entertaining year. A great wrestlemania and return of Brock Lesnar made it very memorable.
2013 - Another very good year. A ton of great matches and good stories. Punk/Taker was awesome.
2014 - Too early to judge but so far somewhat of a let down compared to previous two years.
* My 2 favorite moments were the Punk pipe bomb and Bryan's yes chant on the top of the steel cage. It was a true spectacle seeing 10 thousand people doing it in unison, and Bryan standing triumphantly on the top of the cage. Also #3 would be punk coming back and debuting his "cult of personality" theme song. I still watch that clip on youtube from time to time.
* 2009 Raw was brutally hard to watch. The past 5 years have had very little long matches, meaningful matches, world title matches, and very few world title changes, if any. Raw is 60 % social media and 40% wrestling. Raw has gradually improved over the past 5 years though, I must say. Much more talented young wrestlers. Also I've enjoyed the retirement ceremonies for Ric Flair, Shawn Michaels, and Edge. Raw has definitely had its ups and downs over the past 5 years, but it has became much easier to watch now in 2014, compared to 2009.
* A shift back to an in ring product that can highlight the show, recognition of need for change (despite what critics will say on that).
* Highs: Bret Hart returning / reconciling with Shawn Michaels. The Pipe Bomb, the rise of the shield and development of new young talent. Lows: anything involving Hornswoggle.
* The high: Everything Jericho related. The low: Everything not Jericho related.
* High: Yes Movement; Low: Celebrity Guest GM era. High: HBK and Bret Hart meet face-to-face in a WWE ring for the first time since 1997; Low: Michael Cole and Jerry Lawler meet face-to-face at WrestleMania 27 in the seemingly longest match ever.
* The guest hosts were painful to watch. The highlights for me were Punk's pipe bomb speech, Lesnar's return, Ziggler's World Title win and Daniel Bryan's celebration on top of the cage. Oh, and The Shield's attack on Evolution the night after 'Mania. I continue watching WWE for moments like these.
* One of the low lights of Raw over the past five years was the hideous and never ending Chavo Guerrero vs. Hornswoggle feud. I bet Vince McMahon loved it, though. The Rock returning in February 2011 was one of the greatest moments in Raw history. The electricity of the crowd and his promo was definitely a highlight. CM Punk's pipebomb a few months later shocked the world and made each episode of Raw must see television during the summer.
The Raw in Miami after WrestleMania 28 is probably the most important show in terms of the burgeoning ascension of Daniel Bryan as a top star. It was the first time fans took absolute ownership of the broadcast which made every Raw after Mania the single biggest show of the year from an unpredictability standpoint.
* Highs - Rock's 2011 return, HHH coming out to set up Undertaker WM 27, HBK v Cena in London, The Pipebomb, Brock's return, Cena v Punk on Raw, Arms too short to box with God, Ziggler cashing in, The yes chants in the Bryan v Bray cage match. All Hey man promo's
Lows - There is a word limit...
* The years before June 27, 2011 were very much hit or miss. The Divas division was not in good shape, John Cena started losing the interest of fans, HBK was having some of the best matches of his career, Randy Orton and Chris Jericho were the best heels we had seen in a long time, the tag team division was nonexistent...... It was a mixed bag to say the least. But after CM Punk's pipe bomb, there was a change in overall quality. Matches started getting better, we had the awesome 434-day reign of CM Punk, the awesome and forever quotable "People Power!", we have had talented younger workers show up on the main roster, the Tag Team and Divas divisions have new life in them and most recently we have the "Yes!" Movement.
There have been downs as well, like CM Punk not really getting a main event run during the 434-day reign, Corporate Kane, a not-so-good-anymore Evolution reunion, the 18-second loss for Daniel Bryan and many others. But for the most part I think it has gotten better over the years, but not perfection.
* The guest hosts were on the whole brutal. However, the one that all wrestling fans wanted to see, and one of my favourite moments, was the guest host slot of Bret Hart. When he instantly called out Shawn Michaels, I remember popping big time at home. The atmosphere was strange as everyone knew it was a moment that was more than just a wrestling angle and when the embraced the emotion was special and memorable.
* A favourite Raw moment for me that may not be remembered well is the great title match on the first episode of Raw in 2011, between The Miz and John Morrison. It's probably the best match The Miz has had in his career. Another great moment was the cage match ending between Daniel Bryan and Bray Wyatt.
Worst moments are always difficult but one that springs to mind is how badly they used Zack Ryder's title run and particularly the wheelchair moment. Awful booking and they've pretty much crushed that character.
I'll always remember Commentfest and it was so much fun to read, and also seeing our comments/posters have an actual impact on the show sometimes (Jerishow, Kool aid) was fantastic to see. It's been a fun five years reading The Raw Deal.
* Bret Hart & Shawn Michaels together in the ring, CM Punk's pipe bomb, Daniel Bryan at the top of the cage, and Dolph Zigglers World title win are the moments that have really meant a lot to me as a fan. John Morrison vs. The Miz for the WWE Championship was awesome.
* My highs for Raw have to be Punk's pipebomb, The Rock's return, and Bryan's post WM 30 promo. The lows have to be the guest hosts of Raw, Michael Cole's commentary as a heel, and Trump buying Raw for a week.
---
Thank you for all those comments. Here's one more from TJRWrestling reader Josh Richey:
"As a lifelong double double E fan, and loyal TJR reader the shows and column were the two things I truly looked forward to during deployments to Iraq and Afghanistan (calls home and redeployment notwithstanding). They always took the edge away from the constant go and pressure we Soldiers deal with during combat operations. 2011 was a personal favorite year for obvious reasons. As well, my daughter, who has many issues socially and relating to others, became a devout fan during these last few years and we've bonded over many a live show (Slammy awards 2013 was amazing live) and pay per view. Good or bad, the product has always offered me the opportunity to escape from the pressures of a high energy lifestyle and be a kid again."
That's awesome Josh. I can remember interacting with you while you were deployed and like I told you then, thank you for serving to protect us. It's great that wrestling can help your daughter like that. It is something that parents can definitely bond with their kids over.
Origins Of The Raw Deal And A History Lesson
The reason I started the Raw Deal in May of 2009 is because it came at a time in my life where I really missed writing. I actually started writing way back in 1999 when I was 19 and for a few years I did a lot of it. Then as I got into my early to mid 20s, life got busy with school, work, girls and simply getting tired of writing. I probably "retired" about six or seven times. Then in 2009 I started posting the Raw Deal on Rajah.com as well as The Oratory, which is a site I've been associated with since 1999. I started on Rajah's site in 2000 and I can assure you that it's still one of the biggest wrestling sites out there.
Within a few months, I had started up a Twitter account and Facebook page where I interacted with fans. Honestly, I love doing both of those things. It was at a time when social media was really starting to boom, so I looked at as a way to market my work, which I still do. It's a free advertising tool. If I reply to people and start discussions with them then maybe they're going to mention me to their friends with similar interests. The growth is proof that it has worked.
In November of 2009, I started up a blog over at Johnreport.wordpress.com where you can still read plenty of stuff from myself as well as other TJR writers like Andrew Johnson and Christian Michael. By May 2010, it moved to thejohnreport.net after getting the attention of a guy that had a few other sites (mainly diva-dirt.com). Then a guy named Eric that was associated with fanvsfan contacted me about putting ads on the site, which led to me finally making some money after all these years of writing. We moved it to a different server and address at TJRWrestling.com a couple of years ago because I really wanted "wrestling" in the title. This past January I started at WhatCulture.com where I recently passed the 10 million views mark in under five months. It's pretty awesome to look at where I was five years ago doing this as a hobby to where I am now where I can call it a career.
I have reviewed nearly every episode of Raw in the last five years. There were a few instances where I did really brief reviews or didn't offer up a grade due to other circumstances, but for the most part I have done in-depth reviews of over 250 episodes of WWE's flagship program.
Do I think I'm the best writer out there? Absolutely not. I think the reason the Raw Deal works is because a lot of people know me from writing for so many years and they're used to it. I also think I'm pretty fair in my reviews. Of course I have my favorites like we all do, but I'll criticize them just as easily as I will praise them. Most importantly, I write in a style that is pretty easy to follow along. I don't think I'm smarter than anybody or anything like that. I'm just a fan like you are. Looking back I'm pleased with how things have gone, but am always looking to grow as a writer, as a person, as a guy with a website and as somebody that can open doors for my friends that write as well.
Thank you so much for all of your support over the years.
Here are some comments from my friend Steve Melo aka The Melo Man aka the guy that has made the Raw Deal banners for the majority of the five year run. Most weeks Steve will text me with his idea for what will go on the banner and I usually always like it, but sometimes I get him to change it too.
"Where do I even begin? For starters, I remember years ago missing an episode of Monday night RAW and back in those days, I would always check out rajah.com to read the results. Well on this particular day, the results still weren't up. I was just about to try another website until I noticed something called "The Raw Deal with John Canton" which I had never heard of before. Desperate for results, I clicked and not only did I find out what had happened, but I was also literally laughing my ass off in the process. This is actually very funny on top of just giving straight results. This is great I thought. And it was and still continues to be great on a weekly basis.
The only negative that I saw wasn't in the writing. It was in his banners. His very poor looking banners. And being not only a huge fan of wrestling but a Graphic Designer as well, I contacted John with an alternative and the rest as they say is history. What started as an updated banner once in a while quickly turned into a weekly gimmick of its own. Every week, it's the preferred read for something and it always changes with the times. I enjoy making RAW deal banners as much as John enjoys writing it. We've had some pretty hilarious ones in the past and I'm always looking to keep it funny going forward. John is a good guy who I am proud to call a friend. Here's to 5 more years!"
Five more years? I'm not sure about that! Thanks for your amazing banners not just for me, but so many of the TJRWrestling writers too. You've become a great friend to me too and we go to WWE shows together so that makes it even more fun. In fact, here's a pic of Steve and I with the lovely Renee Young from three years ago when she was using her real name, Renee Paquette, on The Score TV here in Canada. It was in a bar that was dark, so I apologize for the quality of it.
I am on the left with the backwards hat. We did not realize we were getting photobombed either.
Final Thoughts
Thank you so much for supporting the Raw Deal as well as everything else that I do. Personally, I'm in a much better place in my life in the last five years, so writing this was a good time of reflection for me as well. I've even been to three of the last four WrestleManias (not WM29) and while I don't know if I'll ever go to any others, it is something that I'm glad I did.
If you have any Raw memories good or bad or anything about my writing, feel free to place those comments below or contact me privately if you prefer.
That's all for now. I'll be back with a new Raw Deal tonight. Thank you for reading.
John Canton - mrjohncanton@gmail.com
Twitter @johnreport
Personal Facebook and TJRWrestling.com on Facebook